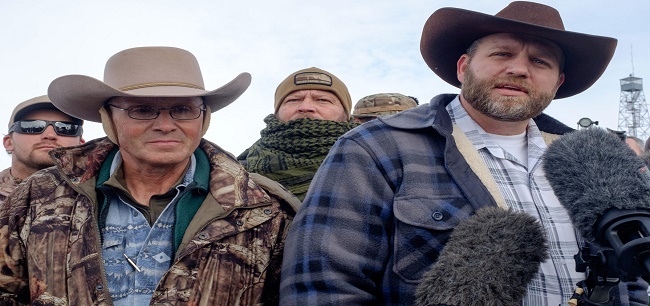 With the occupation of the Malheur National Park in Oregon dragging passed the two week mark, many are asking: What would the official United States response to this act of sedition be if the Bundy family weren't white, but were either Black or Muslim?
"Let's be clear," tweeted Young Turks host Cenk Uygur, "If Muslims had seized a federal building, they'd all be dead by now."
"People are saying, 'imagine if Muslim Americans took up arms and protested the government, what would the response have been?' There is a double standard there. Do you think they would have gotten away with it?" AJ+ reporter Dena Takuri asked Malheur occupier Jon Ritzheimer, who led an armed demonstration in front of a mosque last year and created a website that sells anti-Islamic merchandise.
"No comment," replied Ritzheimer, with a grin.
Watch the whole video here:



The language used by the mainstream media to describe this situation in Oregon has also become contentious. Why are these white men portrayed as "occupiers," "militia," and "protestors," when the language used to tell stories about peaceful Black protestors, specifically members of the Black Lives Matter movement, include terms like "subhuman," "garbage," "thugs," "rioters," "extremists," and, with no regard for irony, "like the KKK"? What does this linguistic disparity say about the popular cultural narrative regarding these two groups?
Considering Black men in this country can be killed execution-style for illegally selling cigarettes, or for playing with toy guns, or for simply wearing a hoodie in the wrong 'hood, what WOULD happen if the Malheur "occupiers" were Black?
It is not strictly a hypothetical question, as there are historical examples. In 1985, an armed, anti-government group of people living together in a row house in West Philadelphia held their building siege. Police, supposedly responding to neighbor complaints about noise, surrounded the house with assault weapons. When someone in the house fired back, officials responded by dropping two bombs, killing 11 people—including five children – and decimating several city blocks.
The difference between the Philadelphia anti-feds and the group holding Malheur Refuge hostage? The Philadelphia group was Black.
Meanwhile, in Oregon, Ammon Bundy continues to attempt to recruit "militiamen" from his Facebook page.
Standing for the rights of men & womenBREAKING! SHARE! Standing for the rights of Men & Women. Calling all freedom loving people to come to Harney County Oregon, come to the Malhuer Wildlife Refuge. The people are finally getting some good use out of a federal facility.

Posted by Bundy Ranch on Saturday, January 2, 2016
"A collective effort from multiple agencies is currently working on a solution. For the time being please stay away from that area. More information will be provided as it becomes available. Please maintain a peaceful and united front and allow us to work through this situation," said Harney County Sheriff Dave Ward in a public statement.
---
This Article (Brown Bundys Get Bombed) is free and open source. You have permission to republish this article under a Creative Commons license with attribution to the author and AnonHQ.com.