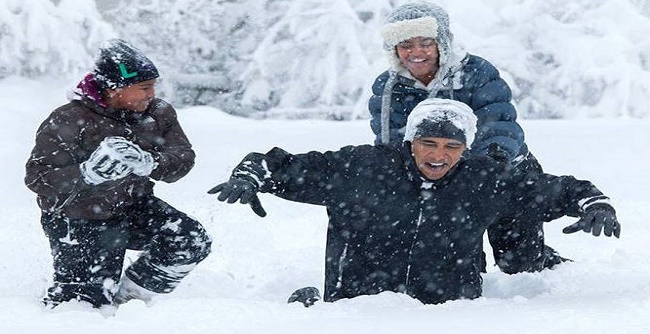 Over the years listening to NPR (Fox News Radio) I have heard much commentary over President Obama and more specifically about all the vacation day he takes. It was unacceptable and irresponsible to be taking so many days off they say! George Bush took his fair share of vacation days off we all remember, but when it came to Obama I guess no one really bothered to think about it that much. A news article came out the other day and to the surprise of many details the fact that President Barack Obama has taken fewer vacation days than any U.S. President since Jimmy Carter: http://www.occupydemocrats.com/obama-has-taken-the-least-vacation-days-of-any-president-since-jimmy-carter/
Number of Vacation Days By Presidency
The next two weeks President Obama and his family will be enjoying an extended vacation in the state of Hawii. From the local press it seems like Obama is already enjoying himself and as you can see from the video below has already made national news as a top play recipient on ESPN Sportscenter for his golf game.
It does not seem to matter what Obama does, he will always have his critics. Regardless if he took vacation days 6 years ago or today there will still be plenty of pundits out there yelling over how outraged they are by every decision the President makes. The stress it must involve to be President of the United States is unfathomable. Taking a few vacation days from time to time is a right anyone should have, especially even the President.
Did You Know?
It costs more then 200,000$ an hour to fly air force one: http://www.businessinsider.com/price-to-fly-on-air-force-one-2015-2
Last years Presidential Christmas vacation cost an estimated 3.7 million dollars: http://www.wnd.com/2015/03/obamas-spent-3-7-million-just-to-fly-to-hawaii/
Since becoming President Obama has spent nearly 70 million dollars combined on vacations: http://news.nationalpost.com/news/the-obamas-are-treating-air-force-one-like-an-uber-ride-first-familys-travel-tab-tops-70-million
The real problem is not that the President is taking days off, it is the amount of money he spends during those days off. Every dime that Obama spend on his vacations, 70 million dollars worth, is not money taken out of his wallet it is taken out the federal taxes of every U.S. citizen. The President has earned the right to take a vacation, no doubt, but it will never will it be acceptable to spend 70 million dollars in taxpayer money to do it. Statistics like the ones about  speak to the disconnect American citizens feel about their government in general.
…….with a video like that we couldn't resist the opportunity to reminisce over how much of a tool bag George Bush was…….
---
This article "Obama Faces Criticisms Despite Taking Less Vacation Days Then Last 4 Presidents" is free and open source. You have permission to republish this article using a creative commons license with attribution to the author and AnonHQ. Join the conversations at www.anonboards.com