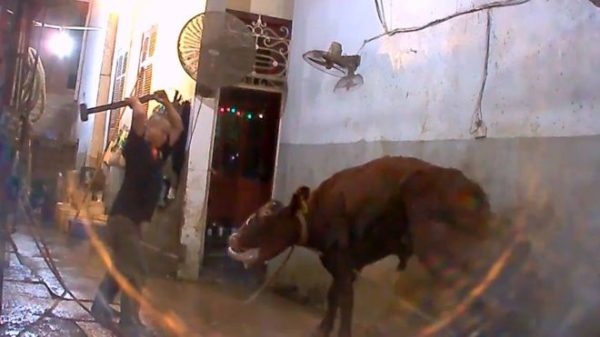 Animals Australia, an animal protection organization in Australia, has released a disturbing video showing Vietnamese abattoir workers killing cows imported from Australia, in a very brutal way.
The video, published by the animal rights organization shows a worker killing a cow with a sledgehammer. Since the publication of the video, it has gone viral and sparked public outrage. It has prompted the Australian government to comment on the issue.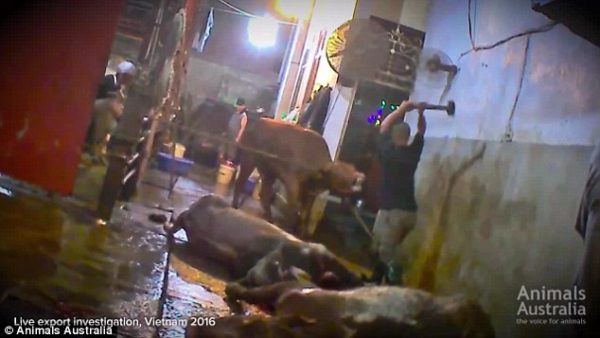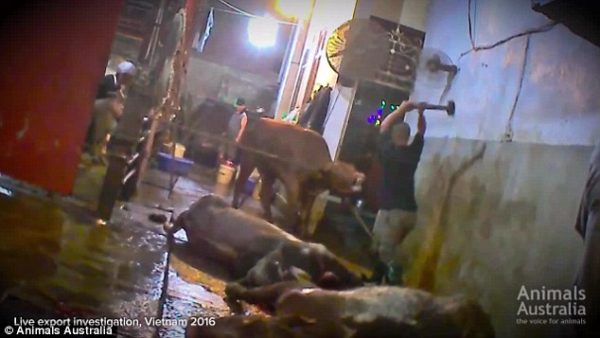 The disturbing video shows a man working in a slaughterhouse in Vietnam clubbing the head of a cow for at least five times before it falls to the ground. The man then continues to hit the cow a further four times before it finally dies.
According to the Australian Livestock Exporters' Council (ALEC), Australia exported as many as 227,563 cows to Vietnam in 2015. It is said the export has continued into the first four months of 2016.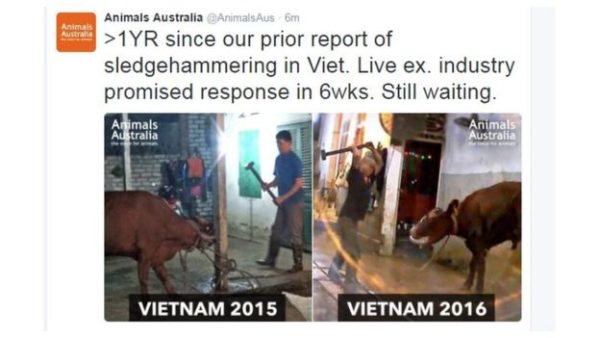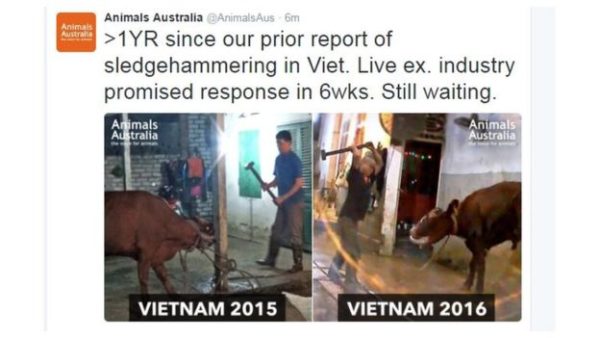 Animals Australia said it began to conduct undercover investigations regarding how exported cows from Australia are treated in Vietnam in 2015. The organization said when it contacted ALEC, it had substantive evidence pointing to the cruel treatment of the country's live exported animals in Vietnam. ALEC failed to respond to it.
Animals Australia then hired undercover investigators to secretly film how the cows are killed at the Vietnamese abattoirs. The undercover investigators visited 13 slaughterhouses in North and Central Vietnam. It was discovered that only two of 13 slaughterhouses the investigators visited, met with Australian requirements. Also, investigators discovered some Australian cows in 11 non-accredited abattoirs in the country. The meat workers who were secretly filmed, told the undercover investigators that the cows that are being killed in this brutal manner were in fact, from Australia. The cows are said to have distinctive ear notches which are unique to Australian cattle.
Animals Australia campaign director, Lyn White said when they got this current video, the organization again forwarded it to ALEC. She said ALEC officials told Animals Australia that they will respond to the video in six weeks. However, the six weeks passed without any word from ALEC. This prompted Animals Australia to publish the video online. On social media, many Australians and others around the world condemned how the cows are killed in Vietnam.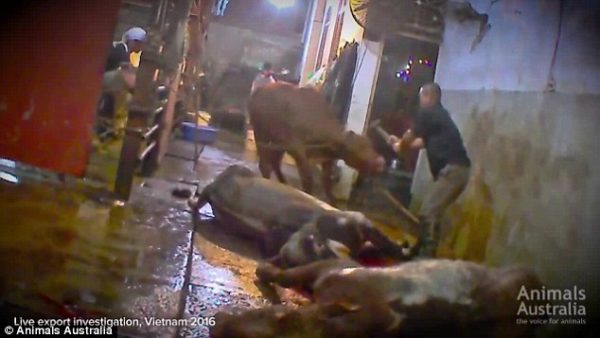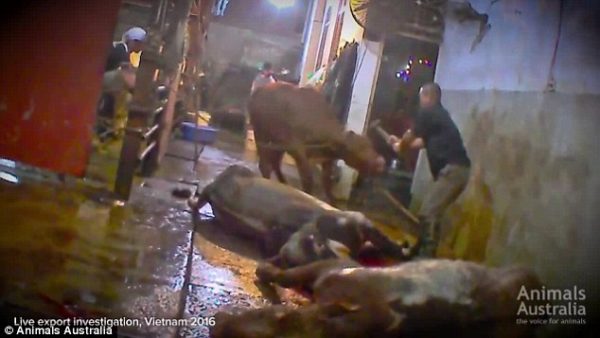 The Australian government has officially reacted to the video, saying it is investigating the issue. Australia's Deputy Prime Minister, Barnaby Joyce said the abattoirs involved in the heinous practice have been suspended from receiving cows from Australia. However, he ruled out an outright ban of cows to Vietnam. BBC reports that Australia's live cattle export industry is estimated to be worth around $596 million a year.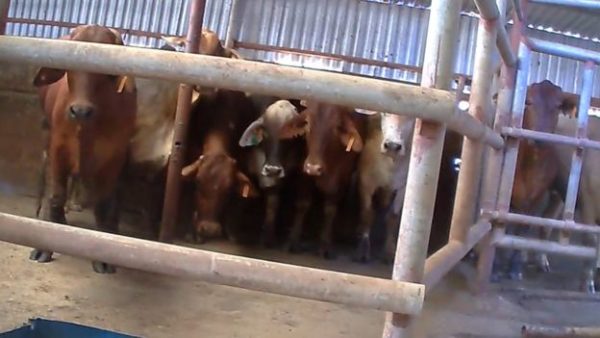 "Immediately when we found out about this we went straight into action. The Department [of Agriculture] has been working closely with the industry, the abattoir has been suspended from receiving cattle, we are investigating this process but further action needs to take place and will take place," Mr Barnaby said.
The government said it has instructed ALEC to review its systems that oversee control and trace-ability of Australian cows; to include monitoring of CCTV systems at abattoirs receiving Australian cattle.
Animals Australia accused the Australian government and the export regulatory agencies in the country of deliberately allowing this cruel practice to happen.
"Only two met Australian requirements for approved abattoirs. Nobody can claim they didn't know this was happening – the exporters knew, the department knew and the minister knew. It's profoundly distressing and unnecessary and preventable and we shouldn't forget that it's been happening on a nightly basis since we [Australia] opened this trade in Vietnam," Ms White said.
It is said that the Australian government banned live cattle export to Indonesia in 2011, following the discovery that the country's abattoir workers use similar method like the Vietnamese to kill the Cows. Egypt, too, was suspended in similar circumstances in 2013, by Australia.
---
You want to support Anonymous Independent & Investigative News? Please, follow us on Twitter: Follow @AnonymousNewsHQ
---
This article (Brutal Secret Video Reveals Australian Cows Killed with Sledgehammers in Vietnam [Video]) is a free and open source. You have permission to republish this article under a Creative Commons license with attribution to the author and AnonHQ.com.