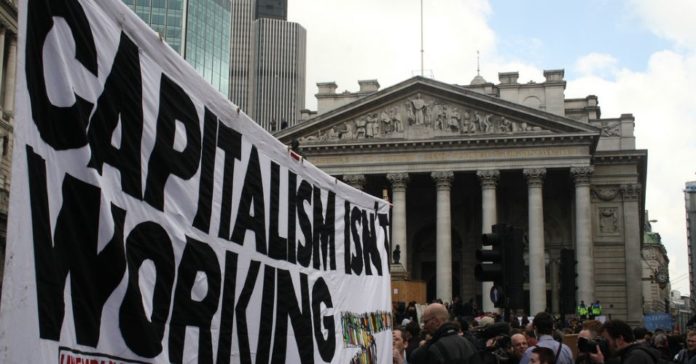 Global failures:
 Thomas Piketty, an eminent economist has shot to fame because of his theories of rising global inequality in wealth. Research shows that for every $1.00 owned by the world's richest 1% in 2011, they now own $1.27. They own almost half the world's wealth. Just 70 of them own as much as 3.5 billion people.
Capitalism has also led to the transfer of mid level jobs to low-wage countries. It has also failed to control global environmental degradation, with trillions in subsidies going to polluters that don't even pay their taxes, and with corporations ignoring any semblance of social responsibility as they seek ways to profit from global warming.
Job creation failures:
In the name of technology, both middle class and high end jobs like financial analysis, medical diagnosis, etc. have been impacted negatively. Millions of Americans have had a role in the great American productivity behind this technological takeover, but capitalism allows only an elite few of us to reap the disproportional profits.
There is also an increasing trend of reduced R&D by corporates: from 40 cents per dollar in the 1970s to 10 cents now. CEOs are choosing instead to spend almost all of their profits on buybacks and dividends to enrich investors.
Health-care failures:
America has definitely failed on the frontiers of affordable health care. The capitalist profit motive allows the cost of a hepatitis pill that costs $10 in Egypt to sell for $1,000 in the United States, and the cost of a blood test to range from $10 to $10,000 in two California hospitals (a 100,000% markup at the second hospital).
Another health-related scam that affects most of us is bottled water. According to Food & Water Watch, about half of it is filtered tap water with fancy names, as evidenced in one case by an actual "tap water" label on a company's product. Yet with the demise of community water fountains, and the barrage of advertising for "safe and pure" drinking water, unsuspecting Americans pay dearly: for the price we pay for a bottle of water we would be able to fill up that bottle a thousand times with tap water.
Failures in education:
 Charters are riddled with fraud and identified with a lack of transparency that leads to even more fraud. Since 2001 nearly 2,500 charter schools have been forced to close their doors, leaving over a quarter-million schoolchildren between one bad business decision and the next. A report from PR Watch summarizes the billions of dollars spent on charters without accountability to the public.