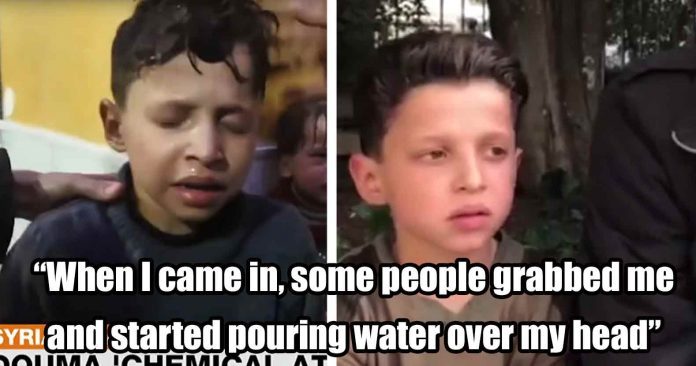 Incredible and bombshell testimony from a young boy who appeared on film during the alleged "chemical attack" in Syria this month, claims there was no attack and he went through the process of getting hosed off just to get free food.
In the weeks since the alleged chemical weapons attack in Douma, Syria, evidence contradicting the official story continues to surface.
This week, journalists on the ground in Syria recorded interviews with some of the people who were there for the alleged attacks – people who actually appeared in the video that was shared widely by Syrian rebels associated with the White Helmets on April 7th, provoking attacks from the United States Military and its allies.
One of the most compelling interviews was with an 11-year-old boy named Hassan Diab who can be clearly matched with one of the victims in the video. Fortunately, the young boy is safe and in good health, and suffered no chemical attack symptoms, but he is surely traumatized and confused by what he experienced.
Hassan told Russian journalist Evgeny Poddubny that he was walking the streets with his mother in search of food, when one of the people that they encountered insisted that they go to the hospital.
"Somebody was shouting that we had to go to the hospital, so we went there. When I came in, some people grabbed me and started pouring water over my head,"  Hassan said.
Imagine being a young hungry child walking into a hospital expecting to find some food, only to be grabbed by strangers and soaked with water along with dozens of other children, all the while being surrounded with lights and cameras.
The boy was eventually found by his father, who said that he saw no evidence of a chemical attack.
"I didn't hear anything about the chemical attack, I was outside but didn't hear anything. I heard that my family was in the hospital. I went to the hospital, walked upstairs, and found my wife and children. I asked them what had happened, and they said people outside were shouting about some smell and told them to go to the hospital. At the hospital, they gave dates and cookies to the kids," he said.
While it would be possible that a child walking the streets could get mixed up with actual victims in the midst of the chaos that takes place after this type of incident, even the doctors at the hospital that encountered these victims didn't see evidence of a chemical attack.
One doctor told reporters that they saw victims who were hurt and killed in bombings that were regularly taking place in the city, but no trace of chemical agents.

"People from the White Helmets told us about the use of chemical weapons, but we saw no sign of that. If chemical weapons were used against those people, our medical staff would have also been affected," he said.
After the video was published on Thursday, Russia's UN envoy Vassily Nebenzia told Rossiya 1 that Moscow is planning to show the video about Hassan at the next meeting of the UN Security Council.
Two other alleged witnesses say that they were working at the hospital during the time of the attack, and they also did not see evidence of chemical agents.
"We heard an explosion and someone said it was a chemical weapon, we ran to where the noise came from and started pouring water over the people, but they seemed to be ok and then walked away with any help," one witness said.
"People got so confused, someone started pouring water over peoples heads saying there had been a chemical attack, I was at the spot with my wife and daughter but neither of us experienced any symptoms of chemical poisoning," another said.
Hassan's story is very similar to that of Omran Daqneesh, a Syrian boy reportedly pulled from the rubble of a bombed out building. Daqneesh's image was broadcast around the world and used as a propaganda tool against Syrian President Bashar al-Assad.
The truth was later revealed by The Free Thought Project and others that it is highly likely the opposition itself destroyed the very building in which Daqneesh was residing, then used his image to promote the myth that he was attacked by Syrian forces.
According to The New York Times, Mr. Daqneesh told the real story of what happened immediately following the bombing. He never supported the opposition and appeared on Syrian state-run media to proclaim his support for Assad. He described how the White Helmets used his son as a propaganda tool without his permission.
"They took Omran, got him to the ambulance, where they filmed him. It was against my will. I was still upstairs in the house," Mr. Daqneesh said, adding that he was pressured, and even offered money to use his son as a pawn in propaganda against the Assad regime.
As we reported this week, even the western mainstream media is beginning to question the official story. World-renowned journalist Robert Fisk pointed out that there was no actual evidence for these attacks, aside from videos from the White Helmets, a group that is notorious for creating propaganda.