China gets a lot of flack for overtaking the US as the most polluting country in the world in 2007, but they get far less credit for simultaneously being one of the leaders in green energy research. Now, the Chinese city of Shenzhen has decided to up the ante by killing two birds with one stone; it hopes to tackle its waste management problem and produce a source of energy at the same time by building the world's largest waste-to-energy plant.
Shenzhen chose an architectural design submitted by two Dutch architecture firms, Schmidt Hammer Lassen and Gottlieb Paludan, to a design competition.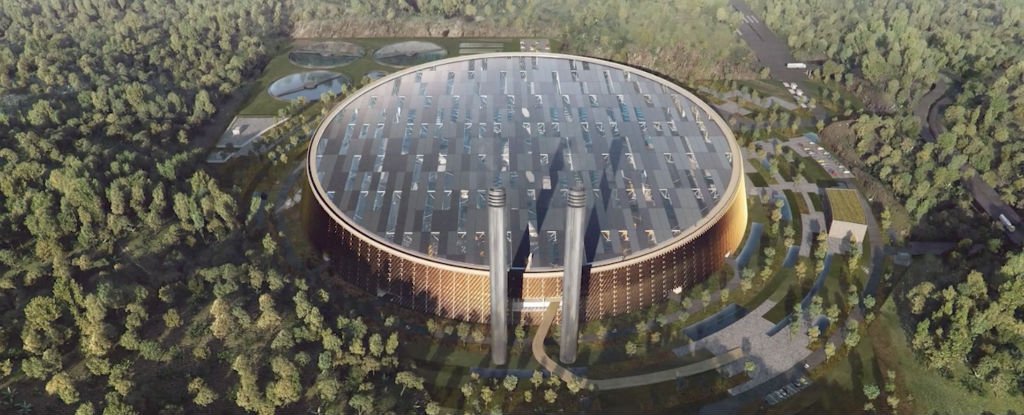 "The plant is intended to showcase the Waste-to-Energy production as an important technical process that is geared to deal with the issues of growing waste, as well as the issue of finding more environmentally friendly ways of generating electricity," the Danish architects say. "At the same time visitors become informed on the challenge of the growing amounts of waste we produce every day and are also educated on initiatives on how to reduce their own amount of daily waste."
The plant will generate energy by two methods. First, the building (which is nearly a mile long in circumference) will be decked with solar panels. A half a million square feet worth of them. Secondly, the process will convert at least a third of the waste – 5,000 tonnes of it a day – into useful energy by incinerating it.
The process will still release CO2 (the same way that burning fossil fuels that power all human activity releases CO2), but will at least help the city deal with the mountains of trash being generated by its fast-expanding population. Also, one of the frims' architects claim that allowing trash to decompose on its own would cause twice the quantity of CO2 to be released.
"They are a way of dealing with waste and using this process to generate electricity as a byproduct of the process. Cities have to move towards more recycling and reducing their waste for sure – and of course developing more sources of renewable energy. That is sort of the point we are making by proposing this be the first waste-to-energy plant that has a renewable component to it," he said.
Illegal trash dumps and landfills are an actual hazard to life and limb in Shenzhen; last year, dozens of people were killed when an avalanche of trash collapsed onto them.
This plant is but one of 300 similar waste-to-energy plants that the Chinese government hopes to construct within the next three years. While the exact environmental benefit and cost is debatable, China is far from unique in turning to incineration as a means of dealing with its trash pollution problem.
Though it is good that the Chinese government recognizes its waste problem, perhaps a better solution than burning waste and causing a "reduced" amount of pollution; countries like China could better manage their waste problems by simply producing less of it. When the plant comes online in 2020, San Francisco in the US plans to become a zero-waste city.
Sources: Science Alert, MSN, Forbes, Fast Code Design
---
This article (China Constructs Largest Waste-To-Energy Plant In The World. Converts Shenzhen's Trash Into Energy) is a free and open source. You have permission to republish this article under a Creative Commons license with attribution to the author(CoNN) and AnonHQ.com.