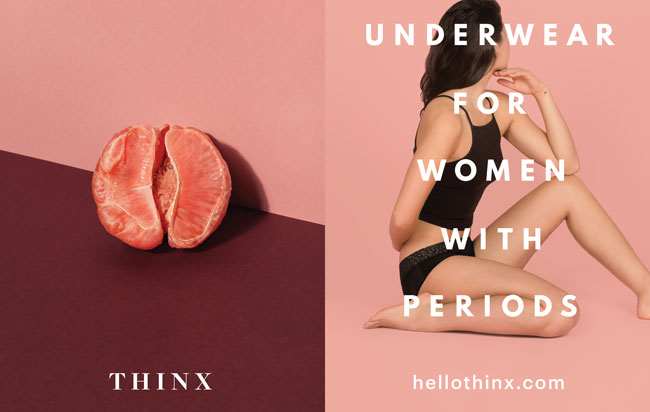 New York-based Miki Agrawal, along with her twin sister Radha and friend Antonia Dunbar, have invented Thinx – environment-friendly panties that can absorb two tampons worth of blood. Thinx is made up of four layers that absorb blood and fight bacteria, which means women don't need to use tampons or pads when they wear Thinx during their periods. At $24-$38, Thinx protects women from leaks, wetness, and anxiety, for as long as two years.
"Women in our culture don't want to talk about their periods — most still think about it as crass and disgusting. I want to change the culture around women's most normal time of month — and not while wearing grandma panties or pads that feel like a diaper," 36-year-old Miki Agrawal, CEO and co-founder of Thinx, tells Forbes.
Miki says Thinx panties can eliminate the landfill waste generated by traditional feminine products. The National Women's Health Network reports that each year 12 billion pads and 7 million tampons are dumped into US landfills.
Not only that, Thinx is built on doing social good and sells directly to customers online. When someone purchases a pair of Thinx, part of the proceeds goes to Uganda based AFRIPads, which trains women in third world countries to manufacture and sell reusable pads at affordable prices to local women. The money donated to AFRIPads also helps to buy girls the freedom to go to school when they have their periods.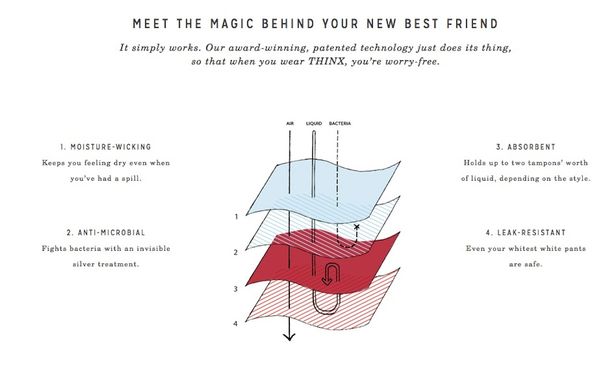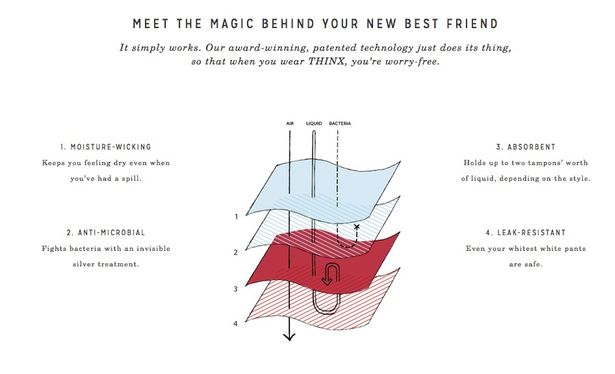 Can Thinx upturn the $15 million pad and tampon market?
"Tampons were invented in 1931 and aside from adhesive strips and wings on pads, there hasn't been any major innovation in 85 years. It's time to change that — and to change the taboo," feels Miki.
The stain resistant and moisture absorbing panties come in four varieties: Thong, for the lightest days; Cheeky, for medium days; and Hiphugger and Sport, for heavy days. The designers say they're washable, hygienic and replace 'normal sanitary protection' without any fear.


The Thinx website adds:
"We see a world where no woman is held back by her body. We will work proudly and tirelessly until every single girl has an equal opportunity for the brighter future she deserves. By reimagining feminine hygiene products to provide support, comfort, confidence, and peace of mind, we aim to eliminate shame, empowering women and girls around the world."
As promised, the full review of THINX period panties… no stone was left unturned and no panty left unsniffed…. https://t.co/7KSb86mPAn

— Vagangelist (@putacupinit) February 3, 2016
A BuzzFeed reporter, who put Thinx to the test, has this to say:
"Get them! It will be an insane upgrade on your old period panties. Size up if you need to support your booty. Be mindful of your personal flow, but I'll definitely be wearing them tampon-less. I have not yet tested Thinx's ability to hold up against accidental laugh-peeing or farting, but I have confidence that they can hold up under pressure. So go forth, my fellow women. Bleed free, bleed proud."
---
This article (Former Soccer Player Invents Environment-Friendly Period-Proof Underwear – For Women With Periods) is a free and open source. You have permission to republish this article under a Creative Commons license with attribution to the author and AnonHQ.com.