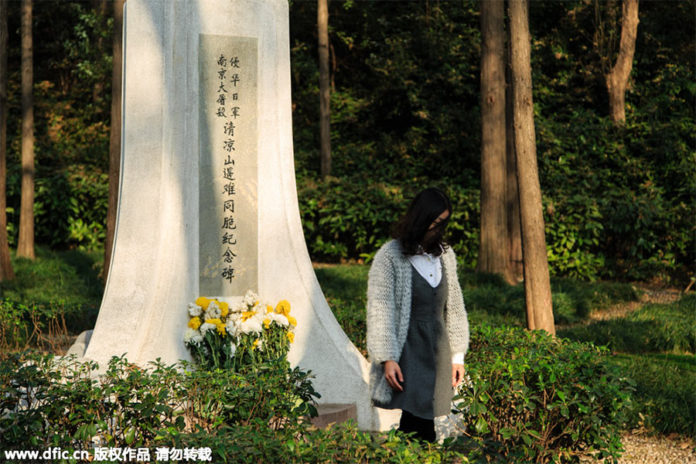 The "Rape of Nanjing"  occurred in 1937, and represents one of the worst cases of genocide in recent history.  Despite being well-documented by foreigners who were living there at the time, it is one of history's great blind spots.
In fact, China only began holding the annual memorial last year, 13th December 2014, and Pearl Harbor probably remains the most well-known account of Imperial Japan's wartime aggression.
The History Channel made a documentary covering some of the war crimes that were committed at the time, showing video footage, pictures and the accounts of locals, foreigners and Japanese soldiers (warning graphic footage including grotesque imagery and nudity):

100,000- 300,000 civilians were estimated to have been killed. 20,000 to 80,000 women were raped. The massacre was said to have been so extreme that a Nazi businessman who was present spoke out and stood up against the cruelty.
A memorial museum was unveiled weeks earlier on the site of a brothel used to house "comfort women":

Ceremonies and a series of events were scheduled to occur at 17 different mass grave sites in Nanjing. Coverage of the event by the Chinese media was described as "low-key" as Xi JinPing and the ruling party's Politiburo Standing Committee were not attending the event, and comes after China's successful bid in October to have documents illustrating the Rape of Nanjing included in the "Memory of the World" program by UNESCO.
Some mainstream media sites called last year's event a propaganda war against Japan, with some calling the memorial an act of "demonizing Japan".
Sources: CRI English, The Telegraph, Mail Online, Bloomberg Business, Nikkei
---
This Article (China Remembers "Rape of Nanjing" With Memorial Day) is free and open source. You have permission to republish this article under a Creative Commons license with attribution to the author(CoNN) and AnonHQ.com.