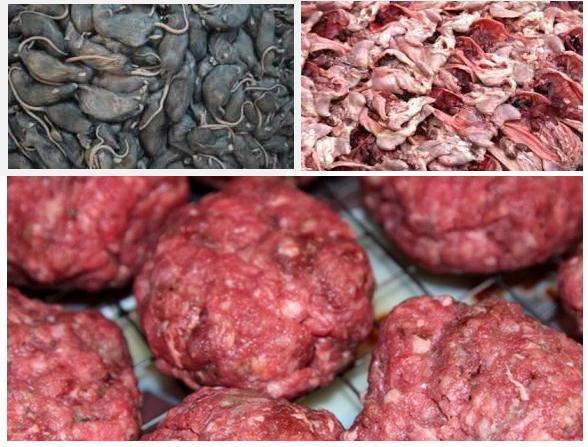 It is very important to eat healthy, your body will change depending on what you eat. If you eat healthy you will have less pimples and bumps on your skin, if you eat unhealthy your body will be unable to achieve certain tasks, you will attract diseases and your life span will ultimately become shorter. It isn't just your body that takes effect from an unhealthy diet though, even your personality and movement will change. People who eat healthy are generally much more active and happy.
For this reason it is vital that you know what you are actually eating, it might sound a bit odd but just because the package says "100% Beef" does not mean that it is in fact "100% Beef", or even beef at all in that matter…
A gang of traders based in China were in a spot of trouble recently after the Ministry of Public Security arrested the team for using rat, fox and mink meat to create fake pork and beef to later market and sell in stores.
Recent reports tell us that 63 individuals were arrested for "hunting and buying rat and other meat products that had not undergone inspection."
The discovery was not hidden from the public, making headlines on several different news papers and websites, and quickly circulating around the globe.
The rat, fox and mink meat was doused in gelatin, red pigment and nitrates, later to be sold and marketed under the fake names in Shanghai and adjacent Jiangsu Province for around $1.6 million. It is still unclear to this day how exactly the group hunted and gathered the animal carcasses.
The Ministry has been much more strict this year on its ways of gathering information and carrying out punishments to those who break the food safety laws. So far authorities have manged to capture and delivered punishments to a total of 904 individuals suspected or connected to selling fake, toxic or diseased meat, with 1,721 shops and factories being further questioned.
---
This Article (Chinese Gang Arrested For Selling Rat Meat As Fake Pork And Beef) is free and open source. You have permission to republish this article under a Creative Commons license with attribution to the author(FLU5CH) and AnonHQ.com.