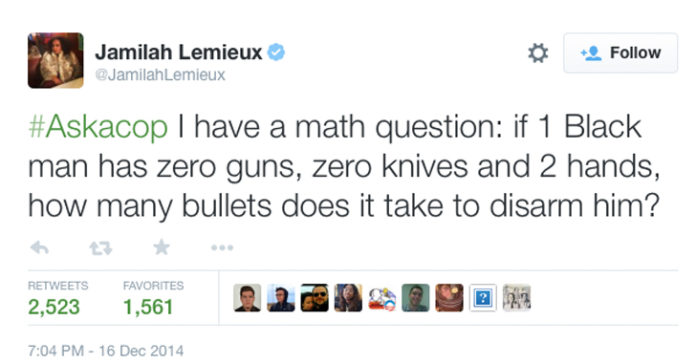 Written by: Carey Wedler at thenantimedia.org
On Tuesday night, CNN thought it would be a good idea to set up an #AskACop hashtag on Twitter. It was for an upcoming segment called #CopsUnderFire:
Perhaps they didn't anticipate the backlash:
What ensued was a rapid-fire assault on recent and highly publicized incidents of police brutality. Some tweets were sarcastic, others thoughtful, but the vast majority demonstrated frustration and intolerance for the racism and violence of law enforcement:

Of course, some tweets showed support for cops:
But the results of CNN's Twitter event overwhelmingly showed the growing, heated discontent toward police:
Naturally, @CNNTonight, the program hosting #AskACop, made it a point to tweet pro-cop propaganda:
It is unknown whether or not CNN expected the inflammatory results of #AskACop, but it's difficult to believe no one saw it coming. Especially when they declared it a success either way:
It's possible it was a PR stunt to salvage plummeting ratings, but regardless, the Twitter backlash is a positive sign that public opinion is trending toward police accountability.
___________________________________________________________________________________
Source: http://theantimedia.org/cnns-askacop-triggers-anti-police-backlash-on-twitter/