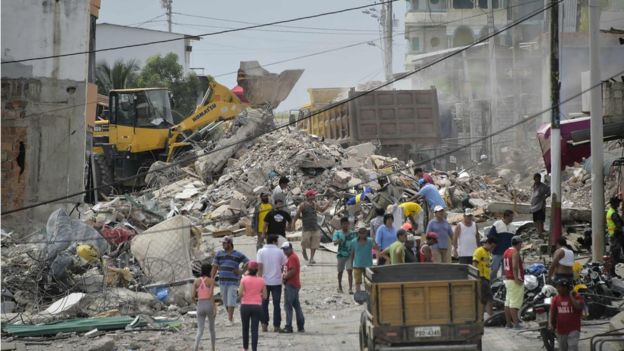 The death toll in Ecuador has risen to 413, according to the nation's government. A 7.8 magnitude earthquake struck the Ecuadorian Pacific Coast on Saturday, causing billions of dollars in damage.
Six people were rescued from a collapsed hotel on Monday.
"I fear that figure will go up because we keep on removing rubble," said Ecuadorian president Rafael Correa said in a television broadcast. "There are signs of life in the rubble, and that is being prioritised."
The secretary general of the Organization of American States, Luis Almagro, has offered some of the organisation's emergency funds to help the nation rebuild.
"I had to make an unexpected trip out of town," said former resident of Pedernales, one of two towns that were badly hit (the other being Portoviejo), Emilio Solorzano to the BBC. "Just as well, otherwise I would have been crushed, I'm standing on my bedroom."
"Pedernales is devastated," local mayor Gabriel Alcivar said to the Ecuadorian media. "Buildings have fallen down, especially hotels where there are lots of tourists staying. There are lots of dead bodies."
"We're trying to do the most we can but there's almost nothing we can do". He noted that looting had broken out, as starving former residents take what they can from the carcass of the desolate city.
"I have to take some advantage from this horrible tragedy,"  Jorge Esquivel, one such looter, said to Reuters. "I need money to buy food. There's no water, no light, and my house was destroyed." Hundreds may have to make do on the streets, with almost nothing to their name.
100 inmates also escaped from the Portoviejo city prison when part of it collapsed.
Scientists believe that the Ecuadorian quake is unrelated to one that occurred in Japan on the same day.
Sources: BBC
---
This article (Confirmed Death Toll from Ecuadorian Earthquake Rises to 413) is a free and open source. You have permission to republish this article under a Creative Commons license with attribution to the author(CoNN) and AnonHQ.com.