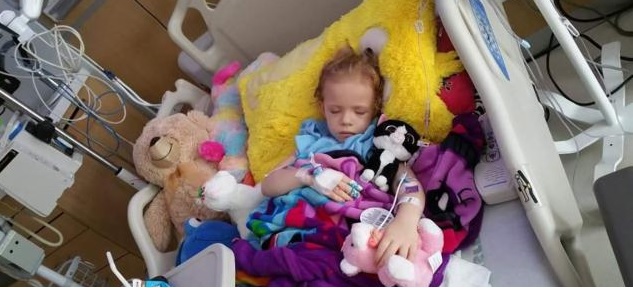 An Ohio girl was accidentally shot and wounded by a cop trying to shoot her charging family dog. 4-year-old Ava Ellis suffered a gunshot wound that shattered the bone in her right leg after a Columbus police officer, Jonathan Thomas, pulled the trigger on June 19.
According to Columbus police spokeswoman Denise Alex-Bouzounis, Thomas was investigating a hit-and-run in Whitehall when a woman came up to him asking for help. The woman told Thomas that her sister, Andrea Ellis, had cut herself on some glass and needed medical attention. When Thomas arrived at the doorway of the residence, one of the family dogs ran at him. Thomas pulled out his gun and fired, inadvertently hitting Andrea Ellis' young girl in the leg. She was taken to nearby Nationwide Children's Hospital in stable condition.
In an account of the incident on Ava's Facebook page, Ellis said her sister, Brandie Kelly, first called 911. "She's bleeding all over the place! I need a paramedic!" Kelly told the 911 dispatcher. She then noticed Thomas and cried out for help. As Thomas approached the home, one of the two family dogs ran at him.
Last month Ellis alleged that Thomas prematurely left the scene. "Officer Thomas never said sorry, never said it was an accident, never said that he called for help or was going to call for help, never asked if Ava was OK, and never asked if he could check on Ava," she said.
Police dashcam video shows the chaos in the immediate aftermath.
"They had started to cut her pants off her and I just see blood everywhere. She asked me several times, 'Mommy, am I gonna die?'" Ellis said.
Columbus police say they are "grateful to learn that [Ava's] healing is under way" after she was "unintentionally shot". The investigation is ongoing.
---
This Article (Cop Trying To Shoot Family Dog Shoots 4-Year-Old Girl Instead) is free and open source. You have permission to republish this article under a Creative Commons license with attribution to the author and AnonHQ.com.