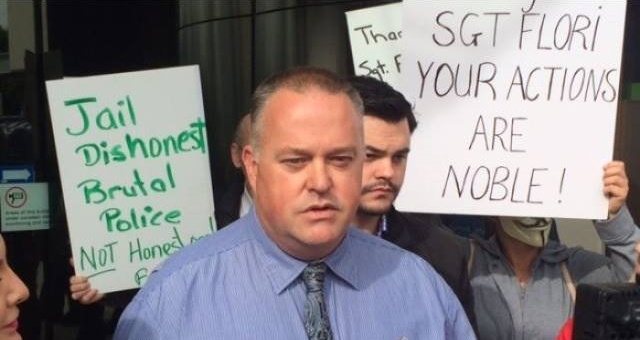 Written by Jackson Marciana at theantimedia.org
A Gold Coast police officer who leaked the CCTV video footage showing police brutally beating an innocent man is now facing seven long years behind bars.
Sergeant Rick Flori is being threatened with seven years in prison after the leaked video surveillance footage was released, which clearly showed his fellow officers beating a young father named Noa Begic.
Begic was handcuffed in the Surfers Paradise Police Station basement during the entire ordeal. There was simply no way the officers could get away with claiming self-defense on this one…at least not once the video was released. That's why they hoped it never would be.
Officers for the Gold Coast, Australia Police Department had expected Sergeant Flori to be like the rest of them and cover up the police brutality. But instead, Flori took a stand – and now they are trying to lock him up for it.
Flori leaked the footage to the Brisbane Courier-Mail. For this "crime" he was charged with "misconduct in public office."
The footage he revealed was taken in 2012, and it clearly shows police officers slamming Begic's face into the concrete floor. They then shove him in the back of a van and punch him over and over while he is cuffed and being held down.
Almost as disturbing is the routine way that the video shows Begic's blood being washed away by a senior-sergeant after the incident is over.
Flori's leak did get two of these officers in a little bit of trouble, but he is still being penalized. One officer who washed the blood away quickly before he could be disciplined is now being scrutinized. The officer who did the bulk of the punching was given a suspended dismissal — a slap on the wrist though. The other two officers involved were not punished at all.
The victim, Begic, ended up being charged with being a "public nuisance" and "obstructing police."
Right now, Flori is still facing serious charges and lengthy prison time. If you believe he should walk free then help us SPREAD THE WORD and demand it!
---
This article (Cop Who Leaked Video of Fellow Police Beating Innocent Man Facing 7 Years in Prison) originally appeared on CounterCurrentNews.com and was used with permission. Image credit: Australia Supports Sgt Rick Flori. Anti-Media Radio airs weeknights at 11pm Eastern/8pm Pacific.