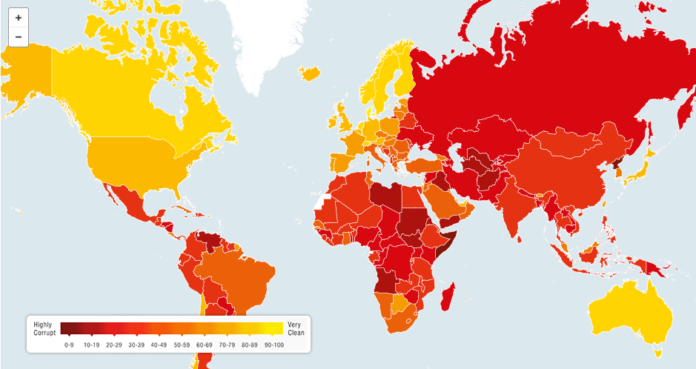 Transparency International has released a new report which shows where corruption is at its worst. The above map shows the relative corruption levels of countries around the world- the most corrupt nations are colored a menacing dark red, while the lesser evils are colored an angel-halo light yellow.
Once again, it has found that no country is immune from corruption, with even the least corrupt nation in 2015 (Denmark) scoring 91 out of 100- a good score, but far from perfect.
Somalia and North Korea were found to be the most corrupt countries, scoring just 8 points.
Countries like Australia, Brazil, Libya, Spain and Turkey scored worse than they had in the past.
The independence of a country's judiciary; the presence of trustworthy institutions that can provide a check and balance to prevent corruption and prosecute the corrupt, and the lack of corruption in the public sector all factor into the anti-corruption watchdog's calculations for the score.
Violence and conflict were key drivers of corruption, the study notes that "Five of the 10 most corrupt countries also rank among the 10 least peaceful places in the world."
Wasted funds that were supposedly for reconstruction and aid, have also been siphoned off because of corruption.
"In Afghanistan, millions of dollars that should have gone on reconstruction have been reportedly wasted or stolen, seriously undermining efforts to sustain peace."
The report also points out that wealth inequality and extreme poverty are hallmarks for corrupt countries. Often, it is the defenseless children who get hit the worst.
"In Angola, 70 percent of the population live on US$2 a day or less. One in six children die before the age of five – making it the deadliest place in the world to be a child. More than 150,000 children die each year. But not everyone's suffering.
Dubbed Africa's youngest billionaire, Isabel dos Santos made her US$3.4 billion fortune from the national diamond and telecommunications business. She's also the president's daughter."
North Korea, South Sudan, Sudan, Afghanistan, Iraq, and Somalia were each among the top 10 most corrupt countries last year; being some of the least stable nations, this is hardly surprising.
The report notes that "the scale of the issue is huge. Sixty-eight per cent of countries worldwide have a serious corruption problem. Half of the G20 are among them."
It notes that just because a country has received a relatively positive rating, it does not mean that it hasn't soiled its reputation by pushing all its corrupt activities abroad.
It has found that half of all countries in the Organization for Economic Cooperation and Development, AKA the OECD or the "rich nations' club", have allowed their companies to engage in bribery overseas- in contravention of their obligations to combat corruption.
" Many 'clean' countries have dodgy records overseas… But just because a country has a clean public sector at home, doesn't mean it isn't linked to corruption elsewhere."
Greece, Sénégal, the U.S. and the United Kingdom all received higher scores than they had in 2014. The US secured 16th place.
Sources: Foreign Policy, Transparency International
---
This Article (How Corrupt Is Your Nation? Transparency International's 2015 Report Maps Corruption Rates Globally) is free and open source. You have permission to republish this article under a Creative Commons license with attribution to the author(CoNN) and AnonHQ.com.