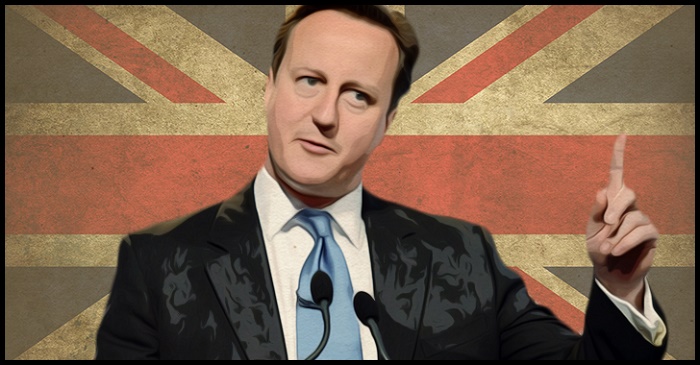 By Michaela Whitton at theantimedia.org
United Kingdom — David Cameron has managed to slander over half of the British population who don't want their taxes spent killing Syrian children — by inadvertently branding them "terrorist sympathisers.''Cameron's most recent foot-in-mouth moment happened as part of a desperate push to urge his fellow Tory MPs to take a stand on the eve of the Parliamentary vote on authorising U.K. airstrikes in Syria.
"You should not be walking through the lobbies with Jeremy Corbyn and a bunch of terrorist sympathisers," he said.
Cameron's comments sparked outrage on Twitter with the hashtag #terroristsympathiser trending for a few hours on Wednesday morning.
Members of the British public, journalists, MPs, and anti-war campaigners fired back at the PM and took to social media to let rip at the accusation that opposition to a bombing campaign means sympathy for terrorism.
Honestly, @David_Cameron probably called MPs #TerroristSympathiser to assure they debate this instead of the real #SyriaDebate

— Angelika Rusbridge (@AngelikaRusb) December 2, 2015
Just when you think the PM can't get any worse, he goes and brands half of the country #terroristsympathiser. What a clown.

— Andy Lees (@AndyNLees) December 2, 2015
My first day as a #terroristsympathiser and I've got up early and cleaned the kitchen, baked a lasagne. No laundry will dry outdoors today!

— Eirian Allport (@meganeirian) December 2, 2015
The more dave talks the more I become a #TerroristSympathiser

— Sarah (@sazzy69) December 2, 2015
As a #terroristsympathiser , I'm just off to do some Christmas Shopping. #SecretSantaSympathiser

— Saltire Black (@SaltireBlack) December 2, 2015
Im officially, a proud #terroristsympathiser #DontBombSyria thanks Dave!

— Jeremy Hand (@jphandesq) December 2, 2015
@David_Cameron Oh how your comment is backfiring! Apologise now. #terroristsympathiser

— Pulse (@ExplosivePulse) December 2, 2015
I've never met anyone in my entire life that wants a war or to bomb places. Does that make everyone I've ever met a #terroristsympathiser ?

— Kris Askey (@KrisAskey) December 2, 2015

MPs are due to vote this Wednesday, 2 December, on whether to join the bombing campaign in Syria. Meanwhile anti-war protests and lobbying of MPs are taking place throughout Britain.
---
This article (David Cameron Has Just Managed to Brand Over Half the U.K. as "Terrorist Sympathisers") is free and open source. You have permission to republish this article under a Creative Commons license with attribution to Michaela Whitton and theAntiMedia.org.