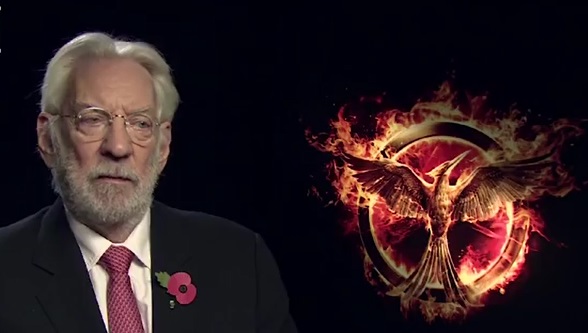 Hollywood actor Donald Sutherland has spoken out about the future of America and the allegory of the multimillion dollar spinner The Hunger Games films. In an interview captured on YouTube, Sutherland speaks out, warning us of the top 10 percent and war profiteers.
"If there's any question as to what it's an allegory for I will tell you. It is the powers that be in the United States of America. It's profiteers.
War is for profit. It's not 'to save the world for democracy,' or 'for king and country.' No bulls**t.
It's for the profit of the top 10%, and the young people who will see this film must recognize that for the future 'blind faith in their leaders,' as Bruce Springsteen said, "will get you dead."

Sutherland, who plays President Coriolanus Snow in the blockbuster series, is stone cold serious when he pulls no punches about the meaning that is trying to be conveyed. The Industrial Military Complex, or the 'war machine' is real, and the youth must wake up to their leaders, as he bluntly puts it.
The underlying anti-establishment theme in Hunger Games is difficult to miss. Its success has been mirrored by similar dystopian genre films such as The Divergent, and TV shows like The Walking Dead. The striking success of these films may be in parallel to societal concerns finally being voiced over the big screen, and to attempts in making sense of government agenda and what it means for humanity.
In World War I and II, the conflicts created new wealth for a minority of the population. Millionaires were created from the blood spilt of mainly blue and white collar workers in the trenches. A similar situation is now at hand with the Middle Eastern wars, as we witnessed military weapons' stocks skyrocket only a day after the Paris attacks.
Sutherland brings the point home. War is for profiteering and for the ruling elite, for the weapons manufacturers. Sutherland's warning to all is that we're pawns in a large game of destruction.
At 2:00 in another clip, Sutherland says one thing about the movie: "I hope it is action provoking," that young people will put down their games and change something. "[Our survival] It is up to them because my generation has ruined this planet. The people in government are serving themselves, not serving their people…this film is a call to war."

---
This Article (Actor Donald Sutherland Explains the Real Meaning of the Hunger Games) is a free and open source. You have permission to republish this article under a Creative Commons license with attribution to the author and AnonHQ.com.