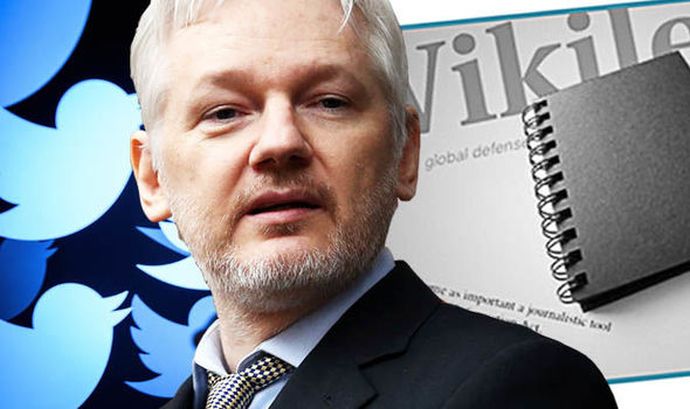 First, on Christmas day, his personal Twitter account disappeared. 12 hours later it reappeared, but the US Navy sent this strange tweet:
…
yes, strange indeed as they normally use a codename for Mr. @JulianAssange

— AnonymousScandinavia (@AnonScan) December 25, 2017
At the time Wikileaks sent out a Tweet confirming that his "physical situation at the embassy remains unaltered", meaning that he was safe – physically at least.
A week later, as if to compound this unusual activity, he has apparently decided to showcase his musical taste, together with a 60-character code, in a New Year's Day tweet:
fb4e568623b5f8cf7e932e6ba7eddc0db9f42a712718f488bdc0bf880dd3 https://t.co/F0f5Gcsgeo

— Julian Assange 🔹 (@JulianAssange) January 1, 2018
The music video linked in the tweet is called "Paper Planes" and it was sung by Maya Arulpragasam. Twitter has since exploded with speculation over the meaning behind his tweet.
Was Paper Planes a reference to his freedom?
Is Julian on a plane headed to the US?? 🤞🤞🤞🤞 Im ready for him to let the truth be known!!

— Deplorable_Gemini610 (@OnlyMe610) January 1, 2018

Was it a dead man's switch?
Is that a….dead man's switch?

— MAGA Shinobi (@BrandonHathaw12) January 1, 2018
Or did it simply single the release of another Wikileaks drop?
It signals another Wikileaks drop is imminent.

— name redacted (@nameredacted5) January 1, 2018
The song itself is notable in that it contains lyrics like "If you catch me at the border I got visas in my name," "pirate skulls and bones" and "I've got more records than the KGB, So, uh, no funny business".
This is not the first time Assange and Wikileaks have tweeted cryptic encryption hashes though. There's this one from October:
4767 5774 6a7a 4d6c 6330 666b 314a 3453 0000 0907 84b4 f787 7616 86f7 a737 5707 5736

— Julian Assange 🔹 (@JulianAssange) October 15, 2017
And a series of pre-commitments from 2016, a cryptographic technique to prevent unreleased information from being manipulated:
pre-commitment 1: John Kerry 4bb96075acadc3d80b5ac872874c3037a386f4f595fe99e687439aabd0219809

— WikiLeaks (@wikileaks) October 16, 2016

And another in August of that year.
Each tweet had unleashed a similar torrent of speculation.