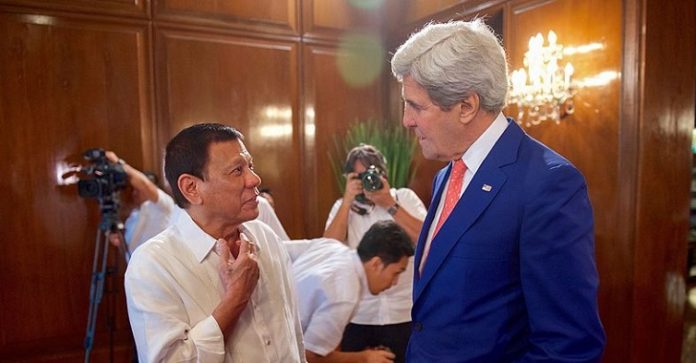 By James Holbrooks at theantimedia.org
Philippines — In the midst of withering ties to the United States, controversial Filipino President Rodrigo Duterte dared the C.I.A. to try to remove him from power. He was speaking in his hometown on Friday to mark his first 100 days in office.
"You want to oust me?" Duterte said in the southern city of Davao, reports Channel NewsAsia. "You want to use the CIA? Go ahead."
Considerable outrage has erupted over the new president's violent crackdown on drug offenders, which to date has resulted in over 1,500 deaths at the hands of police and nearly 2,000 via unexplained circumstances.
But the dare wasn't aimed at the United States, alone. According to Channel NewsAsia, Duterte was also addressing those in his own country thinking of rising up against his authority. "Be my guest. I don't give a shit," he stated.
"I'll be ousted? Fine. (If so) it's part of my destiny. Destiny carries so many things. If I die, that's part of my destiny. Presidents get assassinated."
Clearly, however, the president's primary target was his Western critics, as evidenced by remarks he made regarding their intelligence — or, rather, their lack thereof. Describing how he would be ready with counter-questions if he were ever interrogated by Western officials, Duterte, in his typically inflammatory fashion, said:
"If they are unable to answer, son of a whore, go home, you animal. I will kick you now. Do not piss me off. It cannot be that they are brighter than me, believe me."
As for the U.S., it may ultimately matter very little how it judges the practices of the Philippines' new president considering Duterte recently signaled a desire to move away from Western dependency and cultivate relations with China.
In fact, on Thursday, in "the most forceful show of accord from a top official with President Rodrigo Duterte's anti-American stance," Reuters reported the Filipino foreign affairs secretary said in a Facebook post that Duterte is "compelled to realign"his country's foreign policy away from a "shackling dependency" on the United States.
"Breaking away from the shackling dependency of the Philippines to effectively address both internal and external security threats has become imperative in putting an end to our nation's subservience to United States' interests," Foreign Affairs Secretary Perfecto Yasay wrote.
In mid-September, Underground Reporter highlighted comments made by President Duterte, in which he stated that despite the fact he does "not want a rift with America," all U.S. forces in the southern region of the Philippines nonetheless"have to go."
Following those comments, Dr. Joseph Chang, an analyst, speculated that in addition to diminishing Filipino dependence on U.S. aid, Duterte may also desire to "improve economic ties with Beijing" and even "attract foreign aid from Beijing to the Philippines."
Since that time, it's become increasingly apparent this is precisely what Duterte has in mind. Not only is the president now seeking to build alliances with both Russia and China, but he's also looking to wean his country off of military cooperation with the United States altogether.
On September 29, for instance, Duterte said the joint U.S-Filipino navy drills being conducted this week would be the last between the two countries.
"I am serving notice to the Americans, this will be the last military exercise," the president said. "Jointly, Philippines-U.S.: the last one."
---
This article (Defiant Filipino President Just Dared the US to Assassinate Him with the CIA) is free and open source. You have permission to republish this article under a Creative Commons license with attribution to James Holbrooks andtheAntiMedia.org.