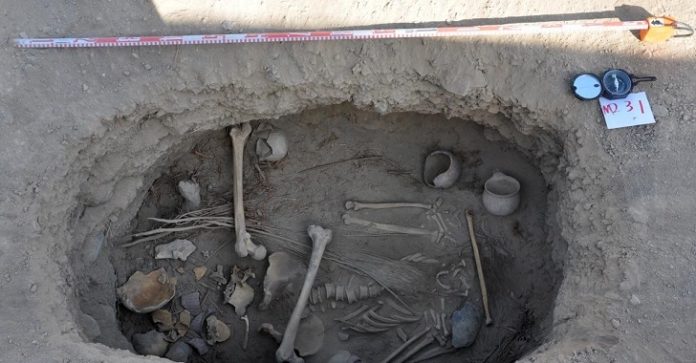 By Carey Wedler at theantimedia.org
Archaeologists in China recently discovered evidence indicating humans have been using cannabis as medicine and employing it in spiritual rituals for over 2,400 years.
According to "Ancient Cannabis Burial Shroud in a Central Eurasian Cemetery," published in Economic Botany last month, "[a]n extraordinary cache of ancient, well-preserved Cannabis plant remains was recently discovered in a tomb in the Jiayi cemetery of Turpan, NW China."
The researchers, led by Hongen Jiang, an archaeologist at the University of Chinese Academy of Sciences, discovered 13 whole female cannabis plants buried in the tomb of a 35-year-old Caucasian man. The paper explains the cannabis plants "appear to have been locally produced and purposefully arranged and used as a burial shroud which was placed upon a male corpse." Researchers suspect he might have been a shaman.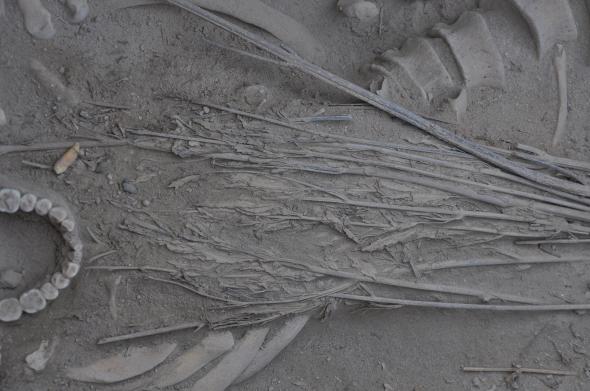 Radiocarbon dating indicates the tomb is between 2,400 and 2,800 years old.
National Geographic explained the discovery:
"The burial is one of 240 graves excavated at the Jiayi cemetery in Turpan, and is associated with the Subeixi culture (also known as the Gushi Kingdom) that occupied the area between roughly 3,000 to 2,000 years ago. At the time, Turpan's desert oasis was an important stop on the Silk Road."
Jiang, the paper's lead author, explained the significance of their discovery:
"This is the first time archaeologists have recovered complete cannabis plants, as well as the first incidence of their use as a 'shroud' in a human burial."
According to Jiang, as paraphrased by National Geographic:
"This discovery adds to a growing collection of archaeological evidence showing that cannabis consumption was 'very popular' across the Eurasian steppe thousands of years ago."
The paper notes the researchers' findings add to mounting evidence humans have long used cannabis:
"This unique discovery provides new insight into the ritualistic use of Cannabis in prehistoric Central Eurasia. Furthermore, the fragmented infructescences of Cannabis discovered in other tombs of the Jiayi cemetery, together with similar Cannabis remains recovered from coeval tombs in the ancient Turpan cemetery along with those found in the Altai Mountains region,reveal that Cannabis was used by the local Central Eurasian people for ritual and/or medicinal purposes in the first millennium before the Christian era." [emphasis added]
In 2008, researchers discovered a 2,700-year-old grave stocked with "a large cache of cannabis" near the Turpan region. They believed the grave belonged to a Caucasoid shaman and suggested the Gushi people, who occupied that region at the time, "cultivated cannabis for pharmaceutical, psychoactive or divinatory purposes."
Last year, archaeologists found golden bongs containing traces of cannabis and heroin during a grave excavation in the Caucasus Mountains of southern Russia. Their findings indicated a traveling nomad tribe called the Scythians had performed "drug-fuelled" rituals there.
Similarly, though cannabis can be used for its hemp fibers, which are employed to make clothing, furniture, andbuildings, the researchers in the Turpan desert determined that was not the purpose of the cannabis they discovered in the grave excavation. They noted they did not discover any hemp textiles in Turpan and that seeds discovered in the burial were not large enough to serve as a food source.
As a result, National Geographic noted, "[t]he researchers suspect that this marijuana was grown and harvested for its psychoactive resin, which may have been inhaled as a sort of incense or consumed in a beverage for ritual or medicinal purposes."
Though governments continue to demonize and violently prohibit cannabis (and other drugs, the findings published inEconomic Botany — like many before them — prove the plant was part of the human experience long before authorities decided to ban it.
And just as they did 2,500 years ago, humans continue to use cannabis to enhance their spirituality and medicate themselves.
---
This article (New Discovery Proves Humans Have Been Using Cannabis for at Least 2,400 Years) is free and open source. You have permission to republish this article under a Creative Commons license with attribution to Carey Wedler andtheAntiMedia.org.