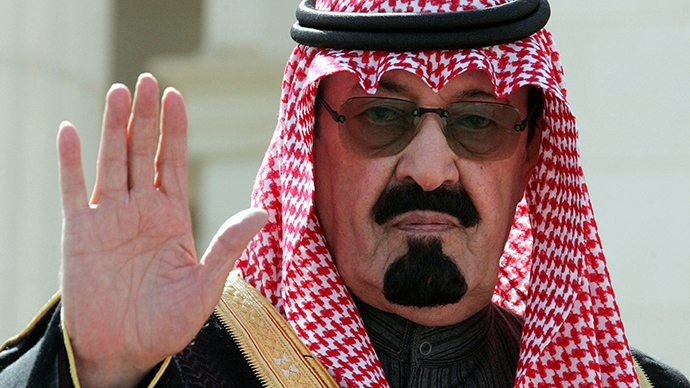 Abdullah bin Abdul-Aziz Al Saud, King of Saudi Arabia, is dead. US President Barack Obama hailed the monarch as 'a candid leader and man of convictions', while US Secretary of Defense Chuck Hagel called him 'a powerful voice for tolerance, moderation, and peace in the Islamic world'. British Prime Minister David Cameron was 'deeply saddened to hear of the death of the Custodian of the Two Holy Mosques', and German Chancellor Angela Merkel praised him for 'a cautious modernization of his country'. The New York Times described the King as 'a cautious reformer', The Washington Post as 'a wily king, and The Wall Street Journal as 'a leader who promoted stability'. Well, really? Does the despotic ruler deserve this over-the-top show of affection and admiration from world leaders and the Western press?
While the world may sing songs of praise for the dictator for what he apparently did for Saudi Arabia and the Western world, we present to you a different picture altogether – examples of tyranny are aplenty…
Abdullah regime's profound misogyny
International Monetary Fund head Christine Lagarde has hailed him as 'a strong advocate for women'. Here're some examples of his virulent feminism:
Four of Abdullah's daughters live under house arrest.  In May 2014, Saudi royal princesses Sahar, 42, Jawaher, 38, Maha, 41, and Hala, 39 were found to be kept in 13-year isolation by their father, King Abdullah. They shared their horrible condition in an interview to RT: they were deprived of food for over 60 days and had very little access to water. Their crime? They spoke against the ill treatment of women in the Gulf kingdom, resisted its strict rules mandating male guardianship over women, and their mother failed to give the King a son.
'We just want our God-given #rights & 4 all #women in this country to enjoy these rights'Sahar #FreeThe4 End #VAW #UN pic.twitter.com/iSPEc7JzBs

— Free The 4 Women (@Freethe4) January 21, 2015
In 1977, his granddaughter Princess Misha'al bint Fahd was blindfolded, made to kneel, and executed in a car park in Jeddah by the King for having the audacity to fall in love.  Her lover was forced to watch her execution, and later was beheaded with a sword; it took five blows to sever his head. The documentary Death of a Princess told the story of this brutal act.
In January 2015 in holy Mecca, four Saudi police officers chopped off the head of Laila Bint Abdul Muttalib Basim, a woman from Burma 'accused of killing her seven year old step daughter using a broom stick in her vagina and anus'. The video showed her begging for mercy as she was dragged off to the street to get beheaded. The case highlighted the crude brutality of King's justice system.
Saudi Arabia's draconian laws ban women from driving in the country. On October 26, 2013, 60 women took to the streets of Saudi Arabia driving cars and posting videos online of them singing to Bob Marley's hit 'No Woman No Cry' with the words 'No Woman No Drive'. Their website was blocked and Saudi Arabia's top cleric retorted, 'women who drive risk damaging their ovaries and bearing children with clinical problems'. Two Saudi Arabian women – Loujain al-Hathloul, 25, and Maysa al-Alamoudi, 33, a UAE-based journalist, flouted the bizarre ban in 2014, and were referred to a terror court in Riyadh.
"After years of false promises to end its absurd restrictions on women, Saudi authorities are still arresting them just for getting behind the wheel. The Saudi government's degrading restrictions on women are what bring shame to the country, not the brave activists standing up for their rights," said Sarah Leah Whitson, Middle East and North Africa director for Human Rights Watch.
Can't stop reading these western media obituaries for the Saudi tyrant. One outdoes the other. And: https://t.co/mCHL7a4l70

— Glenn Greenwald (@ggreenwald) January 23, 2015
What about funding terrorism, beheadings, flogging of journalists and women – I think Tony has a few blind spots! http://t.co/B4Uyokq1QH

— John Austin (@JohnEAustin) January 23, 2015
Freedom of speech & Human rights = Apostasy
In Saudi Arabia, freedom of speech is not a human right but a threat to Kings' existence.  Over the last few years, King Abdullah issued decrees cracking down on freedom of expression to strengthen the grip that the royal family and religious establishment hold on the country. He criminalized defaming the reputation of the state, insulting a member of the royal family or religious clerics. This prevented reporting on anything that contradicts Islamic law, or serves 'foreign interests and undermines national security'.
Writer and activist Raif Badawi was arrested in 2012 for insulting Islam through electronic channels and brought to court on charges of apostasy. He was sentenced to 7 years in prison and 600 lashes in 2013, and then resentenced to 10 years in prison and 1000 lashes, along with a fine of 1 Million Riyal, in 2014. Badawi, who created a liberal, secular website, Free Saudi Liberals, had suggested Imam Muhammad ibn Saud Islamic University had become a den for terrorists. He was publicly flogged on January 9, 2015.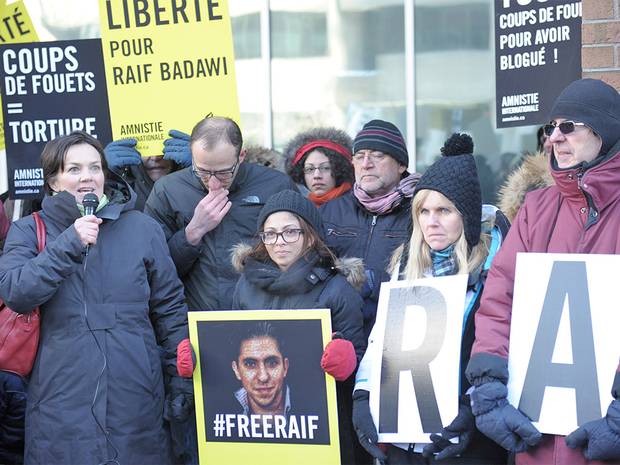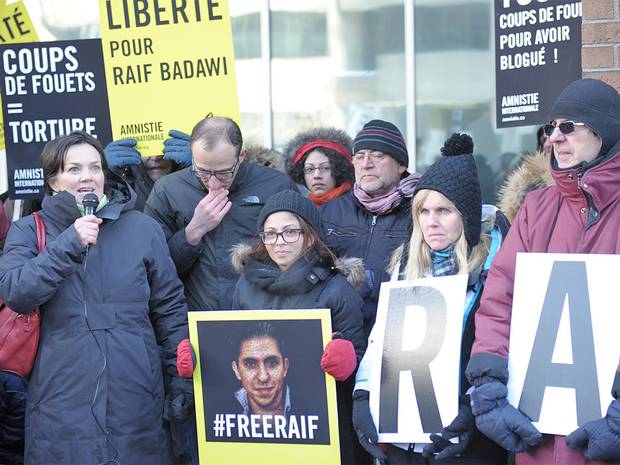 King Abdullah's rule saw regular public beheadings and floggings. In 2014 alone, Saudi Arabia is reported to have carried out 87 beheadings that highlights the kingdom's harsh laws on dissent. Allan Hogarth, Amnesty International's UK head of policy and government affairs, told The Guardian: "Amnesty has serious concerns about Saudi Arabia's justice system, given its use of the death penalty, the prevalence of torture in detention, and its use of cruel and degrading punishment".
Under Abdullah's watch, authorities rounded up scores of human rights activists who dared to criticize the government. The peaceful protesters were subjected to unfair trials in terror court on vague charges such as 'breaking allegiance with the ruler'. Waleed Abu al-Khair was sentenced to 15 years in prison for criticizing the government's human rights record. Fadhil al-Manasif is serving a 14-year sentence for helping journalists cover 2011 protests by Saudi Shia citizens. Reformists Mohammed al-Qahtani and Abdullah al-Hamid are serving 10 and 11 year sentences on similar charges.
Human Rights Watch says: "Saudi Arabia has stepped up arrests, trials, and convictions of peaceful dissidents, and forcibly dispersed peaceful demonstrations by citizens. Authorities continued to violate the rights of Saudi women and girls and foreign workers. Authorities subjected thousands of people to unfair trials and arbitrary detention. Courts convicted human rights defenders and others for peaceful expression or assembly demanding political and human rights reforms".
Terror's connections with terrorism
According to the diplomatic cables published by Wikileaks in 2010, the US regards Saudi Arabia as the biggest source of Sunni terrorism funding in the world, and a crucial piggy-bank for Al-Qaida and other radical groups. King Abdullah knew the sources of this funding, but he did nothing to rein in his family members.
Saudi royal family has promoted the puritanical ideology which is practically the same ideology of Islamic extremists such as Al-Qaeda, the Taliban and ISIS. Saudi Arabia's preaching of misogyny, intolerance, and extremism at home and abroad has resulted in the creation of an even greater extremism that threatens even the monarchy itself. The Saudis love public beheadings as their mortal enemy ISIS, who keeps beheading Western hostages.
Saudi Arabia sent Osama bin Laden and other young Saudis to fight in Afghanistan, creating a worldwide jihadist movement. As a devoted Wahhabi, Laden developed a very close relationship with the Saudi royal family (Read King Abdullah). The same family once paid the most famous terrorist in the world's construction company billions of dollars to build mosques and palaces in Saudi Arabia, making him one of the richest men in the country. Those who helped the hijackers of four airliners used in suicide attacks on 9/11, included wealthy Saudi hardliners, high-level diplomats and intelligence officers employed by Saudi Arabia. By serving as the world's largest producer and exporter of oil, Saudi Arabia made a lot of friends (In 2009, (below picture) US President Barack Obama bowed down to King Abdullah) who turned a blind eye to its support to terrorist activities.
"I offer my deepest condolences to Saudi Arabia and the family of King Abdullah bin Abdul-Aziz on this day of grief. Afghans will always remember King Abdullah as a great supporter of their jihad. He always supported the Afghan peace process," Afghan President Ashraf Ghani reacted after King's death. King Abdullah himself faced the threat of the Islamic State, who has pledged to overthrow the Al Saud family for supporting Obama's anti-ISIS coalition.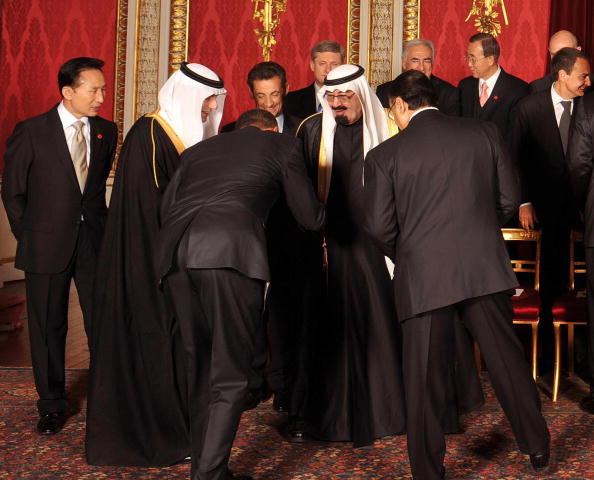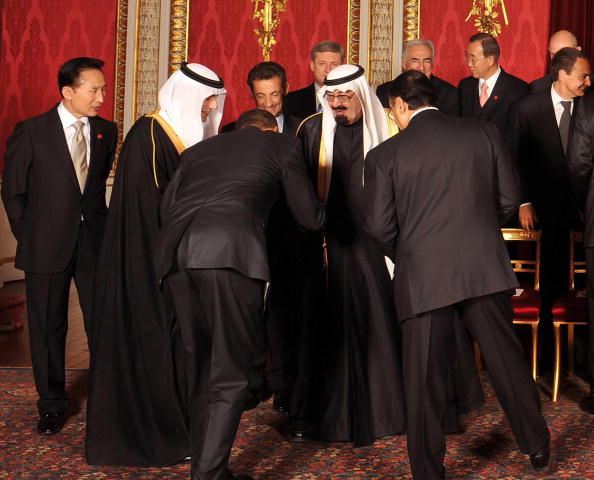 Workers = slaves
Though Saudi Arabia outlawed slavery in 1962, the appalling treatment of foreign workers in Saudi Arabia is actually a form of modern slavery.   Many Filipino and Hindu workers have suffered appalling physical and sexual abuse at the hands of their Saudi employers.  There are numerous cases of foreign workers being publicly beheaded for murdering abusive employees. Rape, murder, apostasy, drug trafficking and armed robbery are all punishable by death under the Kings' law. Worst, the Saudi government does not inform the foreign embassies and even the prisoners in advance of the execution dates. The official notices are sent after the execution.
Saudi Arabia is home to nine million migrant workers; however, the country does not have a standard contract for these workers. In 2013, Ethiopian migrant workers became the victims of physical assaults, some of them fatal, following a government crackdown on foreign workers. Hundreds of thousands of workers who sought to return home were kept in detention centers without adequate food or shelter; many reported abuses by prison authorities.
"Saudi authorities have spent months branding foreign workers as criminals in the media, and stirring up anti-migrant sentiment to justify the labor crackdown. Now the Saudi government needs to rein in Saudi citizens who are attacking foreign workers," said Joe Stork, deputy Middle East director for Human Rights Watch.
Heights of intolerance = Reforms
Any religion other than Islam is effectively banned in Saudi Arabia.  Non-Muslim places of worship are illegal.  The Grand Mufti of Saudi Arabia, Sheikh Abdul Aziz bin Abdullah, the highest official of religious law, head of the Supreme Council of Ulema and of the Standing Committee for Scientific Research and Issuing of Fatwa, in 2013 had declared that it is "necessary to destroy all the churches of the region". Christians must go to Mass in foreign embassies.  The wearing of a cross is banned.  The country in 2014 passed a law that imposes death penalty for anyone caught smuggling a bible into Saudi Arabia.
In October 2014, Saudi Arabia's Special Criminal Court sentenced Sheikh Nimr Baqir al-Nimr—a popular Shi'ite cleric and outspoken political dissident—to death for 'disobeying' the king, waging violence against the state, inviting 'foreign meddling' in the kingdom, inciting vandalism and sectarian violence, and insulting the Prophet Muhammad's relatives.
Witchcraft is still an offense in Saudi Arabia. In 2007, Egyptian pharmacist Mustafa Ibrahim was beheaded in Riyadh after his conviction on charges of "practicing magic and sorcery as well as adultery and desecration of the Holy Quran". In 2013, two Asian maids were sentenced to 1,000 lashings and 10 years in prison after their bosses claimed that they had suffered from their magic. In a country where public observance of any religion besides Islam is strictly forbidden, foreign domestic workers who bring unfamiliar traditional religious or folk customs from Sri Lanka, Indonesia, Africa, or elsewhere can make especially vulnerable and easy targets.
In October 2007, during a state visit to the United Kingdom, King Abdullah was accused by protestors of being a murderer and a torturer. Concerns were raised in the UK about the treatment of women and homosexuals by the Saudi kingdom.
Strong leadership = Repression
King Abdullah thwarted pro-democratic and revolutionary movements in neighbouring nations by giving financial and military assistance to friendly regimes with revolutionaries at the gates. Saudi forces crushed an uprising that threatened Bahrain's House of Khalifa.
During the Egyptian Revolution of 2011, where the protesters demanded the overthrow of Egyptian President Hosni Mubarak in order to usher in democratic and socioeconomic reforms, and the US, the UK, France and Germany called for reform and an end to violence against peaceful protesters, King Abdullah slammed protesters as 'infiltrators who sought to destabilize their country'. King Abdullah played a guiding role in Saudi Arabia's support for Egypt's government after the military intervened in 2013, and drove his country's support for Syria's rebellion against President Bashar al-Assad.
When human rights and social justice advocates sent King Abdullah a petition seeking an elected parliament, term limits on princes holding government positions, and public access to the trials of accused terrorists, most of the signers were jailed briefly and the king granted none of their requests.
Open criticism of the King within the country is forbidden.
And the indulgence…
'His Majesty' was apparently a big fan of Viagra. In a CIA cable from 2008 published by Wikileaks, operatives at the American embassy in Riyadh wrote, "King Abdullah remains a heavy smoker, regularly receives hormone injections and uses Viagra excessively". Another cable detailed the world of vices available to members of the Saudi royal family. "The full range of worldly temptations and vices are available — alcohol, drugs, sex — but strictly behind closed doors. This freedom to indulge carnal pursuits is possible merely because the religious police keep their distance when parties include the presence or patronage of a Saudi royal and his circle of loyal attendants".

References:
http://www.independent.co.uk/news/people/king-abdullah-bin-abdulaziz-dead-what-did-he-do-for-saudi-arabia-9997573.html
https://thedublinreader.wordpress.com/tag/saudi-arabia/
http://rt.com/uk/225503-saudi-king-abdullah-cameron/
http://nymag.com/daily/intelligencer/2015/01/saudi-king-abdullah-viagra.html
http://www.dailymail.co.uk/news/article-2925693/Human-rights-warning-UK-government-bids-6million-contract-help-run-Saudi-Arabia-s-controversial-prisons.html
http://www.independent.co.uk/voices/king-abdullah-dead-we-cant-afford-not-to-hold-saudi-arabias-royals-to-account-10000611.html
http://mic.com/articles/109056/king-abdullah-wasn-t-a-reformer-he-was-a-monster
http://pontiactribune.com/youre-not-told-saudi-arabia-911-petrodollar/