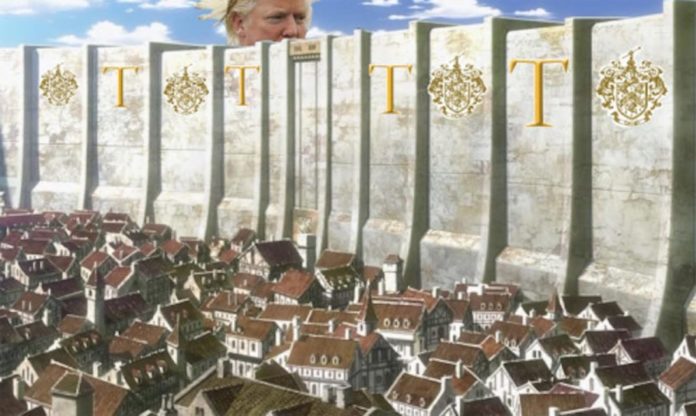 The new President-elect promised Americans a whole lot of many things, and has plans to implement most of them as soon as he enters office in January. However, his plans for building a "beautiful wall" on the American-Mexican border didn't seem real, only because the American government already spends millions every year maintaining an already erected wall. However, a solid concrete wall – what Trump is aiming for in most areas along the border – is going to cost more than $20 billion dollars, and needless to say, is displeasing Congress already.
However, a member of Donald Trump's team has already worked out the cost, and has prepared The Wall plans, needing no help from Congress. Kris Kobach, who is a Kansas Secretary of State, said in an interview that he has talked to many people who have expertise in immigration policies, and has said that the funds can be scooped from their current budget. He further added that the construction can begin immediately, without wasting any time.
According to the 50-year-old, the new President's team has also improved Donald Trump's plans for intense examinations on Muslims entering the United States, saying that this plan can also be improved by reinstating a registry system that was introduced after September 11 — the National Security Entry-Exit Registration System. Furthermore, Kris also helped design parts of the security program for entering and exiting the United States, a system that was initiated in September 2002. With this system, people entering the United States from "countries that were on the list" were interrogated, examined and fingerprinted. If you feel insulted, then this system also required some visitors to constantly tell the government about their locations, and the places they were going to visit.
5 harsh facts about Kris Kobachhttps://t.co/bjRAcYaOOd

— Anon.Dos (@anondos_) 17 November 2016
However, since this program raised many questions about targeting people from a particular group or religion, and taking away their freedom, the National Security Entry-Exit Registration System program was ended a year later.
According to Abid Ayoub, one of the directors at the American Arab Anti-Discrimination Committee, this program was black and white; it had only the names of Arab countries or other Muslim nations. However, during the early stages of Obama's government, this program was completely halted by clearing the names of the countries from the list – a regulation that still exists.
Kris is known for his harsh immigration laws, and what we have read above are just a few ideas from the proposals that he is preparing for Donald Trump. Kris has created many extreme laws – that have been questioned over the years and some even banned by the Supreme Court – ranging from carrying your immigration papers all the time, specifically in Alabama and Arizona, for random ID checks to showing your ID when you vote; and because of this law, he barred more than 20,000 people from voting when they couldn't provide proper documentation of their American citizenship.
He also proposed that the money to build the wall should not come from the American pockets, but Mexican ones.
Kris also supported many articles published by the Social Contract Press, which outlined that the Latino population wants to take over American soil, while the Muslims should not be allowed in the United States, reportedly because such immigration attempts are trying to replace the Euro-American culture with the poor third-world culture. Kris defended their statements by saying that anyone who did not support illegal immigration laws was simply a racist.
Source: Reuters, ADC, Heavy, The Social Contract Press.
---
This article (Donald Trump's Team Getting Ready for 'The Wall' and Toughening Laws for Muslim Registry) is a free and open source. You have permission to republish this article under a Creative Commons license with attribution to the author and AnonHQ.com.
---
Supporting Anonymous' Independent & Investigative News is important to us. Please, follow us on Twitter: Follow @AnonymousNewsHQ