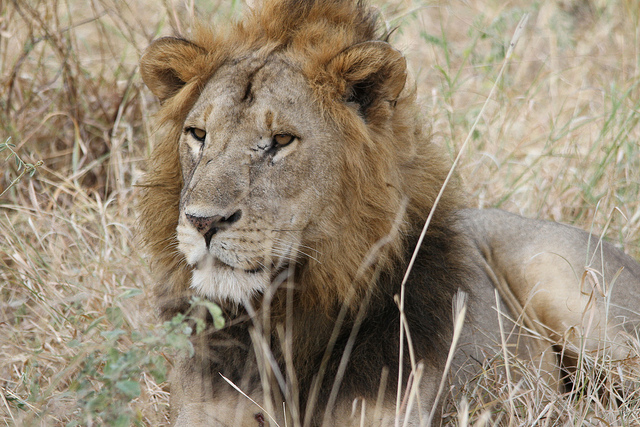 The corrupt and cruel acts that many companies practice behind closed doors are often neglected by the everyday consumer. As a result, their hard-earned money often funds these practices – animal testing is one such example.
Jimmy John's CEO, Jimmy John Liautaud, came under fire after photos of him happily posing with dead elephants, a rhinoceros, and a leopard, which appeared on the Internet last year.
Last summer, Minnesota dentist Walter Palmer, who was accused of killing Cecil the lion, closed his practice after he became overwhelmed by the wave of backlash on social media. The following month, the photos of Jimmy John Liautaud, allegedly taken during a 2010 safari in Africa, began circulating online after a Twitter user posted them. In the wake of the release of Liautaud's trophy hunt photos, a call to boycott the sandwich chain began to spread.
One year later, and Jimmy John's sandwich enterprise has emerged from the controversy unscathed. In an interview with the Chicago Tribune, Jimmy John Liautaud spoke out about his trophy hunting photos and the success of his business, which is now made up of more than 2,500 locations.
These pics are the scumbag owner of @jimmyjohns killing beautiful animals. I beg everyone to never eat there again pic.twitter.com/OsBLC6H2Iv

— Jonah Lupton (@JonahLupton) 2 August 2015
"I choose to hunt and I choose to fish," Liautaud said in the interview with the Chiagco Tribune last year. "Everything I've done has been totally legal. And the meat has been eaten, if not by me then by someone I'm with. I don't hunt big African game anymore."
The big African game that Liautaud refers to in this interview, likely represents the African lion, African elephant, Cape buffalo, African leopard, and rhinoceros, otherwise known as the big five. This suggests Liautaud could still partake in trophy hunting, yet target African animals other than the 'Big Five' – giraffes, zebra, gorilla, amongst others.
The photos of Liautaud's trophy hunts were taken with Johan Calitz Safaris. Many trophy hunters believe conservation efforts start with the 'true hunter', as many of these claim that giving these endangered species a monetary value is their best chance for survival. In addition to helping save these magnificent creatures, hunters also believe they are helping feed and sustain local communities, whilst also restoring balance to the ecosystem.
"Johan Calitz Safaris offers fair-chase dangerous and plains-game safaris to the discerning hunter in remote wilderness areas in Africa," his company's Facebook page says. "Conservation through sustainable utilization in cooperation with local communities and conservation organisations."
In reality, trophy hunting disrupts the balance of complex ecosystems, robs local communities of a sustainable source of income and feeds corruption in governments. A large portion of the sums paid to kill these unique species are collected by the government, which issues the hunting licenses.

In comparison, eco-tourism offers a sustainable and more profitable source of income for the country and local communities. According to a 2004 study by the University of Port Elizabeth, eco-tourism on private game reserves generated "more than 15 times the income of livestock or game rearing or overseas hunting."
Unlike trophy hunting – which will generate a one-off fee, since the animal is killed – eco-tourism can attract and make money from one animal for generations. In addition, eco-tourism also offers significantly more job and educational opportunities to local communities. Hotels and wildlife reserves offer management and other such qualifications and training to staff, offering long-term positions and sustainable positions to citizens.
"Tourism is far better than hunting from the employment angle. Whereas hunting is quick income for one or two trackers and a skinner, three to five people in one family can earn a permanent income in tourism. There is also the probability of improved income as years go by," said Blythe Loutit, founder of Save the Rhino Trust Fund in Namibia.
Despite their claims, evidence suggests that trophy hunting does not aid in the conservation of these beautiful, yet endangered species. The sport, if you can call it that – the advancement in hunting gear means no effort of skill is required in order to successfully kill – is stealing some of Earth's most precious animals, destroying ecosystems, funding corruption, and is taking away tourism opportunities in many African nations.
Image: Flickr, Mitchell Fitzsimmons (CC BY 2.0)
---
You want to support Anonymous Independent & Investigative News? Please, follow us on Twitter: Follow @AnonymousNewsHQ
---
This article (Why Eating at Jimmy John's Will Fund Trophy Hunting in Africa) is a free and open source. You have permission to republish this article under a Creative Commons license with attribution to the author and AnonHQ.com.