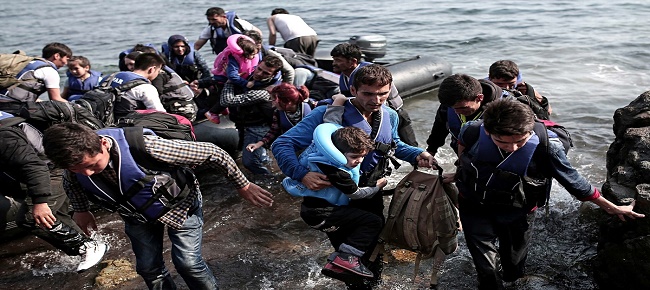 by John Vibes at trueactivist.com
The European Union is being pressured by activists to cancel proposed legislation that would make it illegal for anyone to save a refugee from drowning. A petitionopposing the legislation has already gathered thousands of supporters, and activists throughout Europe are opposing the plan.
The plan was proposed during meetings between EU ministers in Amsterdam late last month.
According to the London-based human rights group Statewatch, the new laws would remove legal exemptions from charities, volunteer groups and others who provide help to refugees in their travels. The law would prevent people from providing "humanitarian assistance" for refugees, and under the terms of the new laws, anyone who tries to help them will be consider a smuggler.
If someone did want to help refugees they would be forced through many layers of bureaucracy where they would be forced to register with police and interact with refugees in a very limited capacity.
Statewatch director Tony Bunyan said that these new laws "fail to acknowledge the crucial role played by Greek islanders and volunteers in rescuing and caring for migrants who cross the Mediterranean in unsafe vessels. The EU should amend its anti-smuggling laws as soon as possible to confirm that no one giving such vital humanitarian assistance should ever be penalized for it."
Sadly, it is incredibly common for refugees to drown during their travels. According to RT, roughly 250 refugees drowned while attempting to cross the Aegean Sea, and these are only the deaths on record. By comparison, this same time last year there were only 82 refugees who died attempting to cross the sea.
Laws in the EU have become increasingly hostile towards refugees and immigrants. As we reported last week, a new law in Denmark would allow government agents to confiscate personal belongings and private property from incoming refugees.
---
This article (EU Government Wants To Make It Illegal To Save Refugees From Drowning) is free and open source. You have permission to republish this article under a Creative Commons license with attribution to the author and TrueActivist.com.
John Vibes is an author and researcher who organizes a number of large events including the Free Your Mind Conference. He also has a publishing company where he offers a censorship free platform for both fiction and non-fiction writers. You can contact him and stay connected to his work at his Facebook page. You can purchase his books, or get your own book published at his websitewww.JohnVibes.com.