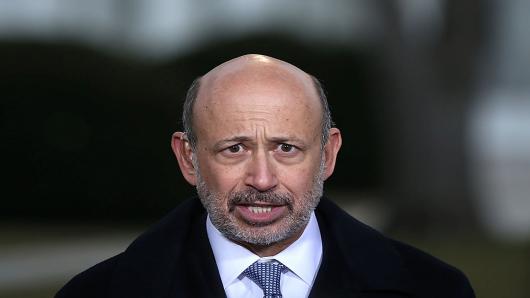 Hillary Clinton has widely been seen by the super-rich as their last hope against Bernie Sanders' "populism"- on the Democratic side anyway. With Sanders performing far better than expected in Iowa, even with Hillary Clinton's massive campaign funding from the likes of George Soros, they have to consider their position to be far more vulnerable than they had expected.
Which is why Lloyd Blankfein, CEO of Goldman Sachs, everyone's favorite bank, has started warning everyone that Sanders' campaign "has the potential to be a dangerous moment."
Sanders had previously singled out Blankfein as an example of corporate greed to Bloomberg Politics.
"It has the potential to personalize it, it has the potential to be a dangerous moment. Not just for Wall Street not just for the people who are particularly targeted but for anybody who is a little bit out of line," Blankfein said.
"It's a liability to say I'm going to compromise I'm going to get one millimeter off the extreme position I have and if you do you have to back track and swear to people that you'll never compromise. It's just incredible. It's a moment in history."
Basically, holding corrupt bankers to account is a "dangerous moment" "in history" because Bernie Sanders is unwilling to "compromise" by letting the them do whatever they want.
To anybody who actually understood what Blankfein was saying, ignoring the attempted insinuation that Sanders was somehow persecuting the poor lil' super-rich bankers and their cronies (it's prosecution when you're dealing with an actual criminal, not persecution), it sounds like a ringing endorsement of Sanders.
Sanders is an extremist, he is too damned extremely… accountable to the people.
Indeed, it comes at no surprise to learn that Blankfein and Goldman Sachs have long ties to the Clintons, with Goldman Sachs being a big donor to Bill Clinton's "charity" work. In 2008, Blankfein had raised money for Clinton's failed presidential aspirations, and in 2013 Goldman Sachs had paid her a whopping 675,000 dollars for three speeches. That's a cool 67,500 dollars for an hour or so of "work", not too shabby.
However, on Squawk Box, Blankfein refused to openly endorse Hillary Clinton: "I don't want to help or hurt anybody by giving them an endorsement." At this stage, his endorsement would hurt her campaign more than help it.
"Goldman Sachs is not going to bring forth a secretary of the Treasury for a Sanders administration," said Bernie Sanders, specifically referring four times in the Democratic debate in January to her speaking "arrangement" with the bank.
"You could take Lloyd Blankfein into a dark alley and slit his throat, and it would satisfy them for about two days. Then the blood lust would rise again," said Bill Clinton to former Treasury Secretary Timothy Geithner in 2014, commenting on the "populist" rage that is rising up throughout America.
Sources: Occupy Democrats, Politico
---
This Article (Goldman Sachs CEO: Sanders Campaign "Dangerous Moment" In History) is free and open source. You have permission to republish this article under a Creative Commons license with attribution to the author(CoNN) and AnonHQ.com.