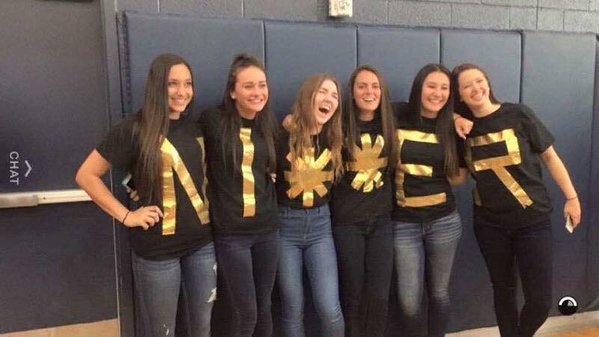 A photo showing six high school girls wearing t-shirts that, when standing side by side, spelled the N word, has brought national attention to Desert Vista High School – a predominantly white high school in Phoenix, Arizona.
District 'aware, outraged' by racist photo allegedly snapped by Desert Vista seniors https://t.co/C8Va2Upld6 #abc15 pic.twitter.com/eMqc7cxelH

— ABC15 Arizona (@abc15) January 22, 2016
Tempe Union High School District spokeswoman Jill Hanks told the Associated Press that the students were wearing the t-shirts to spell out "BEST*YOU'VE*EVER*SEEN*CLASS*OF*2016" – on the day of the senior class's annual yearbook picture. But at some point, the girls in the photo went off to the side and spelled out the racial slur.
One of the girls shown in the controversial racial slur photo from #DesertVista speaks out. More on 3TV now. pic.twitter.com/jcdFVpnU6S

— AZ Family (@azfamily) January 26, 2016
In a letter to parents, Desert Vista Principal Dr. Christina Barela said that the students involved in the incident will face disciplinary action.
"We want to let you know we share your outrage and disappointment over the actions of a handful of our students today. We want to make it crystal clear those actions are unacceptable and will not be tolerated at Desert Vista. Those actions do not represent who we are as a campus. We can assure you we will discipline these students in accordance with district policy and our student handbook. While we don't discuss individual discipline, we can tell you that in addition, the obvious need for sensitivity training will be addressed."
What exactly does a white person have to do to be convinced that they're racist? #DesertVista #BlackLivesMatter pic.twitter.com/QA1GVAuzgw

— Bishop Talbert Swan (@TalbertSwan) January 27, 2016
In a separate letter to parents, Kenneth Baca, superintendent for the Tempe Union High School District, called the photo disappointing and expressed his disgust.
"We are appalled and disappointed, and behavior such as this will not be tolerated. Words matter and the word that was used in the photograph is vulgar and vicious. It has no place in our schools or our society—regardless of the intent…The action of these students is bringing calls from citizens of every color and ethnicity for greater acceptance of our differences.  We are working with students, parents and staff, as well as community leaders and organizations, to heal and learn from this."
Though the school's Black Student Union tweeted out a photo following the controversy with a group of white and black students smiling together…
The incident that occurred today at Desert Vista High School does not reflect the beliefs of the student body! pic.twitter.com/WkOQpkqtaN

— DV BSU (@dvhs_bsu) January 22, 2016
…many took to Twitter to express their anger at the reports that the racist act got the girls only a five-day suspension.
Apparently this is only worth 5 days of suspension at Desert Vista high school in Arizona? Unbelievable. pic.twitter.com/bUPh77wPsQ

— Douglas Veney (@WhoIsDo) January 22, 2016
5 day suspension. Little has changed in 300 years. White America still feels inherently superior to Black people. https://t.co/9Q27JrDUAH

— Mary Trujillo (@Mary_Trujillo) January 24, 2016
@melreynoldsU A 5-day suspension and the ability to still walk at graduation effectively communicates that their actions are acceptable.

— f#ck cancer. (@veganshaun) January 23, 2016
We get a 5 day suspension just for being late to lunch. https://t.co/Ps8iy0W5Xj

— Keion Wakefield 1⃣1⃣ (@BoobieWake11) January 23, 2016
I got a 5 day suspension for throwing a stink bomb in a hallway.

They should be expelled. https://t.co/DhEd1jnjQL

— Matthew Alexander (@Legendary_Matt_) January 23, 2016
@chancetherapper got a 10 day suspension for smoking
group of white girls get a 5 day suspension for having racial slurs on their clothing

— wilfredo lamboy (@lamefuccboi) January 22, 2016
Only a 5 day suspension? Disgusting. Their college scholarships and offer letters need to be rescinded. #racism https://t.co/segiIT1ziz

— Hope Kyra (@hopekyra) January 23, 2016
They only got a 5 day suspension…can somebody say white privilege? pic.twitter.com/gQfBrs27Lx

— bhm!! (@simplynautica) January 22, 2016
Only 5 day suspension is what someone can get for wearing a word that not only has bad history with it but is offensive ???

— Ariss Bailey (@baller_033) January 22, 2016
A  petition is started on change.org "to demand the resignation of the school's principal, Christine Barela, immediately for deeming this 5-day vacation from school an acceptable punishment. The six girls in question need to be expelled from the high school and its district to understand the gravity of their actions to the fullest. These expressions of racism will not be tolerated any longer."
A former English teacher at Desert Vista feels vindicated and adds that the viral image reflects the hostility she faced while teaching at the High School for three years. She filed a federal lawsuit against Tempe Union High School District in 2014, claiming that students at the school were openly racist, and that school officials ignored her complaints.
"When I saw it I screamed in my house, 'Thank you Jesus!' I had been portrayed in this community as the crazy, angry black woman who claimed that there were racial issues at Desert Vista High School, but apparently there were not," she told KNXV-TV.
---
This Article (blah blah) is free and open source. You have permission to republish this article under a Creative Commons license with attribution to the author and AnonHQ.com.