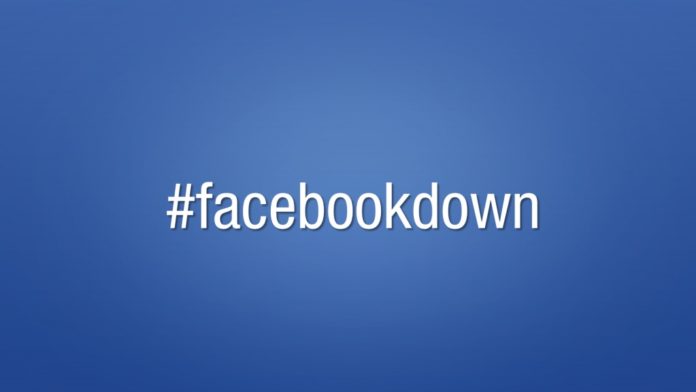 Facebook is Down.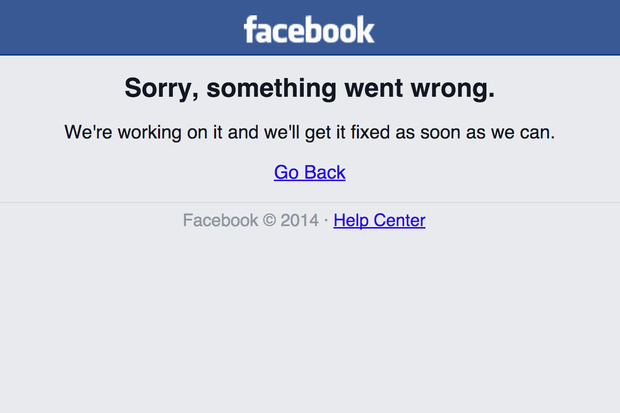 Mark Zuckerberg stunned the world once by providing the massive online social media Facebook. Since the launch of the original Facebook site on February 4, 2004, Facebook has been in and out several times and each time getting more outages reported across the globe.
With the popular social media Facebook down, tweets have been reporting all over that Facebook is down all over North America, Europe, The Middle East, and even into Australia.
Twitter user "Mahmoud Abuttayeb" is an affiliate of a society group known as #fucksociety, and when Facebook started going down over parts of the world, he posted on Twitter
"#fucksociety collective claims responsibility for #facebookdown :D"
Is this a hack or even DDoS attack? Maybe it is nothing more than a strange episode of technical difficulties with Facebooks servers? Several questions are being brought up as Facebook continues to go down all over the world. The only thing we know for certain, the group known as Fuck Society, is nothing more than a heartfelt cry. This may appear to be nothing more than a simple joke from a famous T.V. show "Mr. Robot". Fortunately for the zeitgeist, hackers can only pluck out their handles.
While the group #fucksociety is still a new group, they are more commonly known as the Sony [hackers]. Just merely 12 hours after Facebook was shutdown, Twitter was in excess of 40,000 tweets under the hashtag #Facebookdown. As people started going days on end without their beloved social media, some even started to change their outlet to other social media such as Twitter, while others were chanting "Zuckerberg Pay your bills!"
If we take a look at the following link;
https://downdetector.com/status/facebook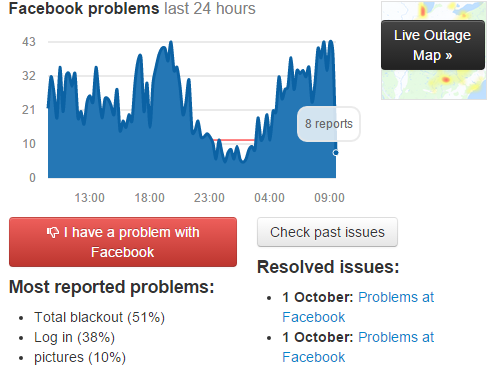 we can see there had been a total of 51% reporting a total Facebook Blackout, with another 39% stating login failures following 10% saying pictures are not loading.
People started to report these issues since 5:26PM EDT on October 1st, 2015. When several people attempted to login, they would see the "Facebook White Screen of Death". Meaning they can login, but the entire page is completely white.
Several Facebook users are irritated with Mark Zuckerberg with shouts proclaiming ",how could he just leave us out in the cold like this?" and "Zuckerberg is irresponsible". Why is it that a service that is free to you to use is temporary down irresponsible? People with more than one account has been able to delete their browser cookies and login under their other account just fine. Could this result in an attempt of a worldwide home PC base attack or trickery? If so, why are they targeting our computers?
At this point in time, Facebook is back up and working. But for how long? Mark Zuckerberg has been trying to change Facebook by changing the algorithm to balance posts that you read from your family, friends, and even work/business. The social media is also making changes to promote a new feature "Call-to-Action" in ads allowing users to go directly to their website or make a phone call. With all of the new features Facebook is integrating into their social media, it actually seems possible that Facebook had a sudden melt-down.
If Facebook shuts down completely, what will the world do? Will we go back to the old days of using MySpace, or continue to push through on Twitter? Will there be another great programmer and develop another social media center?
Ah and btw, Facebook makes 230 dollars per seconds, so if you convert that to 1 minute, they make (or lose in case of being down) $1380. And for a downtime of 30 minutes, facebook (estimated) lost about $414000 or more.
---
This Article (Facebook went down.. AGAIN!) is free and open source. You have permission to republish this article under a Creative Commons license with attribution to the author (IT Ninja) and AnonHQ.com.