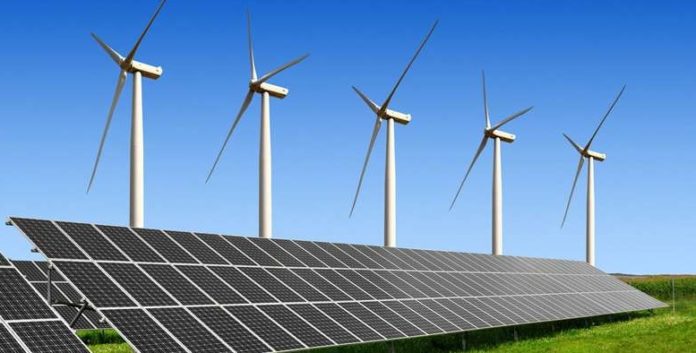 A team of researchers, led by Stanford University's Mark Z. Jacobson, has produced ambitious roadmaps for each of the 50 states of America so each of them can convert their all-purpose energy systems (for electricity, transportation, heating/cooling, and industry) to ones powered entirely by wind, water, and solar in just 35 years. If the plan is put into action, each state could achieve 80-85% transition in just 15 years.
The roadmaps provide a consistent set of pathways to eliminate 100% of present-day greenhouse gas and air pollutant emissions from energy by 2050, in all 50 states. If successful, the transition would also grow the number of jobs and stabilize energy prices. The roadmaps call for aggressive changes, but the conversion is possible.
"The main barriers are social, political and getting industries to change. One way to overcome the barriers is to inform people about what is possible. By showing that it's technologically and economically possible, this study could reduce the barriers to a large scale transformation," Jacobson said.
The plan calls for 0.42% of U.S. land to be covered in solar panels or wind turbines. The upfront cost of the changes would be significant, but wind and sunlight are free. Therefore, once spread over time, the overall cost would be roughly equal to the price of the fossil fuel infrastructure, maintenance and production.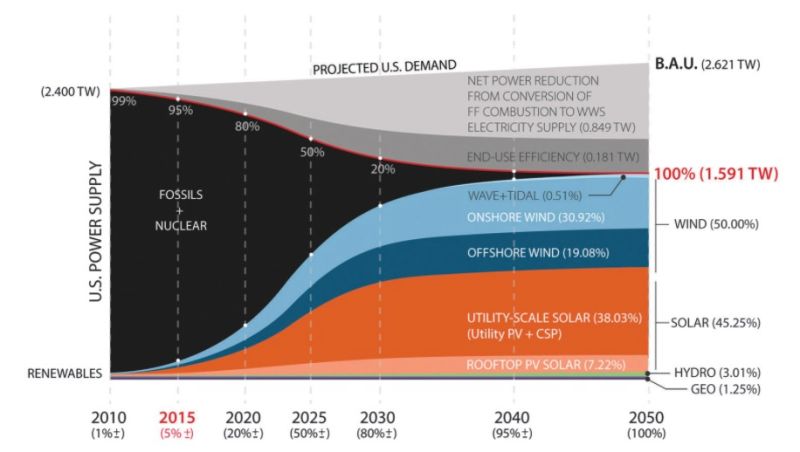 "When you account for the health and climate costs – as well as the rising price of fossil fuels – wind, water and solar are half the cost of conventional systems. A conversion of this scale would also create jobs, stabilize fuel prices, reduce pollution-related health problems and eliminate emissions from the United States. There is very little downside to a conversion, at least based on this science," Jacobson added.
If the conversion is followed exactly as the plan outlines, the reduction of air pollution in the U.S. could prevent the deaths of approximately 63,000 Americans who die from air pollution-related causes each year. It would also eliminate U.S. emissions of greenhouse gases produced from fossil fuel, which would otherwise cost the world $3.3 trillion a year by 2050. By 2050, combined health, climate, and energy savings per person would be $77,783 per year.
The study estimates that moving towards a completely renewable grid will create 3.9 million construction jobs and 2 million operation jobs. The plans will result in each person in the U.S. saving $260 per year in energy costs in 2050. U.S. health and global climate costs per person will decrease by $1,500 per year and $8,300 per year respectively.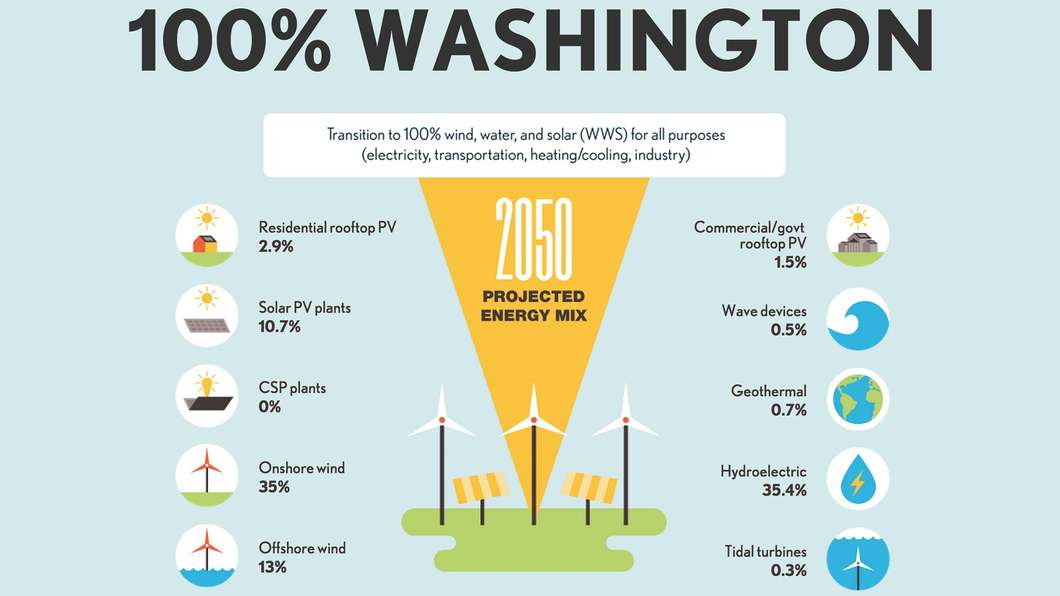 Some states are more prepared to make the change than others. For example, Washington already draws some 70% of its current electricity from hydroelectric sources, and both Iowa and South Dakota use wind power for around 30% of their electricity needs. An interactive map details how each state would make use of available renewables.
The roadmap might be technically feasible, but is it the best plan to pursue? Environmentalists are skeptical. They believe limiting a zero-carbon future to wind, water, and solar means greater costs of storing this energy; discarding other existing zero-carbon sources like nuclear, and generally blanketing the Earth with panels and turbines as a means to save it.
---
This Article (This Is How America Could Run On 100% Renewable Energy By 2050) is free and open source. You have permission to republish this article under a Creative Commons license with attribution to the author and AnonHQ.com.