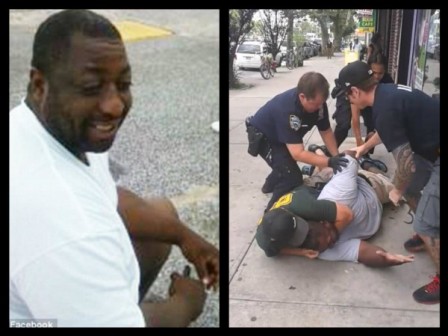 Friday July 25, 2014
Written by: Anonymous Watcher
A New York man died this week after an attempted arrest went terribly wrong. According to one witness recording the arrest, father of six, Eric Garner, was forced to the ground by several police officers after suspicion of illegally selling cigarettes. As one police officer put 350 pound, 6-foot-3 Garner in a choke hold, Garner is heard by witnesses stating that he "can't breathe," inducing Garner into a loss of consciousness, hitting his head on the sidewalk, resulting in full cardiac arrest.
Garner was declared dead an hour and a half later, at the Richmond University Medical Center. Autopsy reports are yet to be released. [1]
Garner's wife commented on the situation, believing the NYPD acted excessively and unnecessary, using extensive force for a situation where it is reported, that Garner was trying to break up a fight. "They harassed and harassed my husband until they killed him."
Every member of the New York City police department will now undergo retraining on the use of violence following the death of Garner, the police commissioner said this week. [2] According to the ABC news, the choke hold is a prohibited use of force in the NYPD. Bill de Blasio, NYC mayor has called the situation "troubling," canceling his European vacation in light of this incident.[3]
Police Commissioner William Bratton said investigators are discussing with the FBI "to monitor this investigation," expecting federal prosecutors to begin their own civil rights violation case.
In 2013, 233 complaints were lodged with the Civilian Complaint Review Board regarding the use of chokeholds, accounting for more than four percent of all excessive force complaints in New York.
_______________________________________________________
[1] (19 July 2014) "Father of six dead following NYPD street choking incident." http://rt.com/usa/173996-father-of-six-nypd-choking/ RT. Retrieved 24 July 2014.
[2] Josh Margolin & Colleen Curry (22 July 2014) "NYPD to Retrain Every Officer on Use of Force After 'Chokehold' Death." http://abcnews.go.com/US/fbi-monitoring-nypd-chokehold-death-case/story?id=24663805 The Daily News, New York. Retrieved 24 July 2014.
[3] ABC News "NYPD Arrest Suspect Suffers Heart Attack, Dies at Hospital." http://abcnews.go.com/GMA/video/nypd-arrest-suspect-suffers-heart-attack-dies-hospital-24632255 Retrieved 24 July 2014.