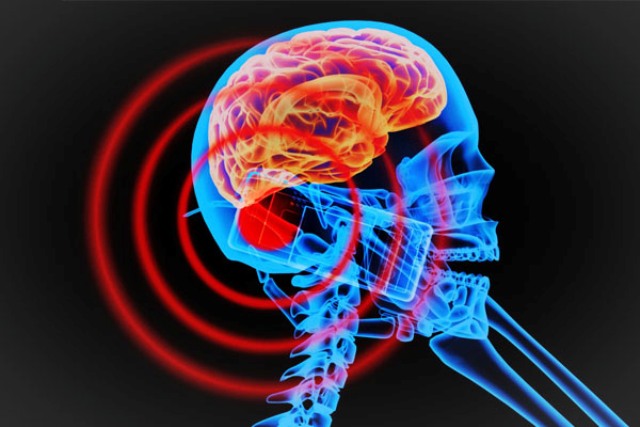 Communication has become a key component to the fast paced lifestyle we have become accustomed to. Today, the easiest way to communicate is via cell phones. However, what if these devices became responsible for giving you cancer, or another form of illness? Along with other electronic cellular devices, mobile devices emit and make use of electromagnetic radiation in the microwave form, particularly data connection systems.
According to a study conducted by the International Agency for Research on Cancer (IARC), cell phones ended up being categorized as class 2B and not class 2A. This 2B signifies that there could be some risk of mutagenic. As a result, an investigation surrounding the hefty utilization of portable devices must be carried out. With over a billion mobile phone owners all over the world – with more than two hundred million solely in the United States – using mobile phones each day, solution(s) should appear as soon as possible.
While no definitive data has been released, many researchers believe that we are nearing a serious health situation. Dr. George Carlo, Ph.D, M.S., J.D, a public health scientist, epidemiologist, lawyer, and the founder of the Science and Public Policy Institute, is convinced the world will soon experience cancerous situations as a result of the expansion – and soaring power – of mobile phone technologies.
Dr. George Carlo is interviewed about the health risks of #EMFs and cell phone radiation.https://t.co/nkQNmXWU5O

— Anon.Dos (@anondos_) February 1, 2016
Many Infectious Disease (ID) specialists have linked increased headaches, high blood pressure, Alzheimer's and cancer to high cell phone usage. In fact, by merely searching the internet, you can find a number of studies that have observed the connection between men's health and mobile phone usage. A sub-evaluation of several previous types of research, headed by experts at the University of Exeter in the United Kingdom, uncovered a tiny but steady decrease in sperm quality in males (or their sperm samples) that were subjected to cell phone emission.
Although scientists detected no connection between cell phone emission and poor sperm, the discovery may help scientists comprehend the worldwide – yet still unusual – decrease in sperm fertility. So what aspects determine whether a mobile phone is safe for the public to use? For a cellular device to clear the Federal Communications Commission authentication and be offered in America, its optimum Specific Absorption Rate (SAR) has to be under 1.6 watts per kg.
CNET, a very famous technological website that is known for reviewing cellphones, mentions the SAR in the reviews of every handset they test. In addition to their reviews, the site also features a 'sort of disclaimer'  that states that the list or article is in no way claiming that cellphones are either dangerous or safe. Instead, the list below is giving you the information you need to make an informed decision. The SAR range indexed in the list below signifies the largest SAR levels calculated when applying the cellphone beside the ear, as analyzed by the Federal Communications Commission. SAR rates are likely to fluctuate when various signal frequencies are used by a device (an identical device may use numerous bands throughout a call), and different experimenting bodies can get distinctive outcomes.
Top 20 Maximum Radiation Mobile Phone
Sr # – Cell Phone – Type – SAR Level – Carrier
1) Motorola  – Droid Maxx – 1.54 – Verizon
2) Motorola – Droid Ultra – 1.54 – Verizon
3) Alcatel – One Touch Evolve – 1.49 – T-Mobile
4) Huawei – Vitria – 1.49 – Metro PCS
5) Kyocera – Hydro Edge – 1.48 – Sprint
6) Kyocera – Kona – 1.45 – Sprint
7) Kyocera – Hydro XTRM – 1.44 – Metro PCS
8) Blackberry – Z10 – 1.42 – Verizon
9) Blackberry – Z30 – 1.41 – Verizon
10)  ZTE – Source – 1.41 – Cricket
11) ZTE – Warp 4G – 1.41 – Boost
12) Nokia – Lumia 925 – 1.40 – T-Mobile
13) Nokia – Lumia 928 – 1.40 – Verizon
14) Sonim – XP Strike – 1.39 – Sprint
15) Kyocera – Hydro Elite – 1.39 – Verizon
16) T-Mobile – Prism 2 – 1.385 – T-Mobile
17) Virgin Mobile – Supreme – 1.38 – Virgin
18) Sprint – Vital – 1.38 – Sprint
19) Sprint – Force – 1.37 – Sprint
20) Huawei – Pal – 1.33 – Metro PCS
Top 20 Lowest Radiation Cell Phones (maximum possible SAR level from phone*)
Sr # – Cell Phone – Type – SAR Level – Carrier
1) Verykool – Vortex RS90 – 0.18 – Unlocked
2) Samsung – Galaxy Note – 0.19 – T-Mobile
3) ZTE – Nubia 5 – 0.225 – Unlocked
4) Samsung – Galaxy Note 2 – 0.28 – Verizon
5) Samsung – Galaxy Mega – 0.321 – AT&T
6) Kyocera – Dura XT – 0.328 – Sprint
7) Pantech – Discover – 0.35 – AT&T
8) Samsung – Galaxy Beam – 0.36 – Unlocked
9) Samsung – Galaxy Stratosphere II – 0.37 – Verizon
10) Pantech – Swift – 0.386 – AT&T
11) Samsung – Jitterbug Plus – 0.4 – Great Call
12) Jitterbug – Plus – 0.4 – Great Call
13) LG – Exalt – 0.43 – Verizon
14). Samsung – Galaxy Note 2 – 0.43 – Sprint
15) HTC – One V – 0.455 – US Cellular
16) LG – Optimus Vu – 0.462 – Unlocked
17) Samsung – Galaxy S Relay 4G – 0.47 – T-Mobile
18). Samsung – Rugby 3 – 0.47 – AT&T
19) HTC – One Max – 0.5 – Sprint
20) LG – G2 – 0.51 – T-Mobile
Considering their standing, we have also provided the SAR amounts for the Apple iPhone along with the Samsung Galaxy S.
Apple – iPhone 6 Plus – 1.16
Apple – iPhone 6 – 1.14
Apple – iPhone – 5c – 1.18
Apple – iPhone – 5 – 1.18
Apple – iPhone – 4 & (GSM) – 1.11
Apple – iPhone – 4 (CDMA) – 0.87
Apple – iPhone – 3GS – 0.67
Samsung – Galaxy S6 – 1.25
Samsung – Galaxy S5 – 1.47
Samsung – Galaxy S4 – 1.18
Samsung – Galaxy S3 – 0.82
Since we can't just throw away our cell phones and decide not to use them anymore, we have decided to provide you with ways to protect yourself from the lethal radiation.
1) Monitor the length of time you devote to your cell phone, and then reduce it.
2) Try making calls only when really necessary (it is better if it stays away from your head).
3) Stick to the two-minute principle (if you are not accustomed to following the two-minute rule, you can help yourself by setting up an on-call timer that will automatically end the call after two minutes. This will help you reduce your talk time and your bill). Studies have revealed that a short, two-minute call can modify the electric biological activities of your brain for more than forty-five minutes.
4) Send messages instead, needless to say, do not do this when driving or any time when the task requires your complete attention. However, if a text message will suffice, send one and avoid exposing yourself to the radiation.
5) Find an alternative for your high radiation cell phone. Provided your cell phone is on the list above, get it exchanged. It is certainly worth spending a little extra on a safer phone.
6) Start using a pair of headphones, loudspeaker, or wireless speakers. At the moment, there is not enough research to determine if it is safe to use a wireless speaker, the built-in speaker, or even the headset for that matter. However, the research does say that the electromagnetic interference given off from your mobile is primarily soaked up around the brain's temporal lobe area, via the 'regular usage' (phone-to-ear). The temporal lobe area is responsible for handling the hearing process, keeping long-term memory, and is also responsible for speech and vision.
7) Keep your cellular device away from your body and your waistline throughout an ongoing call. Once again, this is a hardware that discharges and directs electromagnetic waves that can be consumed by the soft tissues throughout the human body. One study suggested that individuals who place their mobile phone close to their waste (naturally in the pockets), reported that their semen volumes dropped as low as one-third.
8) Postpone its utilization. Keep your phone away from your head as much as possible. To help you do this, watch your screen until the call timer starts or until your call connects—many phones give haptic feedback if the call connects, so make good use of it.
9) Avoid using your phone in places where signal strength is low. In addition, also avoid using your phone in places made up of metal, phones utilize more power if they have difficulty connecting to a nearby tower and use powerful signals to search for towers with the best signal.
10) Guard yourself against electromagnetic frequencies. One can achieve that by buying a medically authenticated EMF safety hardware. Doing this will improve your bioenergy range and immune system, protecting you from the damaging side effects of EMFs.
11) Maintain your body with the right diet. Consider supplementing your healthy eating plan with antioxidants like Ginkgo Biloba, Coq10, Glutathione, Catalase, Zinc, and Melatonin. Consult a doctor before taking any new supplements.
Source: Fossbytes
You want to support Anonymous Independent & Investigative News? Please, follow us on Twitter: Follow @AnonymousNewsHQ
---
This Article (Do Your Favorite Phones Emit Maximum Radiation?) is free and open source. You have permission to republish this article under a Creative Commons license with attribution to the author and AnonHQ.com.