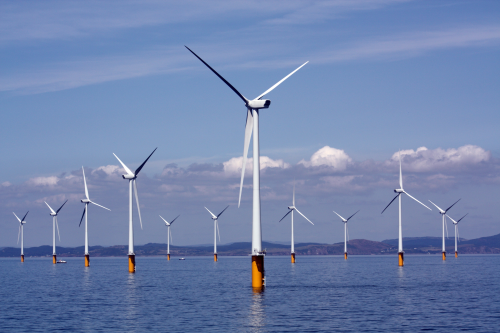 With so many hurricanes and overwhelming tropical storms that goes through the state of Rhode Island; the freezing months of winter often bring blizzards that has the potential to shut down the entire state. And being mostly surrounded by water, every season provides the state with corrosive salty winds that comes off the ocean. These scenarios make building anything in the state of Rhode Island a rather difficult task to accomplish.
However, there is indeed a company in which can see potential of the state's natural massive wind power, and use as a utility service. The company, Deepwater Wind has signed a partnership agreement with another large company, General Electric Renewable Energy, in order to build the very first offshore wind farm within the United States of America. This project will take place off of the coast of Block Island.
This new plan will be hooked up directly to the grid by 2016's end, in which they are expecting to supply 90% of major tourist's destinations power within just a few short years. However, this major milestone isn't an easy one with the designing and fabricating of the spinning fans that are hundreds of feet tall; to remain sutured onto the ocean floor. Even when faced with the extreme currents and the powerful winds, this project has already taken the better part of 3 years.
In order to assist in protecting the company's expensive turbines machinery and even technology, engineers are able to have the option to lock their rotors. This will help to keep the blades from essentially spinning too fast, or chaotically. The GE Renewable Energy project director says "If we reach some level of wind which is not acceptable, then we stop the machine and the machine is put in standby."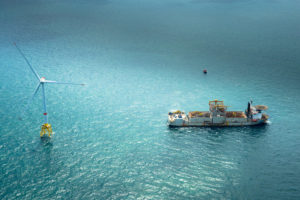 Once the company has completed their work at Block Island, Deepwater Wind will then pursue to push their project out farther into the sea that will use a much larger wind farm. This project will be known as Deepwater ONE. This new project will harness the power to provide that of 30 times more power than that of the Block Island Wind Farm. This is also assuming that both will be able to go online without any glitches.
However, Deepwater Wind is not the only organization aiming to obtain renewable power from the power of ocean winds either. In fact, the department of Energy has estimated that nearly 80 percent of the United State's demands comes from coastal states. This is also allegedly pledged up to $40 million in order to assist in the coastal city citizens getting power closer to their homes.
And there are several locations available for such offshore wind farms. "The East Coast is actually pretty much all amazing' says Archer 'for offshore wind farms." And more so in New England, which is where there are projects in New Jersey and in Virginia, which are just now entering early development stages.
On the west side of America, another great source of offshore wind farms is also occurring. One local West Coast project is funded by the Department of Energy. This project is floating a wind farm company that is based in Oregon. Another company, known as "Trident Winds" has also started their development plans for creating an offshore wind farm. This farm will nest off the banks of California's Morro Bay area. With Trident Winds' new offshore wind farm, they are projecting to produce 20 times more electric power than that of the Block Island Offshore Wind Farm.
While there is still no real substitute for replacing the traditional fossil fuels with renewable energy, we are now seeing more and more innovators pushing the limits of technology to produce a clean, and renewable energy. We can clearly see from parts all over the world, that the rising generation of offshore wind farms are getting setup in order to play probably the largest role in our current electrical power generator.
In 1775, the state of Rhode Island led the charge towards our independence. Today in 2016, they are doing the same and forging a new line of electric power for the nation.
Sources: Deepwater Wind, General Electric Renewable Energy, Trident Winds, Wired.
---
This article (Finally! U.S. is Getting Their First Offshore Wind Farm) is a free and open source. You have permission to republish this article under a Creative Commons license with attribution to the author and AnonHQ.