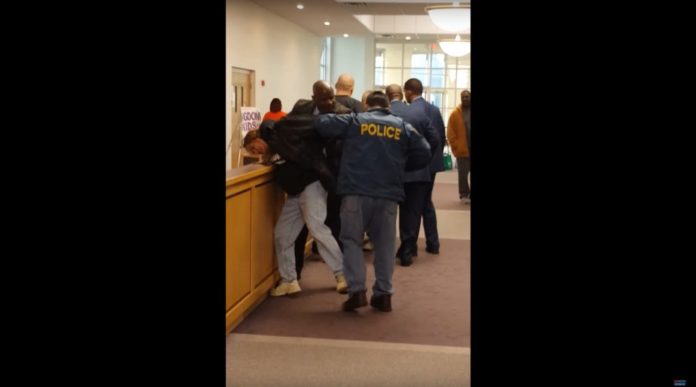 By: The Free Thought Project  Flint, MI — (RT)
Six were arrested at a heavily policed Flint, Michigan, public town hall meeting that was convened at a church to address the mayor's decision to remain connected with a Detroit-area water system.
Hundreds of Flint residents were on hand to grill Mayor Karen Weaver and other cities, state and federal public officials on Thursday at a town hall meeting to address Weaver's decision, announced Tuesday, to maintain the city's primary water supplier, the Great Lakes Water Authority (GLWA). The city has endured a three-year water crisis that has included high levels of lead and other contaminants.
Tensions were high even before Thursday's meeting began, as attendees complained that the event was held at House of Prayer Missionary Baptist Church and not a public space, the Flint Journal reported. Upon entering the church, people wearing hats were pressed by armed Flint police to remove their headgear in a place of worship. This led to arguments with police and, eventually, six arrests, according to reports. Others were escorted out of the church for using profanities.
#FlintWaterCrisis BREAKING: At a CHURCH town hall w/ lead poisoned residents, cops look like this pic.twitter.com/PeNEAiBe4M

— Jordan (@JordanChariton) April 21, 2017
#FlintWaterCrisis BREAKING: Residents of Flint being arrested at town hall pic.twitter.com/AZUsxyFkiR

— Jordan (@JordanChariton) April 21, 2017
"I just want to make sure this meeting goes off the way it's supposed to and that everybody's respecting everyone," Flint police Chief Tim Johnson said at the meeting, according to the Flint Journal. "Please don't be in here trying to disrupt this meeting, because if you do I'm going to escort you out and I'm only going to take you to the back door and then you're going to jail. I'm not going to play with nobody tonight."
#FlintWaterCrisis BREAKING: Residents of Flint being arrested at town hall pic.twitter.com/UI2t0qmHCy

— Jordan (@JordanChariton) April 21, 2017

Johnson said those arrested were "agitators" who, despite the chief's warning, "felt like they can do it anyway."
One man being escorted out of the church yelled, "Mni Wiconi," a Lakota phrase meaning "Water is life," a term used by and now connected with Standing Rock Sioux water protectors that sought to block the Dakota Access Pipeline. Immediately after the man yelled, his wife was aggressively arrested by Johnson and others, as seen in a video posted by WFNT.
During the meeting, officials fielded questions about water bacteria levels and the long-term health effects of tainted drinking water in the city, according to the Flint Journal. Residents said the city was not doing enough to purify Flint's water. The city still recommends residents ingest only bottled or filtered water.
"How are we going to protect people when they're in their showers and when they're washing their clothes," said one woman, according to WKAR. "I'm not trying to be rude… but people are going to continue getting sick and possibly die."
Weaver said Tuesday that Flint officials considered 12 different options for the city's water supply, but chose to remain with the GLWA, as it is "the best option when you consider factors related to public health and when it comes to being fiscally responsible."
#FlintWaterCrisis BREAKING: What I know now-4 or 5 arrests, one resident was arrested for yeling at a cop; others I'm finding out

— Jordan (@JordanChariton) April 21, 2017
The meeting was the only official public gathering during a 30-day "feedback" period for residents to address the city's continued use of the GLWA, a regional water system that draws from the Detroit River and Lake Huron.
On April 25, 2014, after at least a year of deliberation and negotiation, Flint officials and its state-appointed emergency manager switched the city's drinking water supply to the Flint River. Residents soon complained of the water's odd tastes, smells, and coloring, while officials repeatedly told them the water was safe to ingest. The situation became a full-blown crisis when, during the summer of 2015, rising levels of lead were detected in children's blood.
It was later determined that the Flint River water was not being treated properly, and that lead from aging water pipes has leached into the city's water supply. Lead is a deadly neurotoxin, and exposure is especially dangerous for children, who may experience stunted growth, behavioral problems, and neurological damage. During the crisis, 12 people died from Legionnaires disease, while residents, including young children, were continually exposed to dangerous levels of lead.
 The city switched its water supply back to the Detroit River in October 2015, and current water tests show the city's water quality has improved.
Last month, the US Environmental Protection Agency and the state of Michigan pledged $100 million and $87 million, respectively, to help the city address infrastructure improvements. A judge approved the settlement between the state and Flint will require the state to operate nine water distribution centers for residents to pick up bottled water.
The state will also be required to reserve another $10 million of federal funds in case repairs are more expensive than expected. In addition, the state will be responsible for appointing a third party to monitor the lead levels of 100 homes for at least three years.