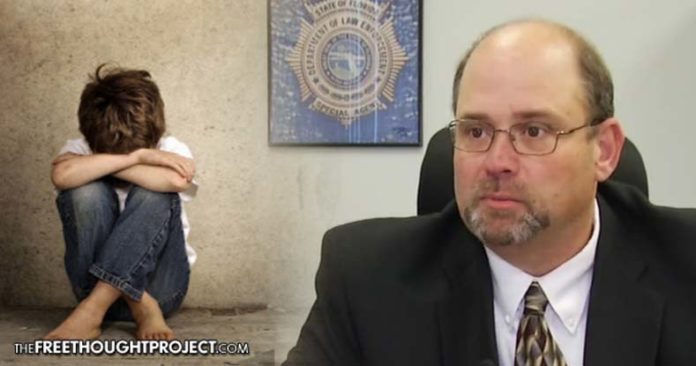 Florida Department of Law Enforcement Agent Charles Calvin McMullen sits behind bars on $300,000 bail after victims have come forward, implicating him in the rape of several young boys at a home for abused children. He was arrested by the Major Crimes Unit of the Santa Rosa County Sheriff's Office for two counts of sexual battery on victims under twelve years of age. McMullen is just the latest in a long line of law enforcers who abuse their position and use their power to exploit those who cannot defend themselves.
According to investigators, when McMullen was confronted, he began to cry, however, he maintained his innocence. After one of McMullen's victims told a supervisor of the abuse occurring at the boys home he was staying in – the Gulf Coast Kids House – the police became involved. A second child came forward, describing horrific sex acts that McMullen made him and the other victim perform on each other. The incidents started with McMullen taking the boys "downstairs" where he would "touch on his private parts," according to one of the victims. Both victims went on to describe numerous and varied sex acts that McMullen would direct and watch. He would also have them perform sex acts on him, and ultimately the boys were repeatedly sodomized for nearly a year. McMullen would use his cover as an officer and the ruse that he was investigating other cases, when the abuse would take place.
McMullen sits behind bars, but as usual he keeps his job for now. Fortunately for the community, his crimes are heinous enough to keep him away from the streets in any official capacity. All too often, we see those entrusted with the safety of the community abuse their power for their own gain. McMullen has been an officer for quite some time, being part of the unit investigating children for at least five years. At this time, only two victims have come forward, however, with a long history of work in this department, it is likely more victims will appear over time.
---
This article (Florida Cop Sits Behind Bars after Raping Two Boys at a Home for Abused Children) is a free and open source. You have permission to republish this article under a Creative Commons license with attribution to the author and AnonHQ.com.
---