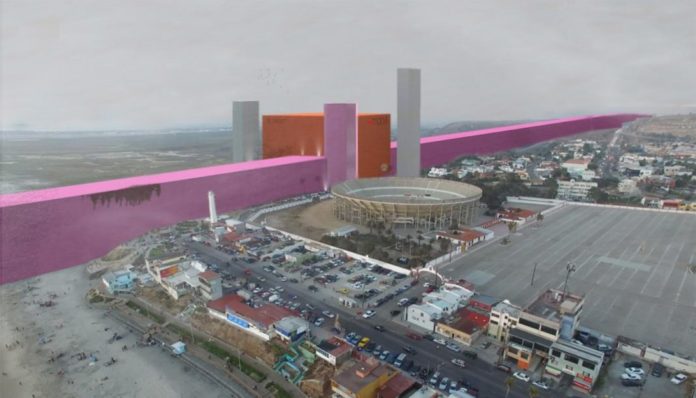 On January 25, Donald Trump fulfilled one of his key campaign promises and signed an executive order to build a wall between the United States and Mexico to stop aliens from coming to his country. For Trump, these illegal immigrants present a significant threat to national security and public safety.
According to Trump, the 1,954–mile U.S.–Mexico border — a territory replete with sand dunes, lakes, rivers, deep canyons, and treacherous mountains — is populated entirely by murderers and drug traffickers who enter the U.S. with the intention of wreaking havoc in the Land of Opportunity.
The wall, he argues, would secure the border and stem the flow of drugs, crime, and illegal immigration into the United States as well as protect the Americans from human trafficking, and acts of terrorism.
But his vision is far from reality [how is he even planning to build the wall without unauthorized immigrants?] Not only would Trump's 35 plus foot "impenetrable, physical, tall, powerful, and beautiful" wall have a negative impact on the decades–old intense economic relationship between the two countries; declaring war on Mexico would be a supremely self-destructive act.
The Real Cost
Mexico is the United States' third–largest trading partner, while the United States is, by far, Mexico's largest trading partner (The U.S. is also the largest source of foreign direct investment in Mexico). According to the US Chamber of Commerce, more than 80% of Mexico's exports come to the U.S., and nearly 6 million jobs in the U.S. depend on trade with Mexico.
Mexico is not only the third-largest supplier of goods bound for the U.S. (after China and Canada), it's also the United States' second largest export market (after Canada). Since signing the North American Free Trade Agreement in 1994, U.S. exports to Mexico have risen 468%, accounting for nearly 16% of overall U.S. exports.
Total bilateral trade in goods and services between the two countries was estimated at $583 billion in 2015. Of that, the office of the United States Trade Representative reports the total U.S. exports to Mexico amounted to $267 billion, while Mexican imports to the United States were $316 billion.
The expansion of trade has resulted in the creation of vertical supply relationships, especially along the U.S.–Mexico border. The flow of intermediate inputs produced in the United States and exported to Mexico and the return flow of finished products greatly increased the importance of the U.S.–Mexico border region as a production site. U.S. manufacturing industries, including automotive, electronics, appliances, and machinery, all rely on the assistance of Mexican manufacturers.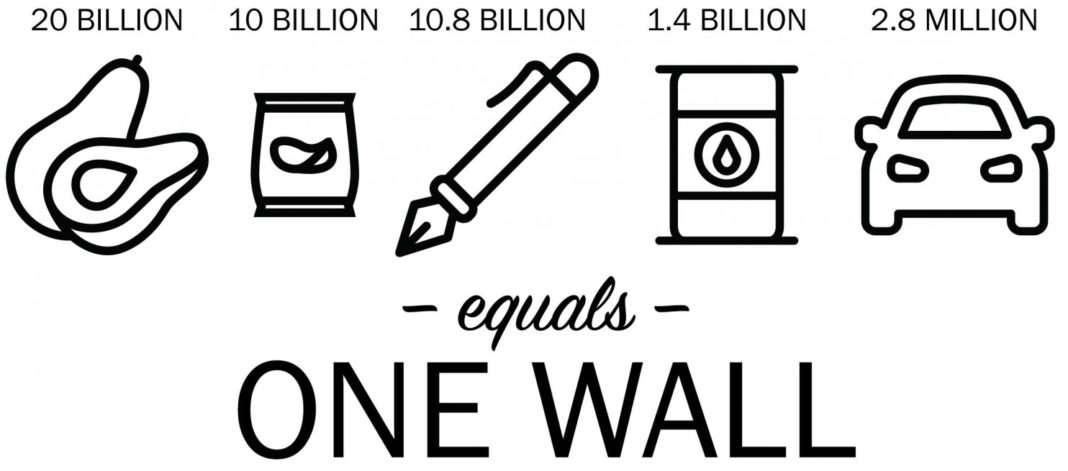 While the U.S. could recoup some of the wall's costs by changing the tax and trade policies with Mexico (Trump wants to put a 35% tax on automobiles and auto parts imported from Mexico by American companies), it is not the Mexican taxpayers or the Mexican government which is going to bear the brunt:
Mexican products would become more expensive. That means pricier tequila, but also things Americans need: cars, eyeglasses and many basic groceries. Here's the flip side: Importers, including big retailers and consumer electronics firms, say the higher prices for Mexican products could hurt sales. And that means American jobs. Retailers such as Wal-Mart also could face higher tax burdens.
The 652 miles of fence along the U.S. Mexico border was built at a cost of more than $7 billion (that doesn't include maintenance and upkeep). According to a study conducted by the Bernstein Research group, the cost of Trump's wall is expected to be greater than $15 billion and perhaps as much as $25 billion.
Will the 20 percent tax on goods from Mexico apply to the Donald J. Trump Signature Collection suits, made in Mexico? pic.twitter.com/Vh43ke2DMX

— Matt Viser (@mviser) January 26, 2017
Sean Spicer, Trump's press secretary, has said the White House could advocate for a 20% tax on annual Mexican imports to raise $10 billion and indirectly force Mexico to pay for the wall. However, a 20% tax on imports doesn't mean Mexico pays for the wall; it means U.S. consumers pay for Trump's ludicrous plan. Christopher Low, chief economist with FTN Financial, tells Forbes:
"The impact of such a tax would likely be higher consumer prices and a disruption to the supply chains of many U.S. manufacturers, particularly in the auto industry. It might also lead the Federal Reserve to quicken the pace for increases in interest rates that it has forecast, which could lead to slower U.S. growth.
"A 20% tariff on Mexican goods is a red flag for the Fed. A tax on trade would likely lead to a quick, if modest, increase in prices for vehicles and other products that source parts from Mexican suppliers, and may foreshadow additional similar moves."
Mexico is the second largest supplier of agricultural goods to the U.S. In 2016, the United States imported over $9 billion worth of fresh fruit and vegetables from Mexico. The cost of everyday food items (like tomatoes, peppers, onions, asparagus and cucumbers) in the U.S. would go up if the wall is constructed or if the tax is implemented. Dr. Gregory Weeks, blogger and expert in U.S.–Latin American relations, told ATTN:
"The price of anything imported from Mexico will increase if a tax is put into place. This will especially hurt lower income Americans who cannot afford to pay higher prices. It is likely that Mexico will respond by imposing its own tariffs on the United States. If prices go up on anything exported from the United States to Mexico, low-income consumers on the other side of the border would no longer be able to afford those goods."
The Real Deal
Although, over 34 million people of Mexican origin live in the U.S. (of that, 22.9 million were born in the United States), according to the latest Pew Research Center estimates, Mexicans made up 52% of all unauthorized immigrants (5.8 million of 11.1 million) in the U.S. in 2014.
There were 8.4 million unauthorized immigrants employed in the U.S. in 2014 (representing 5.2% of the labor force); in other words, a large percentage of unauthorized immigrants from Mexico did the jobs Americans didn't want: lower-skilled, low-paying jobs such as crop picking and animal slaughter.
What would happen if the unauthorized immigrants are expelled from the U.S. or are blocked from coming in after the wall is constructed? Not just more expensive produce, but the collapse of American labor-intensive agriculture, writes The New York Times:
"Instead of milk from a nearby dairy, the only kind available would come from abroad, and it would be irradiated or powdered. Meat would come from Brazil, shellfish from Thailand, fruits and vegetables from New Zealand — and that's the good, expensive stuff.
"There would be plenty of inferior products too, and much much less of anything would be fresh. But worst of all would be the jobs lost for Americans… And the cost won't be pennies: it will run to billions of dollars."
Construction costs would increase; housing prices would fall; retail and hotel properties near the border would be devastated. Barron's explains:
"Higher construction costs would limit new construction and put upward pressure on rents due to the reduction in new supply of space [in in Texas, the southwest, and southern California]. Housing prices would fall in high growth states such as Texas and Arizona where economic growth has been fueled by low cost immigrant labor. Housing demand may also be reduced by the economic impact of reduced trade with Mexico."
As for crime, American firearms are a contributor not just to crime in the United States, but also to violence in Mexico. Further, research has consistently shown immigrant populations have lower incarceration rates than native-born U.S. citizens. Moreover, there is no terrorist presence along the U.S.–Mexico border; the real terror threat in America is homegrown.
Meanwhile, Mexican drug cartels utilize drug mules, tunnels, boats, vehicles, trains, aircrafts, donkeys, and couriers to get illegal drugs into America. Wall or no wall, the black market drug trade between the two countries would continue to flourish.
"A physical barrier will not do the job. If you build a wall, you would still have to back that wall up with patrolling by human beings, by sensors, by observation devices."
---
Sources:
What the Executive Order to Build a Border Wall Actually Means
How a Border Wall Would Hurt the U.S. Economy
The Environmental Impact of the US-Mexico Border Wall
The Negative Impacts of a Permanent U.S.-Mexico Border Wall
Trump Wants to Build a Wall. Finding Workers Won't Be Easy
---
This article (Forget Who Pays For It, Here's How Trump's Mexico Wall Would Hammer America) is a free and open source. You have permission to republish this article under a Creative Commons license with attribution to the author and AnonHQ.com.
---
Supporting Anonymous' Independent & Investigative News is important to us. Please, follow us on Twitter: Follow @AnonymousNewsHQ