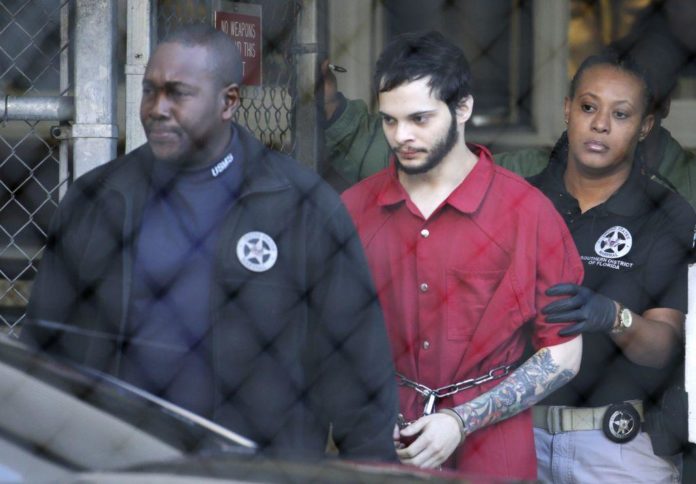 Esteban Santiago, the Fort Lauderdale-Hollywood International Airport shooting suspect, has admitted that he is being 'mind controlled' by a US Intelligence agency. Santiago, who was arrested in January, is waiting to stand trial in October on criminal charges.
Shortly after the shooting, a number of eyewitnesses told reporters that there had been more than one shooter at the attack. No other suspects were arrested in relation to the shooting.
"There was like at least three people in there still shooting," an eyewitness explained shortly after the attack.
As Santiago's trial draws closer, information surrounding Santiago's criminal and mental-health history have come to light.
Shortly after the shooting, relatives told reporters that Santiago had a history of mental health problems, some of which followed his military service in Iraq with the Puerto Rico National Guard.
"Only thing I could tell you was when he came out of Iraq, he wasn't feeling too good," his uncle, Hernan Rivera, told Newark's Star-Ledger newspaper.
After his arrest, Santiago told the FBI that the CIA controlled his mind before later stating he was inspired by the Islamic State extremist group. Santiago's original claims correlate with a confession made before the shooting took place.
Two months before the shooting, Santiago unexpectedly showed up to an FBI office in Anchorage, where he admitted that he was under CIA mind control and involuntarily heard voices that told him to study "extremist materials on the Internet," The New York Times reports. After the confession, Santiago was admitted to a mental health facility.
At the time of his initial confession in November, Santiago had a weapon in his car. The weapon was returned to him a month later. Authorities say it was the same weapon used in the airport shooting.
Meanwhile, in the lead up to the shooting, Santiago had a number of run-ins with the police. In 2016 alone, police were called to his home in Alaska at least four times following complaints of domestic violence and physical disturbances.
Federal law enforcement officials announced earlier this year that they are investigating whether Santiago is mentally disturbed and heard the voices that prompted him to the acts of violence. However, according to recent reports, Santiago's attorneys have told a judge that he is competent to proceed with his court case, despite the indications of mental illness.
US District Judge Beth Bloom then proceeded to question Santiago to determine whether he understood the 22-count indictment against him, the process of a death penalty decision, and whether he was satisfied with his lawyers. According to reports, Santiago calmly answers "yes" to all of these questions.
Judge Bloom originally requested a full psychiatric evaluation of Santiago to officially determine his mental competence, however, the evaluation was suspended after Dopico requested time to collect and obtain records of Santiago's previous treatments and behavior whilst held in jail.
Santiago is currently taking psychiatric medications for an undisclosed mental condition, revealed defense attorneys Hector Dopico and Eric Cohen.
Santiago has been indicted on 22 federal charges. He has been charged with killing five people and wounding another six, and could possibly face the death penalty for his suspected crimes. He has pleaded not guilty. Santiago's trial is scheduled to take place on Oct. 2 in Miami.
Image: Flickr, Amy Leonard (CC BY-ND 2.0)
---
This article (Fort Lauderdale Shooter Admits He Was Under CIA Mind Control) is a free and open source. You have permission to republish this article under a Creative Commons license with attribution to the author and AnonHQ.com.
---
Supporting Anonymous' Independent & Investigative News is important to us. Please, follow us on Twitter: Follow @AnonymousNewsHQ