What makes you happy — wealth, fame, celebrity lifestyle, expensive gadgets? Do you make life happen or is life just happening to you? Are you 100% sure with your response to the previous two questions?
The irony of modern life is that while you lose sleep over money, unknowingly become slaves of technology, and yearn to be celebrities, what most of you really want is peace, happiness, and, well, to travel. Since the line between need and want is blurred, most of the time you allow life to happen to you, playing the victim card as a lifestyle choice.
However, you don't need wealth, fame or expensive gadgets to live a rich, joyful, and fascinating life — on your own terms. Sounds impractical? Meet the four now-famous people, who had the courage to turn around their lives to live happily ever after, and get inspired…
Daniel Norris
23-year-old Norris, a thyroid cancer survivor, is an American professional baseball pitcher who loves surfing, mountain biking, hiking, traveling, and the outdoors. In the off-season, he lives in his classic 1978 Volkswagen Westfalia van (nicknamed Shaggy), which he bought in 2011 for $10,000. Despite his $2 million signing bonus, Norris lives off just $800 a month and is comfortable being kind of poor. His Instagram bio reads: "In search of 3 things: 1. Eternal life 2. The strike zone 3. Good waves."
In an interview with ESPN, he disclosed the reason behind his decision to live off-grid:
"It's like a yin-and-yang thing for me. I'm not going to change who I am just because people think it's weird. The only way I'm going to have a great season is by starting out happy and balanced and continuing to be me. It might be unconventional, but to feel good about life I need to have some adventure."
Norris has gained increasing notoriety for his Mountain Man lifestyle and off-season adventures, but he is happy in his own skin. He told National Post:
"I do it to be alone and to find peace within myself. I love my teammates and family but I'm not the kind of person who likes to be around a ton of people. I'm a thinker; I like to be alone with my thoughts. When I'm out there, it's just me, Shaggy and God and I can really connect with myself. It's very peaceful."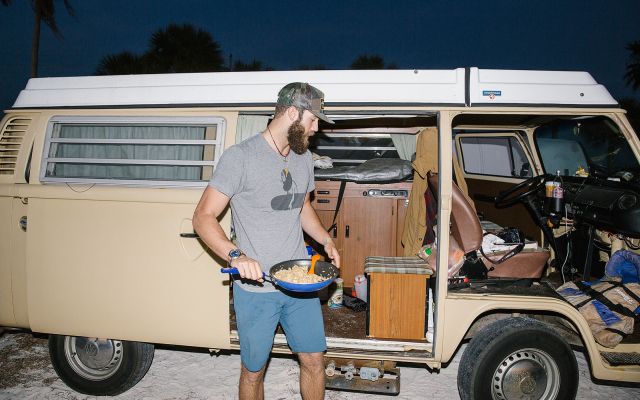 Daniel Suelo
55-year-old Daniel Suelo lives in a cave in Utah, doesn't have a pension or health insurance, doesn't have a job or a bank account, and doesn't accept charity or food stamps. He survives by harvesting wild food, eating roadkill, pulling food from dumpsters, and rations donated by friends and strangers. In 2000, he put his entire life savings in a phone booth, walked away, and hasn't touched a dime ever since. He explains the reasons for his unconventional lifestyle:
"When I lived with money, I was always lacking. Money represents lack. Money represents things in the past (debt) and things in the future (credit), but money never represents what is present."
But can you really live without money? Suelo answers:
"Are swallows nesting in house attics [sic] dependent upon money? Are pigeons nesting on bank skyscrapers dependent upon money? Are barnacles clinging to aircraft carriers and corals living on buried artifacts [sic] dependent upon money?"
Author Mark Sundeen, who chronicled Suelo's journey, in his book The Man Who Quit Money writes:
"Suelo doesn't pay taxes, or accept food stamps or welfare. He lives in caves in the Utah canyon lands, forages wild foods and gourmet discards. He no longer even carries an ID. Yet he manages to amply fulfill not only the basic human needs – for shelter, food, and warmth – but, to an enviable degree, the universal desires for companionship, purpose, and spiritual engagement."
Erik Lang
This 30-year-old London School of Economics graduate, happily married to a high-paying corporate job in Dubai, gave up his high-flying lifestyle. Taking some time off to travel before moving to Sunseed (a low-tech and low-environmental-impact community in the southern Andalusia region of Spain) in 2015, he started to live off-grid. He works on projects that focus on either land maintenance or environmental education, for a small stipend of 45 Euros a week. He told The Daily Mail why he quit corporate communications and opted for an eco-lifestyle:
"Dubai can get lonely. The first six months were enjoyable, you are living this crazy life but making a lot of money can make people crazy. The first time I started travelling I realized that a different life was possible. Through traveling I kept learning new skills. It was a real eye opener and led me to Sunseed. The community aspect is great. There is shared responsibility, a non-hierarchy system and it's democratic – we vote on any decision made. It forces you to really think about life. Since I have all my food and my accommodation covered, money isn't such an issue any more.
"In summer, we shower in a beautiful river and in winter, on a cloudy day, we can always heat up a little of water to shower. During the winter if we don't have enough solar electricity, we light candles and read or play board games; these are moments I've come to really enjoy. I've changed a lot; I'm more relaxed and happy. Every day I eat organic food and feel healthier."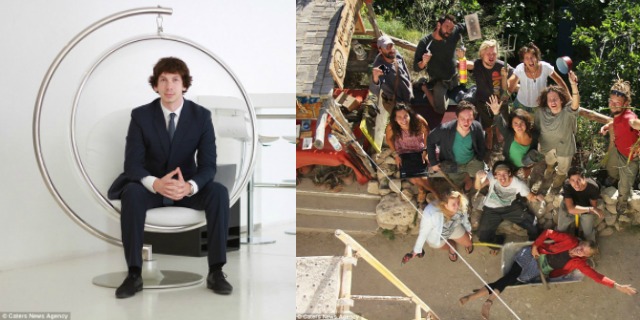 Boris Kanev and Marta Samalea
The young couple made history by hitchhiking all the way from Bulgaria to India without boarding a plane or using a smart phone. In 511 days, starting October 2013, they then travelled the subcontinent for 9 months, before returning home in 20 days. They travelled across Asia with only a netbook, a DSLR camera, an old Nokia phone, and an e-book reader to document their journey. Along the way, the couple maintained a blog, called Roving Snails, to stay in touch with the rest of the world. Marta shared her experience in an interview with The Daily Mail:
"We really enjoy the simplicity of hitchhiking, walking, and hiking. An overland travel is a wonderful chance to see that the earth is one, and how landscapes are shaped by cultures, colored by the peculiarities of the inhabitants across each border… This way of travel has brought us to many more homes, yards and gardens, encounters and conversations than it brought us troubles and we have a wonderful bunch of friends we would like to see again sometime. Now, when we look at a map of Asia, it is not just monuments and landscapes that we see, but a whole book of stories of everyday lives."
---
This article (Free Spirited Individuals Who Quit a Life of Luxury to Live Happily Ever After) is a free and open source. You have permission to republish this article under a Creative Commons license with attribution to the author and AnonHQ.com.