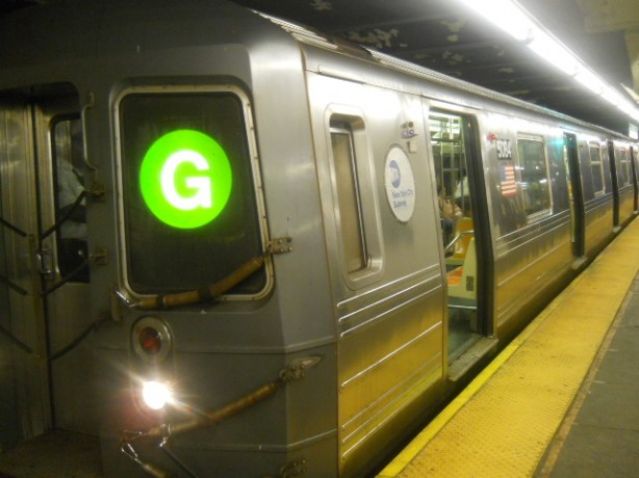 How will you react if you see two women walk out through a secret door in the G train and disappear into the darkness of the tunnel? Scary isn't it? Does it mean that there exist secret passages and portals beneath the New York City or there is more or perhaps nothing to the incident?
Two riders, who witnessed this strange, unusual incident recently, shared the experience on Twitter:
HELP US SOLVE THIS MYSTERY PLEASE @craigwmiddleton @MTA #GTrain @Gothamist pic.twitter.com/5VEDjC4xZ0

— Claire, A Business. (@ClaraBiznass) February 25, 2015
So, has anyone ever seen the G train conductor stop the train between Bedford-Nostrand and Myrtle-Willoughby, unlock an ad to reveal a … — Nellie Killian (@nelliekillian) February 25, 2015
handle that opens the door to the tunnel and then let 2 middle age women out? There is a weird room w smudged out windows in the tunnel?…

— Nellie Killian (@nelliekillian) February 25, 2015
Craig Middleton, another rider, told gothamist.com, "The weirdest thing of all is that they weren't wearing MTA uniforms or anything. Just looked like two regular women getting off at their own secret stop… our entire car was shocked and then laughing so hard about it"
According to transportation enthusiast Jon Hanford, "What the passengers saw, most likely, is simply the dispatchers going to work, getting ready to relay trains at Bedford-Nostrand. This is normally unseen because it happens so infrequently, and because dispatchers often just walk to the office through the tunnel, but maybe these women asked for a favor? That part I can't say. But it's almost 100% dispatchers going to the tower".
proud to have helped publicly solve a transit mystery. http://t.co/X0lVfMVjnX (quote at the end of the article)

— Jon Hanford (@hanjonford) February 25, 2015
Metropolitan Transportation Authority (MTA) and NYC Transit spokesman Kevin Ortiz confirmed Hanford's theory. "Instead of witnessing two women passing through a wormhole between G train stops and into another dimension, riders witnessed two tower operators being dropped off at the MTA field office between the Myrtle-Willoughby and Bedford-Nostrand stops".
But there are others who find this explanation boring and untrue:
signal tower, my ass #portal #Gtrain #MTA http://t.co/Igj1wjnMOD

— Judith Leora (@Judithleora) February 27, 2015
@allisonkilkenny @CitizenRadio Refuse to believe that logical explanation! That's just what the wizards want us muggles to think #GTrain

— Sarah Storm (@SarahMStorm) February 27, 2015
Was hoping for a ghost train story, boo. #gtrain #mta http://t.co/3VL1UOMiwq

— May Chan (@mmmmaychan) February 27, 2015
@Gothamist What if, "Jon Hanford" and the "NYC Transit employee" are actually the two "secret agents"…. hmm, and the plot thickens.

— Ajani Shakanova (@TheShakanova) February 26, 2015
This is why I love the @Gothamist– http://t.co/5gd7Nef7u5 in which they compare a mysterious #Gtrain exit to Harry Potter magic.

— Carleen Pan (@carleenlikes) February 26, 2015