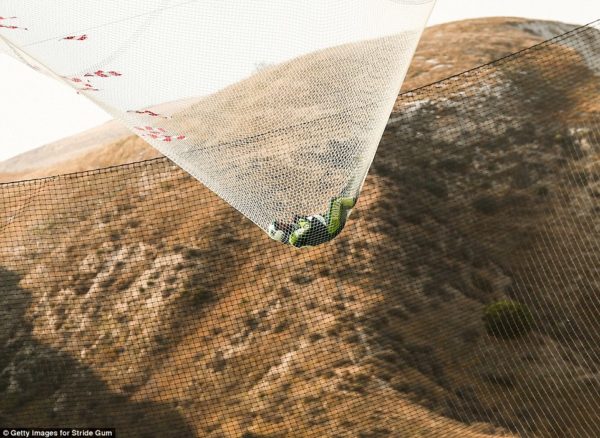 An American man has made history by becoming the first person on Earth to jump from 25,000 feet (7,620 metres) without a parachute, landing safely in a net.
Luke Aikins, 42, is said to have 18,000 jumps to his credit before setting this new record. This latest jump took place at the Simi Valley, southern California. Aikins fell into the centre of a 100 x 100ft net suspended near ground level, to protect him.
The event was held on July 30th. It was aired live on television on the Fox network. The duration of the jump took about two minutes. During his descend, he reached the speed of 193km/h.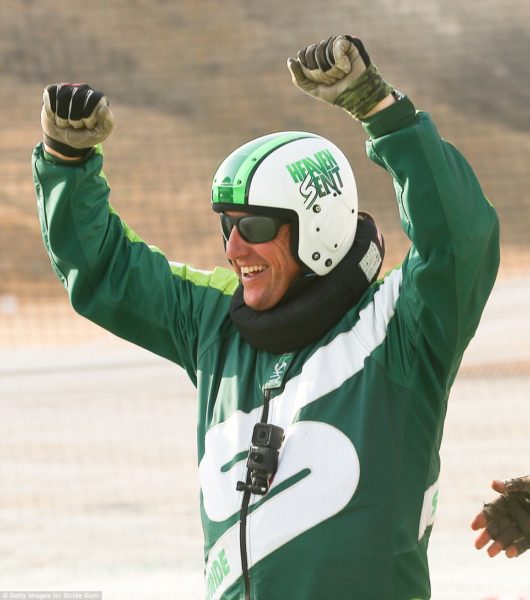 It is said Aikins' family owns Skydive Kapowsin near Tacoma, Washington. His family has a history of diving from the sky. Aikins has featured in the science fiction action movie Ironman 3, performing stunts.
Mr Aikins has also served as a safety and training adviser for the United States Parachute Association. He revealed that his friend came up with the idea of jumping from that altitude without a parachute, two years ago.
Before the jump, the organizers agreed that Aikins should use a parachute. However, at the last minute, Aikins requested not to use the parachute, as he claimed it will making his landing into the net difficult. The organizers agreed to his request.
For the first 10,000 feet of the fall, Aikins seen in white and green below, used an oxygen tank. He was assisted by three other divers. One of the skydivers who jumped with him was in charge of collecting the discarded oxygen tank.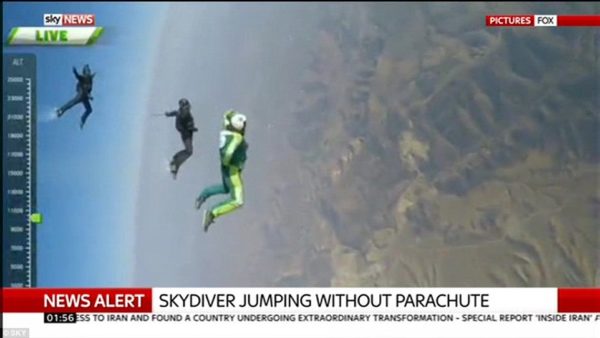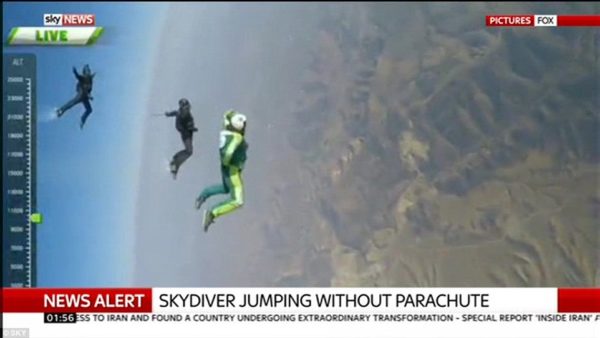 The other two carried a camera so that people on the ground could watch his descent. When they were near ground, at around 5,000 feet, the three divers assisting him deployed their parachutes, landing safely. For Aikins, he kept going without a parachute until he landed in the giant net suspended in the air to protect him. There were loud cheers from those who have gathered there to watch the event.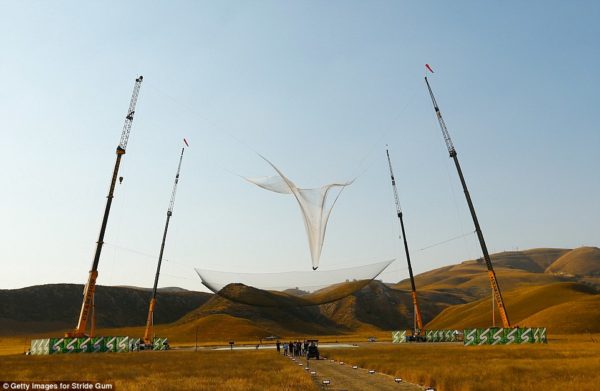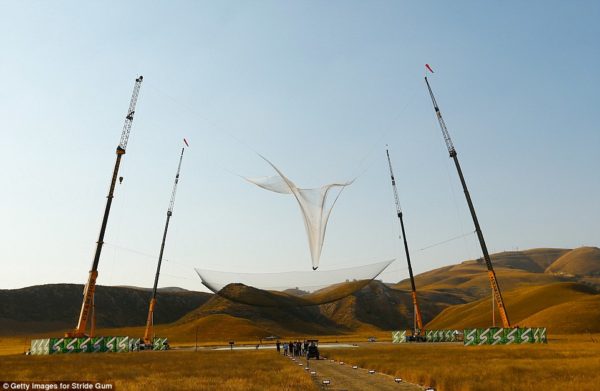 Aikins was greeted by his wife and his son. He carried his son up, kissing him, and tossing him in the air to celebrate his historic achievement.
He told the media he was excited to have done such a jump without a parachute. He was quoted as saying: "I'm almost levitating, it's incredible. This thing just happened! I can't even get the words out of my mouth."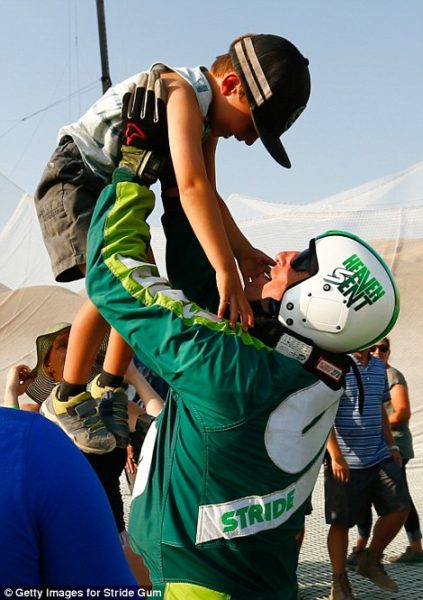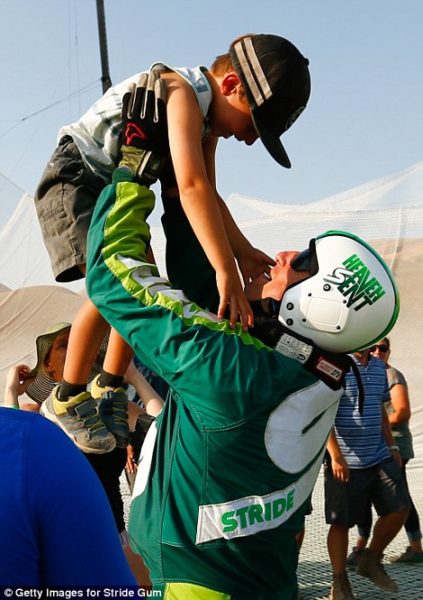 He also revealed that he nearly had to cancelled the jump, due to orders to wear a parachute by the Screen Actors Guild for safety reasons. The Screen Actors Guild played a key role in organizing the historic jump.
Aikins spokesman, Justin Aclin also said: "Aikins' leap represents the culmination of a 26-year career that will set a personal and world record for the highest jump without a parachute or wing suit."
Later in a Facebook post, Aikins revealed more details on his jump. He wrote that when his friend suggested that he try the 25,000 feet jump without a parachute two years ago, he considered it as a joke. According to Aikins, he saw the task as extremely dangerous, but later decided to give it a trial.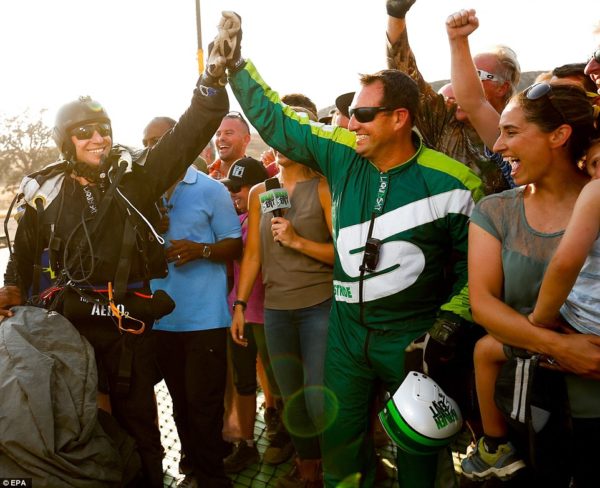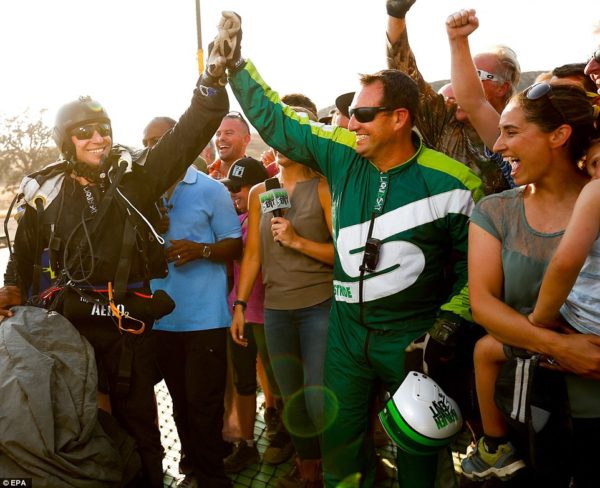 "If I wasn't nervous, I would be stupid. I kind of laugh and I say, 'Ok, that's great. I'll help you find somebody to do it. But it's not for me. I've got a wife and son, and it's really not for me,"' Aikins wrote, thanking all those who supported him during the jump.
Aikins is said to have made his first jump when he was 12. His father and grandfather were skydivers. His wife is also a diver. She is said to have made 2,000 jumps.
---
You want to support Anonymous Independent & Investigative News? Please, follow us on Twitter: Follow @AnonymousNewsHQ
---
This article (Genius: Skydiver Jumps 25,000 Feet Safely into a Net Without Parachute in California [Video]) is a free and open source. You have permission to republish this article under a Creative Commons license with attribution to the author and AnonHQ.com.