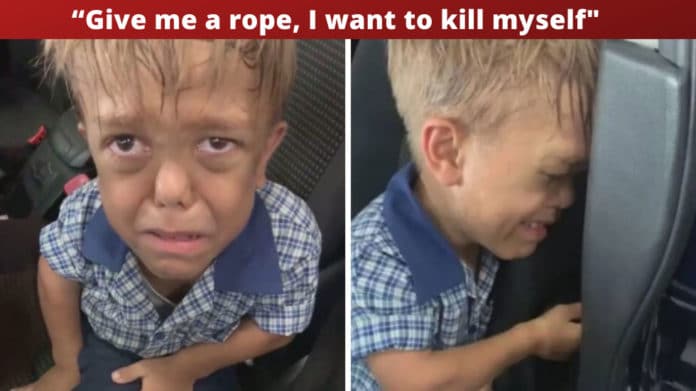 Messages of support have flooded in from across the globe after the mother of a nine-year-old Australian boy named Quaden Bayles publicized a video of the child in deep distress over school bullies.
Yarraka Bayles posted the clip of her son crying after he was targeted for his dwarfism. In the video, the child is crying in a car as she tells viewers "this is what bullying does."
In the heart-rending clip, which has been viewed over 14 million times, Quaden says:
Give me a rope, I want to kill myself.
I just want to stab myself in the heart… I want someone to kill me." 
Since the video's release, the hashtag #WeStandWithQuaden has gone viral—along with a wave of support for the bullied young boy and his Murri Indigenous family who reside in Queensland.
Celebrities sending messages of support include Australian actor Hugh Jackman of Logan fame, NBA basketball player Enes Kanter of the Boston Celtics, and the Indigenous All Stars National Rugby League team.
Quaden – you've got a friend in me. #BeKind @LokelaniHiga https://t.co/8dr3j2z8Sy pic.twitter.com/jyqtZYC953

— Hugh Jackman (@RealHughJackman) February 20, 2020
In a message posted to Twitter, Jackman said:
"No matter what, you've got a friend in me."
Quaden, you are stronger than you know, mate.
Everyone, let's just please be kind to each other. Bullying is not OK, period."
The cruelty is as astonishing as it is heartbreaking.

— Mark Hamill (@HamillHimself) February 21, 2020
A GoFundMe page has also been set up by U.S. comedian Brad Williams, who has the same dwarfism condition of Achondroplasia, to raise money to send Quaden and Yarraka to California's Disneyland. So far, the online fundraiser has skyrocketed past the initial $10,000 goal and has climbed past $325,000 in a single day.
On the GoFundMe, Williams wrote:
"This isn't just for Quaden, this is for anyone who has been bullied in their lives and told they weren't good enough.
Let's show Quaden and others, that there is good in the world and they are worthy of it."
My 10 year old son Rocco has a message for #Quaden in Australia who has endured a horrible case of bullying. You are strong little man. So many people love you!!!! pic.twitter.com/wO49KABK51

— Jillian Barberie (@askjillian) February 21, 2020
The Indigenous All Stars rugby team has also requested that Quaden lead the team onto the field for a Saturday match against the Maori All Stars, reports NRL.
In a video message of support, popular professional rugby league footballer Latrell Mitchell said:
"Hey Quaden, how are you going cuz. We just want to wish you all the best, brother …  We know you are going through a hard time now but the boys are here to support you.
We've got your back and just want to make sure that you are doing alright, make sure that your mum is on your side, we're on your side."
The Indigenous #NRLAllStars are behind you Quaden! 👊🏽❤️ pic.twitter.com/52RLy8SrSd

— NRL (@NRL) February 20, 2020
Indigenous All Stars coach Laurie Daley also commented that the video should be a wake-up call to anyone concerned about what too many children suffer. He added:
"It has touched so many people around the world. We have got people from around the world that have contacted us and want to get in contact with him, and our guys have shown great leadership in embracing him and including him in our activities over the next 48 hours, both him and his family, just to show we care and we are here for him and he belongs."
In the original six-minute video posted on Tuesday, Yarraka described her son's bullying as an everyday occurrence that has a shattering impact on Quaden's life. As her son sobs, she explained:
"I've just picked my son up from school, witnessed a bullying episode, rang the principal, and I want people to know – parents, educators, teachers—this is the effect that bullying has.
Every single… day, something happens. Another episode, another bullying, another taunt, another name-calling.
Can you please educate your children, your families, your friends?"
By Elias Marat | Creative Commons | TheMindUnleashed.com