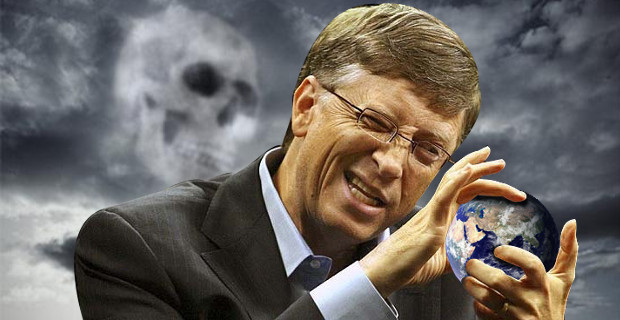 With assets worth $43.5 billion, the Bill and Melinda Gates Foundation is the largest charitable foundation in the world, providing more aid to global health than any country. But a new report by UK campaign group Global Justice accuses Bill Gates, the current richest person in the world with a net worth of $83 billion as of January 2016, of distorting international development priorities and promoting corporate globalization through the immense wealth and influence of his Seattle-based philanthropic foundation.
Why should Bill Gates get to set the agenda for internationl development, asks @PollyJones76 https://t.co/H5ssTFTbPD pic.twitter.com/HKYeDd87V0

— Global Justice Now (@GlobalJusticeUK) January 20, 2016
The report, Gated Development – Is the Gates Foundation always a force for good?, has blasted the Gates Foundation for its links to Microsoft's tax evasion practices, its lack of accountability, its close relationship to multi-national corporations, its support of private healthcare and education and its championing of genetically modified crops. Its influence is "dangerously skewing" aid priorities, the report added.
The foundation's emphasis on vaccines, technological solutions and specific diseases, the report found, undermines support for basic health systems in poor nations. At the same time, the foundation both invests in and collaborates with pharmaceutical and agricultural corporations, creating a corporate merry-go-round where the Gates Foundation consistently acts in the interests of corporations, the report claimed.
#EbolaRed infects @BillGates RT Microsoft to pay China $140 million for 'tax evasion' http://t.co/P5lxMveTqN via @reuters

— Rajiv Kapoor (@TheWorldCitizen) November 26, 2014
Released at the same time that Bill Gates is promoting his brand of "philanthrocapitalism" at the World Economic Forum in Davos, Switzerland, the report found:
According to a 2012 US senate report, Microsoft used offshore subsidiaries to avoid $4.5 billion in taxes, while the Gates Foundation issued grants totaling $3.6 billion in 2014.
The Gates Foundation is profiting from numerous investments in companies that contribute to economic and social injustice, including Monsanto, Dupont and Bayer, and therefore it is supporting them through a variety of pro-corporate initiatives around the world.
The foundation is undermining sustainable, small-scale farming that is providing food security in Africa by promoting the adoption of GMO, patented seed systems and chemical fertilizers across the continent.
The foundation is pushing for private healthcare and education projects around the world exacerbating inequality and undermining the universal provision of such basic human necessities.
The Gates Foundation is funding a series of vaccine programs that have reportedly lead to illnesses or even deaths with little official or media scrutiny. (Here's evidence from India)
Gates Foundation accused of exploiting its leverage in Africa https://t.co/5OPbnuzBTf Our new report covered by @AJEnglish

— Global Justice Now (@GlobalJusticeUK) January 20, 2016
"Gated Development demonstrates that the trend to involve business in addressing poverty and inequality is central to the priorities and funding of the Bill and Melinda Gates Foundation. We argue that this is far from a neutral charitable strategy but instead an ideological commitment to promote neoliberal economic policies and corporate globalisation. Big business is directly benefitting, in particular in the fields of agriculture and health, as a result of the foundation's activities, despite evidence to show that business solutions are not the most effective.
"Perhaps what is most striking about the Bill and Melinda Gates Foundation is that despite its aggressive corporate strategy and extraordinary influence across governments, academics and the media, there is an absence of critical voices. Global Justice Now is concerned that the foundation's influence is so pervasive that many actors in international development, which would otherwise critique the policy and practice of the foundation, are unable to speak out independently as a result of its funding and patronage."
I'd have more respect for Bill Gates if he also worked to challenge global economic agenda which supports inequity between rich and poor.

— Elenie Poulos (@EleniePoulos) May 28, 2013
The report has claimed, Bill Gates, "who has regular access to world leaders and is in effect personally bankrolling hundreds of universities, international organisations, NGOs and media outlets", has become the single most influential voice in international development.
The Gates Foundation, the authors observed, "often appears to be a massive, vertically integrated multinational corporation, controlling every step in a supply chain that reaches from its Seattle-based boardroom to millions of end-users in the villages of African and south Asia".
Global Justice Now wants an independent evaluation to be managed and administered by the Development Assistance Committee of the OECD, by involving a transparent commissioning process and including the participation of various stakeholders, notably those affected by foundation-funded projects.
"The world is being sold a myth that private philanthropy holds many of the solutions to the world's problems, when in fact it is pushing the world in many wrong directions. The Gates Foundation is being allowed to speak too loudly, and too many actors in international development are falling into line with the foundation's misguided priorities."
The group also wants the UK's International Development Select Committee to conduct an inquiry into the Department of International Development's relationship with the Bill and Melinda Gates Foundation "to assess the impact and effectiveness of any joint activity in addressing poverty and inequality".
Time to scrutinise the philanthropic work of the Gates Foundation? @GlobalJusticeUK https://t.co/w6FwgmDhDK pic.twitter.com/5aihC5W2VE

— Diane Abbott MP (@HackneyAbbott) January 20, 2016
In a written response, the Gates Foundation said the report misrepresents the organization, its work and its partnerships.
"The foundation's mission is to improve quality of life for the world's poorest people. This is a complex challenge, and solving it will require a range of approaches as well as the collaboration of governments, NGOs, academic institutions, for-profit companies and philanthropic organizations.
"Governments are uniquely positioned to provide the leadership and resources necessary to address structural inequalities and ensure that the right solutions reach those most in need. The private sector has access to innovations – for example, in science, medicine and technology – that can save lives.
"In all of our work – whether helping women access life-saving prenatal care or ensuring that small holder farmers can produce enough food to feed their families – partners guide our priorities and approach. We listen to experts and practitioners and take action based on evidence."
---
This Article (Global Justice Exposé: Gates Foundation Uses Welfare Programs To Favor Big Businesses, Not Poor) is free and open source. You have permission to republish this article under a Creative Commons license with attribution to the author and AnonHQ.com.