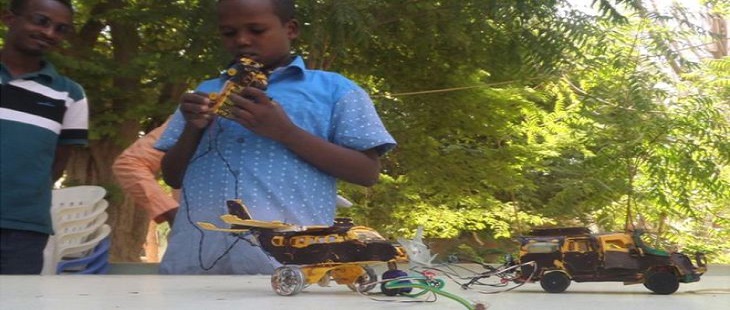 by Amanda Froelich at trueactivist.com
This 13-year-old's ability to transform discarded trash into toys not only made him a celebrity in his town but has earned him a free education!
When Guled Adan Abdi was just a boy, he would venture around his hometown in Somalia, Africa, and pick up pieces of trash.
Abdi was inspired to make things from these pieces of discarded waste, therefore, fashioned the parts into a number of items, including toy cars and airplanes.
BBC Somali Services reports that he did this by mainly using cooking oil containers, cutting the bottles to create doors, fenders, and wings.
After studying real cars to figure out how they worked, he then figured out how to motorize the projects into electronic toys.
Said Abdi:
"I started making toys when I was younger. I used to play with them without any motor. But later I said to myself: 'Why don't you make them into a moving machine?'

So I looked at the cars in the town and invented my toys with the same design."
His genius has allowed him to construct four electronic toys, including a truck and a plane. Abdi also invented a fan that can be used as a light at night.
The only cost for Guled's toys is the price of batteries to run them – about 25 cents for a pair.
Like many African children, the young teen has missed out on a lot of education because he and his family live in poverty. He is only in the third year at primary school – a class usually for eight-year-olds. This is because his father disappeared in 2002 and is presumed dead. At present, he lives with his mother and two older siblings.
Life may not be easy for the African family, but it will soon get easier for Guled. The boy's ability to transform discarded trash into electric toys has made him somewhat of a celebrity in his hometown, and has also earned him a free education!
Neighbors often venture by the boy's home to watch him build his creations after school, and his talent inspired his teacher to tell local leads about the young engineer.
This earned him a meeting with President Abdiweli Mohamed Ali of Somalia's Puntland's region. In the meeting, Guled demonstrated his creations for the head of state (photo, above); the president was so impressed, he promised his government would pay for Guled's schooling.
This inventive young boy now has a bright future ahead of him.
No longer worried about school, he is already working on plans to build and sell his toys. One day, he even hopes to build real cars.
What are your thoughts on this positive news? Please comment below and share this news!
---
This article (Somalia Teen Earns Free Education After Inventing Electronic Toys From Trash) is free and open source. You have permission to republish this article under a Creative Commons license with attribution to the author and TrueActivist.com