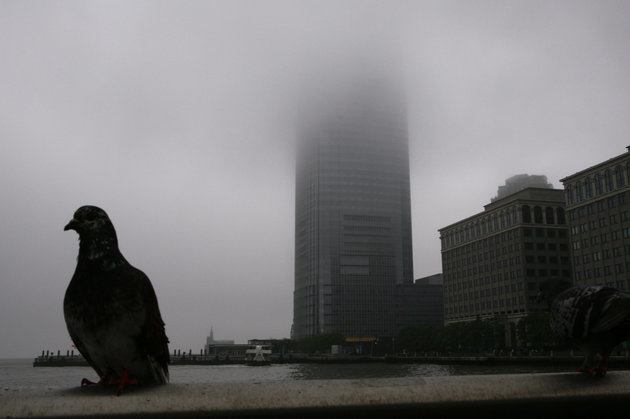 Title picture: Fog covers the Goldman Sachs building, site of the Goldman Sachs annual shareholders meeting, in Jersey City, New Jersey May 24, 2012. REUTERS/Eduardo Munoz (UNITED STATES – Tags: BUSINESS ANIMALS)
A drug giant turns over its pipeline of miracle drugs to a startup.
An analyst at Goldman Sachs asked a troubling question this week about gene therapy.
"Is curing patients a sustainable business model?"
In social media, reactions were quick and sharp. "Cold and immoral." "Capitalism at its finest."
But the Goldman analyst has a point. It's tricky to make a sustained profit from one-shot cures.
For at least one big drug maker, the answer to Goldman's question is no.
Just today, we saw GlaxoSmithKline sell off its pipeline of gene therapies for rare disease to a London startup called Orchard Therapeutics for a 20 percent stake in the young company.
The treatments Glaxo didn't want were bona fide miracles: one-and-done cures that replace a broken gene and save a life.
One was Strimvelis, a therapy for a rare immune deficiency that's been curing kids outright.
Another, still in development, is a DNA fix for a devastating childhood disorder called metachromatic leukodystrophy, which affects the brain. Victims lose their ability to talk, walk, and think before losing their lives.
The economic problem is that companies can run out of patients as they're cured. Or they may not have enough of them in the first place, if the gene therapies treat exceedingly rare diseases.
For instance, only a couple of dozen kids each year in the US and Europe are diagnosed with the type of "bubble boy" disease that Strimvelis treats, called ADA-SCID. So even at a price of $665,000, Glaxo didn't see that the drug was going to be much of a business.
What's more, though for decades it seemed as if gene therapy would never arrive, the field is now moving so fast that improved versions of today's breakthroughs are just months away.
In fact, Glaxo threw in the towel to a maker of just such a competing treatment. Orchard has its own version of a gene therapy for immune deficiency, for which it plans to seek approval in the US by the end of this year.
Mark Rothera, CEO of Orchard, couldn't tell MIT Technology Review if he thought his company could turn a profit from Strimvelis either.
"I think society has to find a balance between the extraordinary value we are bringing and a sustainable business model," he said. "There is a balancing act."
Other gene cures could be made more valuable if prices are a high enough. On April 9, Novartis said it would pay almost $8.7 billion to acquire AveXis, owner of a gene therapy that's been curing kids with spinal muscular atrophy.
That disease is 20 times as common, so there's a larger market. Yet Novartis's projections that the treatment could bring in several billion a year in revenue also suggest that the company might charge unheard-of prices, perhaps $2.25 million according to Wall Street bankers.
As the Goldman report states, gene therapy prices of more than $1 million "are likely."
The treatments Glaxo sold off today are worth less, both because the diseases are so rare and because they are ex vivo gene therapies—a patient's bone marrow cells are removed, the new gene is added, and the cells are returned to the patient.
That's a cumbersome process that makes commercialization harder than selling a pill in a bottle or an IV bag.