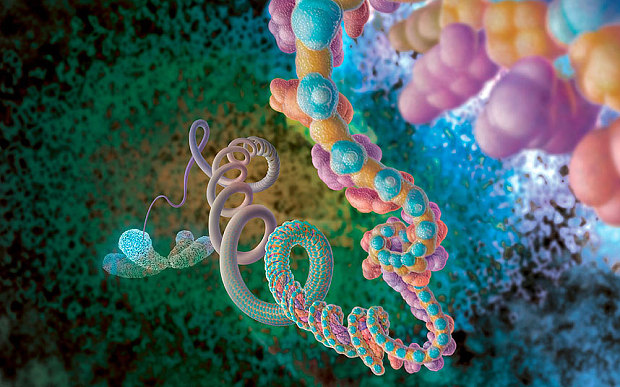 Scientists at Harvard and Northwestern University have discovered a distinct pattern in the changing length of blood telomeres, the protective end caps on our DNA strands, that can predict cancer up to 13 years before the killer disease is actually diagnosed. The pattern, according to the scientists, could ultimately yield a new biomarker to predict cancer development with a blood test with 100% accuracy.
In the new study, published in the online journal Ebiomedicine, the researchers found that telomeres had significantly more wear and tear in people who went on to develop cancer. Telomeres in all the people who went on to develop cancer, looked as much as 15 years older than those of people who were not developing the disease.
Telomeres were much shorter than they should be and continued to get shorter until around four years before the cancer developed, when they suddenly stopped shrinking. The scientists found that cancer had hijacked the telomere shortening in order to flourish in the body. The 135 patients who were tested positive in the study were eventually diagnosed with different types of cancer, including prostate, skin, lung and leukemia.
"Understanding this pattern of telomere growth may mean it can be a predictive biomarker for cancer. Because we saw a strong relationship in the pattern across a wide variety of cancers, with the right testing these procedures could be used to eventually diagnose a wide variety of cancers… If scientists can identify how cancer hijacks the cell, perhaps treatments could be developed to cause cancer cells to self-destruct without harming healthy cells," said Dr. Lifang Hou, the lead study author and a professor of preventive medicine at Northwestern University Feinberg School of Medicine.
After their findings were published, at least two major cancer breakthrough have been made across the world.
15-Year-Old Puts Cancer Industry to Shame: Develops 100% Accurate Cancer Test Using Google – Daily Health Post https://t.co/6VRk2nkrDZ

— Kiran Mazumdar Shaw (@kiranshaw) February 7, 2016
Grail is a #startup that raised $100 million to create a blood test to detect #Cancer early (before it is too late) https://t.co/UDqOTbVnWp

— Masaki Fujita (@masakifuj) February 10, 2016
---
This Article (Harvard Develops 100% Accurate Test That Can Predict Cancer Up To 13 Years Before Diagnosis) is a free and open source. You have permission to republish this article under a Creative Commons license with attribution to the author and AnonHQ.com