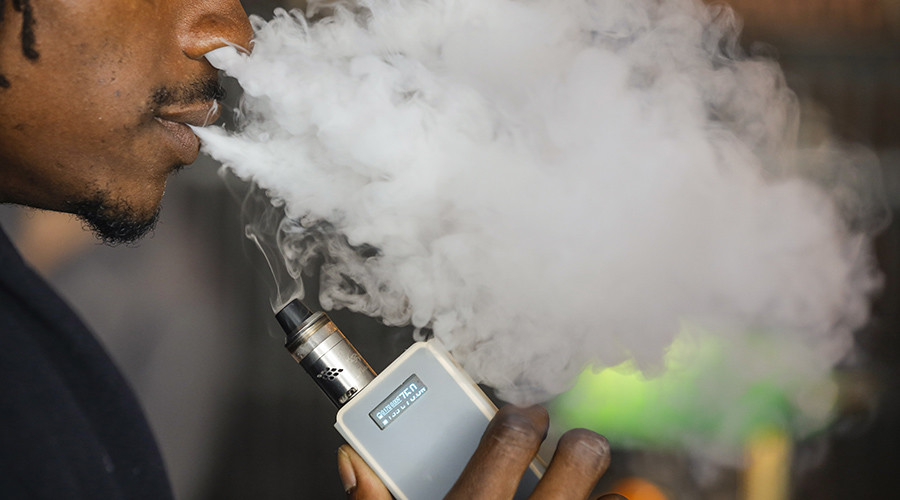 Researchers at Harvard T.H. Chan School of Public Health, have found that flavoring chemicals used in electronic cigarettes and their refill cartridges can cause bronchiolitis obliterans, also known as "Popcorn Lung", a rare irreversible respiratory disease eight workers in a Missouri microwave popcorn plant reportedly developed in 2002.
The US Occupational Safety & Health Administration describes bronchiolitis obliterans as a condition which develops when small airways become inflamed and scarred, resulting in the thickening and narrowing of the airways, leaving users with a cough and shortness of breath.
FDA needs to regulate, get dangerous one's off market. E-cigarette chemical linked to 'popcorn lung' https://t.co/kj415lTY1L via @sharethis

— Steven Dimmtt DO. (@Healthdoctr) December 12, 2015
In their study, published in the journal Environmental Health Perspectives, the researchers tested 51 types of flavored e-cigarettes and liquids sold by leading brands for the presence of diacetyl, acetoin, and 2,3-pentanedione, two related flavoring compounds that the Flavor and Extract Manufacturers Association lists as "high priority", i.e., they may pose a respiratory hazard in the workplace.
At least one of the three chemicals was detected in 47 of the 51 flavors tested. Diacetyl was detected above the laboratory limit of detection in 39 of the flavors tested. Acetoin and 2,3-pentanedione were detected in 46 and 23 of the 51 flavors tested. The Harvard researchers found that the heating, vaporization and inhalation of flavoring chemicals in e-cigarettes makes smokers' exposure similar to that of workers in the microwave popcorn industry.
"Recognition of the hazards associated with inhaling flavoring chemicals started with 'popcorn lung' over a decade ago. However, diacetyl and other related flavoring chemicals are used in many other flavors beyond butter-flavored popcorn, including fruit flavors, alcohol flavors, and, we learned in our study, candy-flavored e-cigarettes," said lead author Joseph Allen, assistant professor of exposure assessment sciences.
Cells exposed to the e-cigarette vapour showed damage that raises the risk of #cancer. #health https://t.co/3szYh75NcO

— Health Feed – THIG (@thehealthfeed) December 31, 2015
The study—which was funded by the US National Institute of Health and not by any tobacco lobby—focused on the chemicals used to flavor e-cigarette liquid and not on the harmful effects of nicotine. As a result, even if users vape with nicotine-free liquid, they could still end up with popcorn lung. In other words, e-cigarette users, who believe the products help them transition away from smoking regular cigarettes, may also end up causing significant damage to their lungs.
"Since most of the health concerns about e-cigarettes have focused on nicotine, there is still much we do not know about e-cigarettes. In addition to containing varying levels of the addictive substance nicotine, they also contain other cancer-causing chemicals, such as formaldehyde, and as our study shows, flavoring chemicals that can cause lung damage," noted study co-author David Christiani, Elkan Blout Professor of Environmental Genetics.
The study evaluated 7,000 varieties of flavored e-cigarettes from three large cigarette companies, one large e-cigarette company and three e-cigarette distributors. The researchers concluded:
"Due to the associations between diacetyl, bronchiolitis obliterans and other severe respiratory diseases among workers inhaling heated vapors containing diacetyl, urgent action is recommended to further evaluate the extent of this new exposure to diacetyl and related flavoring compounds in e-cigarettes."
Your e-cigarette might putting you at higher risk for lung cancer. #invisiblekillers https://t.co/IgluEQdYzD pic.twitter.com/u0AKJhVmU0

— Stewart Lonky, MD (@LonkyMD) December 11, 2015
Are e-cigarettes a gateway for new or underage smokers? Do flavored e-cigarettes attract younger smokers? Can e-cigarettes reduce the incidence of cigarette use? Are e-cigarettes less damaging to health than smoking tobacco?
Media Exaggerate Study On Popcorn Lung Risk From E-Cigarette | The Daily Caller https://t.co/UyyoqkxdPc

— Lounge Vaper (@LoungeVaper) December 11, 2015
A study that was published in the August edition of the Journal of the American Medical Association, found that ninth-graders who used electronic cigarettes were more likely to smoke cigarettes, cigars or hookahs than peers who never tried the battery-powered devices. However, during the same month, Public Health England concluded that, on "the best estimate so far", e-cigarettes are about 95% less harmful than tobacco cigarettes. In addition, Public Health England also declared that vaping is safer than smoking and could lead to the demise of the traditional cigarette.
"We acknowledge that diacetyl shouldn't be used in e-cigarettes, but equally diacetyl is found in cigarettes at very significant levels, so obviously there is a harm-reduction aspect to switching to e-cigarettes," said Tom Pruen, chief scientific officer for the UK-based Electronic Cigarette Industry Trade Association.
In 2014, the Centers for Disease Control and Prevention report found that 2.5 million middle and high school students used e-cigarettes, and that teenage use of electronic cigarettes had tripled in the last year. Youth use of e-cigarettes also surpassed youth cigarette smoking. In June, a poll of 5,679 Americans, conducted by Reuters, found that 75% of people who use electronic cigarettes or other vaporizing devices continue to also smoke traditional tobacco products.
Just don't do it. It's disgusting and unhealthy. E-cigarette chemical linked to 'popcorn lung' https://t.co/GrONXMEYCG via @sharethis

— Jonna Miller (@JonnaMiller67) December 9, 2015
Diacetyl is found naturally in butter, beer and other foods, and it is added to baked goods, candy and snack foods to give a buttery or creamy taste. Although it is considered safe to eat, inhaling it has been linked to a number of severe respiratory diseases. What are your thoughts? Please share in the comments section below…
---
This Article (Harvard Study Finds E-Cigarettes Contain Dangerous 'Popcorn Lung' Chemicals) is free and open source. You have permission to republish this article under a Creative Commons license with attribution to the author and AnonHQ.com.