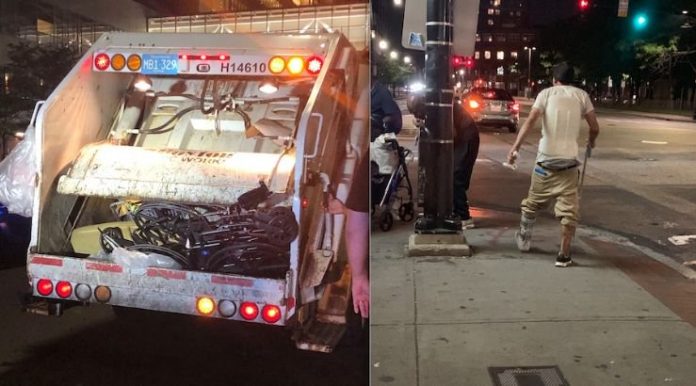 ---
By Eoin Higgins | CommonDreams.org
"Operation Clean Sweep" began August 2 after a county corrections officer was allegedly struck during a fight involving a number of people on "Methadone Mile," a stretch of the city near Massachusetts Ave. and Melnea Cass Boulevard where there are a number of clinics and treatment centers. The area has a high homeless population, many of whom have been the target of the operation in the five days and counting it has continued.
The destruction of the wheelchairs is only the latest incident involving the trashing of the possessions of homeless people in the operation.
Cops ordered folks away from BMC, wouldn't allow them to take their belongings & threw them away!

"THEY DIDN'T LET HIM TAKE HIS POSSESSIONS. THEY THREW THE STUFF THAT HE JUST BOUGHT IN THE DUMPSTER TRUCK AND CRUSHED IT." #OperationCleanSweep pic.twitter.com/VLdhu9oPJj

— Cassie Hurd (@Classymscassie) August 7, 2019
One of the destroyed wheelchairs was reportedly confiscated from a man named Jarrod who was hit by a car last month.