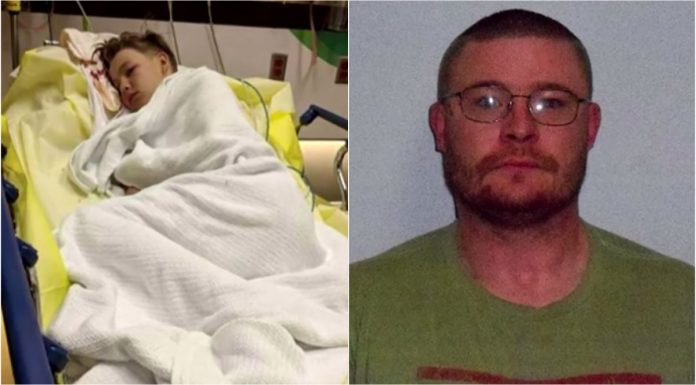 (TMU) — A 13-year-old boy was seriously injured after a man attacked him for not removing his hat during the national anthem at a county fair and rodeo in Montana, resulting in a fractured skull for the young boy.
Curt James Brockway, 39, launched his assault on the boy out of a belief that the boy had supposedly "disrespected the national anthem," according to the Missoulian. The man was arrested and charged with assault on a minor for the attack that occurred at the Mineral County Fair and Rodeo.
Taylor Hennick, a rodeo attendee, said she had just paused for the national anthem before hearing a sudden "pop" and then noticed a child "bleeding out of his ears, seizing on the ground." Hennick explained:
"He was definitely bleeding out of his ears; he was scared.

He seemed shocked and out of it and wondering why he was being hit."
As outraged bystanders quickly began surrounding Brockway, the man attempted to justify the assault by saying that the boy "was disrespecting the national anthem by wearing this hat." Hennick witnessed Brockway "saying that in front of a lot of people… people were just shocked."
The boy was airlifted to Sacred Heart Children's Hospital in Spokane, Washington, where he received treatment for temporal skull fractures. He is currently recovering from his injuries at his home in Montana, accordingto KPAX.
The young boy told the station:
"It's just a lot of pain in my head. I don't remember anything—the rodeo—the helicopter—nothing."
Brockway, a resident of Superior, Montana, is registered in the state as a violent offender due to a 2010 assault with a weapon. He is currently serving a 10-year probation sentence for the charge but was released from jail without having to pay bail. He is due to appear in court for his arraignment on August 14.
This example of nationalist violence is just the latest episode in a long-running controversy about how best to respond to the anthem, with many insisting that this consists of standing, removing your hat and placing your right hand over your heart. Ever since San Francisco 49ers quarterback Colin Kaepernick began kneeling during NFL games in 2016 as a protest against racism and police brutality in the U.S., national anthem protocol has been a point of contention.
The kneeling movement, which spread to other players across the football league, became the subject of President Donald Trump's ire when he said at a 2017 rally:
"Wouldn't you love to see one of these NFL owners, when somebody disrespects our flag, to say, 'Get that son of a bitch off the field right now. Out! He's fired. He's fired!'"
It remains unclear whether the young boy had any intention to veer from the typical protocol or had simply forgotten to remove his headwear.
By Elias Marat | Creative Commons | TheMindUnleashed.com