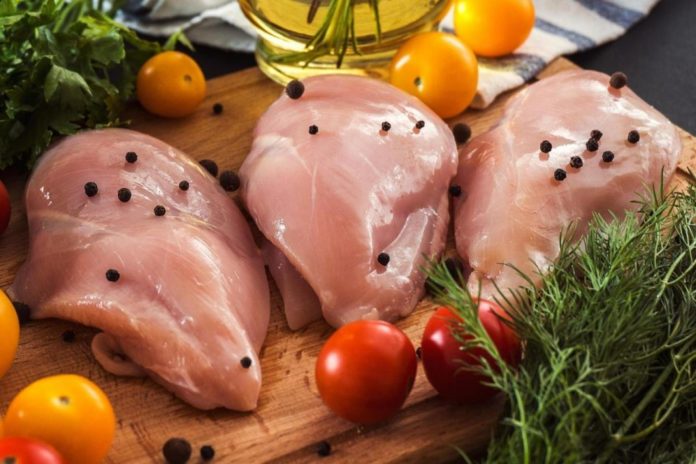 In 2015, U.S. meat consumption increased by the fastest rate seen in 40 years. An average American in 2015 ate around 193 pounds of meat – 89 pounds of chicken, 54 pounds of beef, and 50 pounds of pork. Research and advisory firm Rabobank predicts meat consumption will reach historic levels by 2018, with an average American eating around 200 pounds of meat (chicken, beef, and pork) per year.
While the stats show Americans' main meat of choice is chicken because they believe it's healthier than red meat, and they're unlikely to kick their chicken addiction anytime soon, Compassion in World Farming – a leading farm animal welfare organization – is warning chicken-lovers to avoid chicken breasts with "white striping." White striping indicates a muscle disorder plaguing a lot of the chicken we eat. It's not harmful for human consumption, but it is telling of the conditions the chickens were raised in.
"In response to the constant increase in demand for chicken, the broiler industry has focused on boosting productivity through selection for fast-growth and other intensive production practices. These practices, however, have resulted in poor welfare for broilers, and a lower quality product for consumers; one that does not meet the expectations of a leaner, healthier protein.
"White striping is one example of how intensive production practices affect both nutritional quality and welfare outcomes, and furthermore, the high incidences found by some studies (up to 96%) demonstrate that the problem is widespread. The effect of conditions like white striping on the nutritional value of chicken cannot be ignored: affected breast fillets have up to 224% more fat, and 9% less protein."
According to the National Chicken Council, with chicken becoming such a popular source of lean protein, more and more chickens are being pushed to grow bigger, faster and quicker. The average chicken sent to market in 2015 weighed 6.24 pounds and was 47 days old; the average chicken sent to market in 1950 weighed 3.08 pounds and was 70 days old.
Instead of asking the producers and food companies to modify their production practices and supply chains to include higher welfare practices, NYC-based nutritionist Jaclyn London, nutrition director at the Good Housekeeping Institute, supports the U.S. poultry industry:
"Chicken — so long as it's not breaded and deep-fried — is a great source of lean protein (that also happens to be rich in B-vitamins, iron and vitamin B12). Look for labels with a 'No Antibiotics Ever' seal; remember to properly cook, store and keep poultry at correct temperatures in the fridge or freezer; and avoid cross contamination during meal prep."
But Compassion in World Farming says labeling doesn't signal a guarantee of hygiene, safety, and ethical production:
"Since consumers have limited access to information regarding production practices and their impact on nutritional value, they largely rely on public health recommendations and food labels in order to select and purchase animal products.
"However, recent findings regarding the effects of intensive production practices on the quality of chicken meat may indicate that the product consumers are buying may be far from the lean, healthy meat they expect, and that nutritional values may deviate from what is reported on labels."
According to a 2016 study by University of Arkansas and Texas A&M, "the severity of white striping has increased in recent years and is characterized by white striations parallel to muscle fibers in which muscle fiber degeneration takes place with infiltration of fat and connective tissue."
Moreover, the study found, "severe degrees of white striping and woody breast, individually or in combination, negatively impact meat quality, especially water holding capacity attributes such as marinade uptake of whole muscle fillets and cook loss."
Yet, a spokesman for the National Chicken Council told Buzzfeed that white striping affects only a small percentage of chicken meat, mainly larger birds, not overall production, and "does not create any health or food safety concerns for people and the welfare of the chicken itself is not negatively impacted."
---
This article (Here's Why You Should Stop Eating Chicken Breasts with White Stripes Immediately) is a free and open source. You have permission to republish this article under a Creative Commons license with attribution to the author and AnonHQ.com.
---
Supporting Anonymous' Independent & Investigative News is important to us. Please, follow us on Twitter: Follow @AnonymousNewsHQ