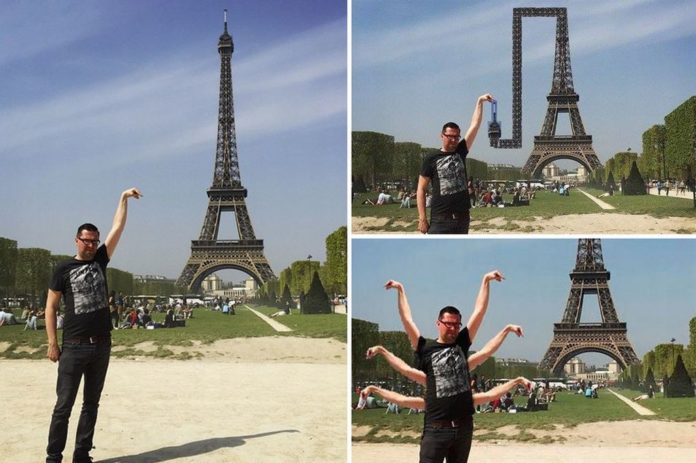 Sid Frisjes took this generic photo in an attempt to make himself look like he was some sort of smarty-pants-super-genius, making use of perspectives and complex science stuff. It seems that  he positioned himself out of line, however, showing that he wasn't quite so brilliant. Then he asked the internet for help, which might have been an even worse idea than taking a perspective-photo from the wrong perspective.
Never ask the internet for help.
Here were the best results:
1. Space Jam Eiffel 
2. Put Yourself in HIS shoes…. Now you know how hard it is to do that, Eiffel.
3. Portal 3 Confirmed
4. Kāli, the Goddess of Time, Change, Power and Destruction…. and Now the Eiffel Tower.  
5. It's SO realistic
6. Well, he got what he asked for…
7.  Arm-Fall-Off-Boy has some competition….
8. Awww, it's just so cute now!
9. If you won't go to the tower, just bring the tower to you!
10. Wordsmith 
11. A dream within a dream within a dream
12. Mr Fantastic
---
You want to discuss a certain topic with likeminded people or you want to organize a local protest or you have an idea for a project that can help people in need in your local community or all around the world? Join our forum! www.anonboards.com
---
You want to support Anonymous Independent & Investigative News? Please, follow us on Twitter: Follow @AnonymousNewsHQ
---