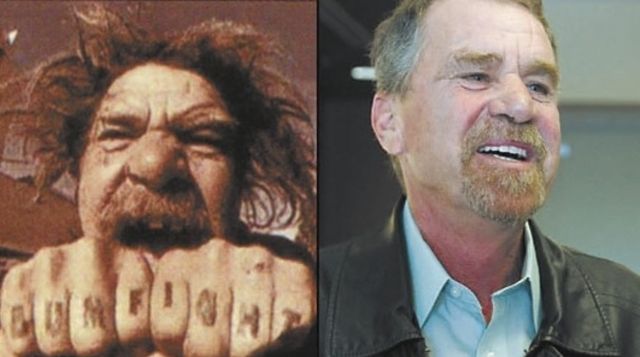 Remember Rufus Hannah, the degraded and brutalized "star" of a 2002 video called Bumfights, featuring homeless men goaded into doing stupid things like hurting themselves, hurting others and getting Bumfights tattoos?
Rufus decided to leave that life when the violence, free cigarettes, and booze nearly killed him. He got sober in 2003, and totally turned his life around. "I just didn't want to die on the streets a drunk and be remembered that way," Hannah said in 2008.
He is now a property manager, works for a San Diego real estate developer named Barry Soper, and is an advocate for homeless rights. In 2010, Soper helped him write a book – A Bum Deal: An Unlikely Journey from Hopeless to Humanitarian –which describes his days as a homeless alcoholic, his time during the filming of Bumfights, his struggle to get sober, and his subsequent advocacy work for the homeless.
"I hope this book will make a difference. If they read it, they say 'Wow, Rufus Hannah, as low as he was, and how bad it was, the tattoos, the beatings; we can change our lives and make a difference'. You can make a difference in another person's life. How Rufus, with all these problems, was able to make this remarkable change," he said.
Interestingly, it was Soper who had asked Rufus and his best friend Donnie to stop participating in the videos, and went on to hire a lawyer to sue the filmmakers. Producers Zack Bubeck, Daniel Tanner and Ryan McPherson were charged with felonies for making the video tapes. A criminal trial eventually landed Zack and McPherson in jail. Later he gave Rufus two options: Get into rehab or pick out your casket. Now, sober for 13 years, Rufus lives in his own home in La Mesa. He hopes to one day get the 'Bum Fights' tattoo removed from his knuckles.
Rufus regularly gives speeches at universities, goes face to face with students who have been known to play drinking games while watching Bumfights. He is working with state and federal legislators to pass hate-crime legislation that would increase the penalties for those convicted of attacking the homeless.
---
You want to support Anonymous Independent & Investigative News? Please, follow us on Twitter: Follow @AnonymousNewsHQ
---