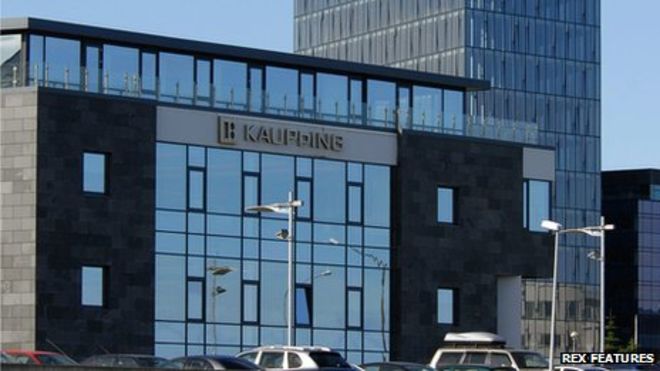 Reykjavik, Iceland – Four Kaupthing bank executives have been given the heaviest sentences in Iceland's history for their role in the nation's 2008 financial collapse. It is said that the prison sentences, which were upheld by Iceland's Supreme Court, are setting a precedent for the rest of the world.
Hreidar Mar Sigurdsson, former CEO of Kaupthing, received 5 ½ years; Sigurdur Einarsson, former chairman of the board, received four years; Magnus Gudmundsson, director of Kaupthing Luxembourg, received 4 ½ years; and finally Ólafur Ólafsson, one of the banks biggest shareholders, received 4 ½ years.
The bankers were found guilty in December of 2013 by the Reykjavik District Court of hiding the fact that a Qatari investor bought a stake in the firm with money lent, illegally, by the bank itself. Kaupthing announced a few weeks before the collapse that "His Highness, Sheikh Mohammed Bin Khalifa Bin Hamad al-Thani" had bought a 5.1% stake during the financial crisis in 2008. Kaupthing collapsed under the massive debt.
According to the Associated Press:
"Kaupthing was one of Iceland's big three banks that crashed in October 2008, along with Glitnir and Landsbanki, sending the isolated volcano-dotted nation of 325,000 into a dire financial crisis."
As the value of currency plummeted, unemployment and inflation soared, forcing Iceland to seek bailouts from the International Monetary Fund and Europe. They're still recovering from the damage.
The bankers had since appealed to the Supreme Court, but their appeals were rejected.
In a report from True Activist:
"The sentence given is the heaviest penalty in the country's history, and Iceland's special prosecutor said it was evidence that it is possible to crack down on financial fraud without any adverse effect to the economy. Iceland has a reputation for taking steps that other countries have until now refused to even consider, such as nationalizing their banks. This radical change has boosted the Icelandic economy and leaves other European countries trailing miserably behind."
---
SOURCES:
BBC. Dec 12, 2013. (http://www.bbc.com/news/business-25349240)
Gottlieb, Jenna. Associated Press. Feb 13, 2015. (http://www.apnewsarchive.com/2015/Iceland-Fraud-Case-Former-Kaupthing-bankers-receive-prison-sentence-for-market-manipulation/id-9755f9285c9f4659a2b497f9c0b8a112)
McAdam, Sophie. True Activist. Mar 30, 2015. (http://www.trueactivist.com/iceland-jails-four-top-bankers-for-fraud-in-landmark-case/)