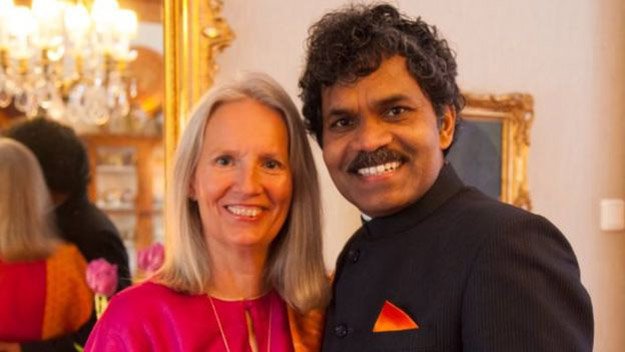 There is a saying that goes – True love transcends all boundaries. Embarking on an ultimate journey of love, Indian artist Dr. Pradyumna Kumar Mahanandia cycled from India to Sweden crossing not one but eight countries' boundaries to be reunited with his lady love Charlotte Von Schedvin.
Even though he was born in a poor lower caste family in the eastern Indian state of Orissa, Mahanandia's love for art and education brought him to the College of Art in New Delhi in 1971; in no time he became a renowned artist who made stunning portraits in 10 minutes. As the stars had conspired, his popularity soon reached Sweden, and Charlotte, then a 19-year-old Swedish student, decided to come to India in 1975 to get a portrait done from him. While making her portrait, Mahanandia fell in love with Charlotte, a royal.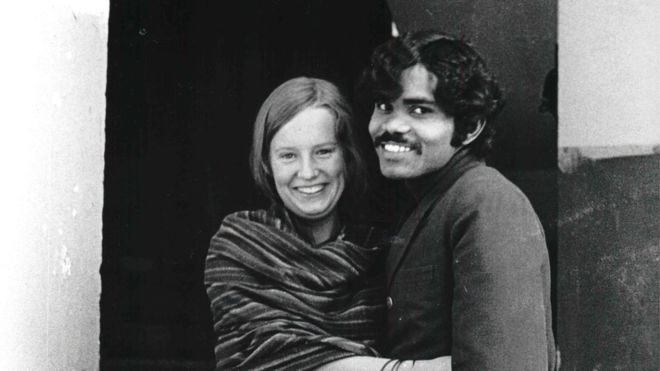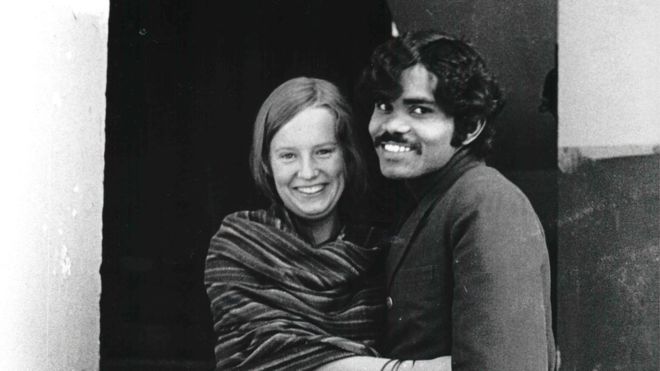 Destined to meet
Mahanandia, born in 1949, told the BBC that whenever he was bullied in school by upper caste students during his poverty-stricken childhood, his mother would tell him that his horoscope suggests, he would someday marry a woman "whose zodiac sign would be Taurus, she would come from a far away land, she would be musical and would own a jungle".
"When I met Charlotte, I immediately remembered my mother's predictions and asked her if she owned a jungle. Charlotte, whose family comes from Swedish nobility, replied that she did own a forest and added that not only was she "musical" (she liked to play the piano) her zodiac sign was also Taurus. It was an inner voice that said to me that she was the one. During our first meeting we were drawn to each other like magnets. It was love at first sight."
He was possessed by her beauty and she, with his sheer simplicity. Charlotte took the Indian name Charulata and they both married following traditional tribal rituals.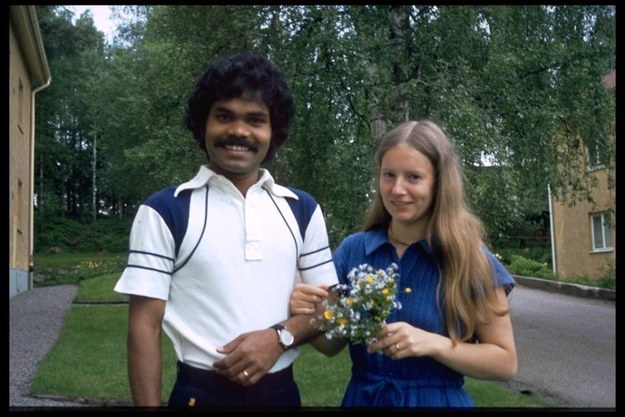 Time to kiss goodbye
Charlotte, who had driven to Delhi with her friends from Sweden along the famous hippie trail crossing Europe, Turkey, Iran, Afghanistan and Pakistan to reach India in 22 days, had to return to her home in the Swedish textile town of Boras. Charlotte asked Mahanandia to come along, but since he wanted to finish his studies he declined. When she offered to send air tickets later, he declined again saying he would come to meet her on his own.
The couple remained in touch through letters for over a year before Mahanandia — who couldn't afford a plane ticket — sold all of his belongings, bought a bicycle, and started his journey in January 1977 to follow Charlotte along the same hippie trail.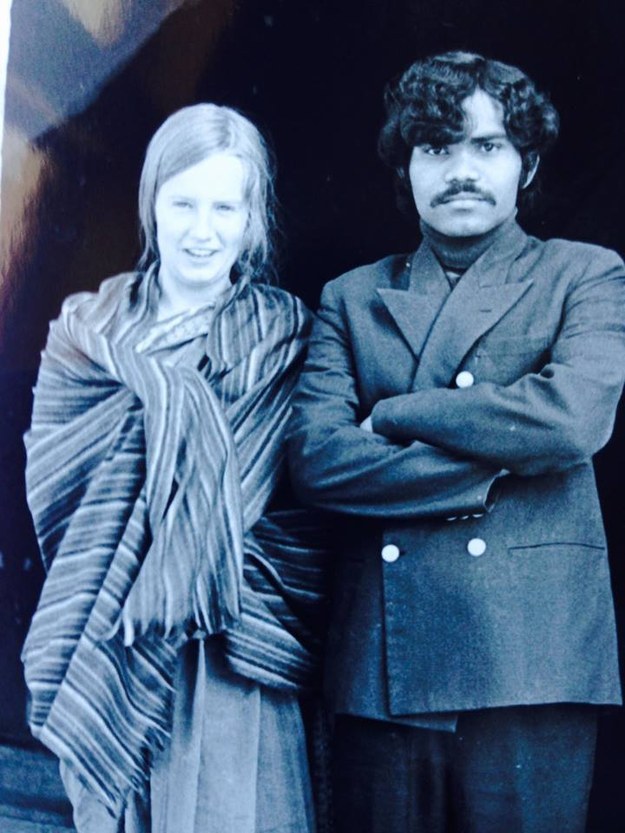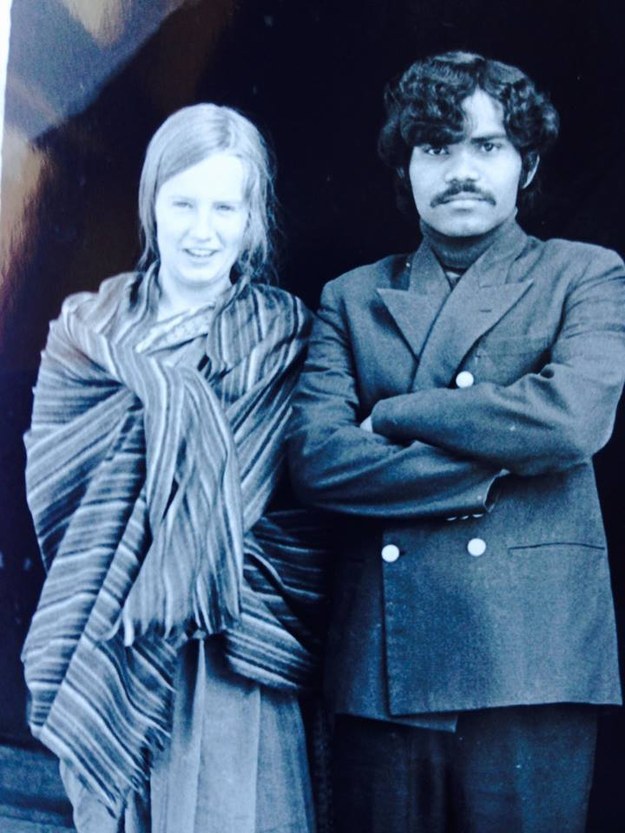 He reached Amritsar from New Delhi before entering Afghanistan, Iran, Turkey, Bulgaria, Yugoslavia, Germany, Austria and Denmark. His cycle broke down many times on the way and he even had to go on without food for days. But nothing could break his will. The trip took four months and three weeks before he finally reached Gothenburg, Sweden.
"Art came to my rescue. I made portraits of people and some gave me money, while others gave me food and shelter… Afghanistan was such a different country. It was calm and beautiful. People loved arts. And vast parts of the country were not populated… Those were different days. I think people had more free time then to entertain a wanderer like me."
Love wins
Authorities were surprised and did not believe that someone of royal blood from Europe would marry a poor Indian. When Charlotte learned about the man from India who cycled all the way for around 5 months, she drove to Gothenburg and received her husband. Her parents accepted Mahanandia as a part of their family by breaking a royal tradition that prohibited non-white people from residing with the nobles.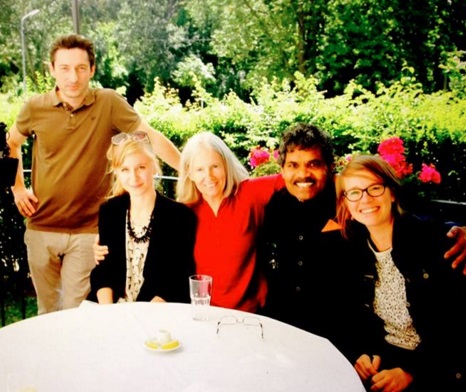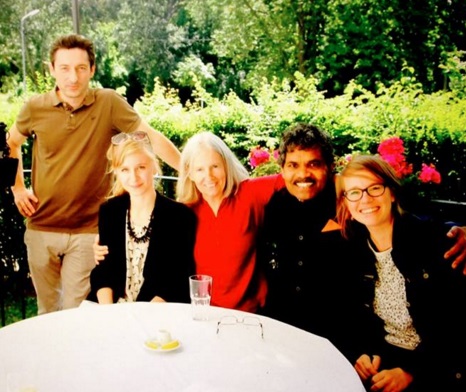 Today, Mahanandia serves as the Odiya Cultural Ambassador of India to Sweden and lives with Charlotte and two children in Sweden. He has become well-known in Sweden as an artist and as an Adviser, Art and Culture, under the Swedish Government too. His village, which once shunned him as an untouchable, now gives a thundering welcome every time he makes a visit. Renowned Indian film maker Sanjay Leela Bhansali is planning to make a film on the love story that has captivated thousands of hearts.
---
This Article (Love-Struck Indian Man Cycles To Sweden 70 KM A Day For 5 Months To Reunite With Wife) is free and open source. You have permission to republish this article under a Creative Commons license with attribution to the author and AnonHQ.com.